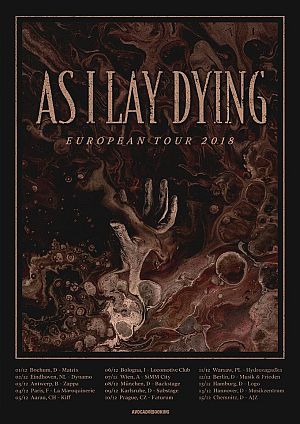 Turbinenhalle, Oberhausen, Germany
1st December 2018
As I Lay Dying - "European Tour 2018" - Special Guests: Erra, Bleed From Within

Now that is what I call would call a comeback. AS I LAY DYING, the Metalcore band from San Diego, California has announced their first tour after a four years hiatus. The band ended their decades long career back in May 2014, when the band's front man Tim Lambesis was incarcerated for six years for a charge of solicitation of murder after he tried to hire a hitman in a murder-for-hire plot against his then-wife.
Lambesis only served two and a half years of his prison sentence before getting out on parole in 2017. Since then, he has released an apology and has tried to make a comeback with the band. Fast forward to June of this year, AS I LAY DYING released their first single in almost five years, titled 'My Own Grave'. In addition to the band's comeback, they also shared the news that they would be playing their first show as a reunited group on June 16 at Soma Sidestage in San Diego, California. The band said in a statement: "We are thankful for an environment of love and positivity within and around our renewed relationships. To the family, friends, crew, and fans in attendance at our recent San Diego show, we would like to express our deepest sense of gratitude for making the evening such a meaningful experience."
Due to high demand, the venue has been upgraded from Bochum's Matrix. However, if you plan to attend, decide quickly, as the Turbinenhalle already has issued a "low ticket alert".
Additional Concert Info
Doors: 19:00
Start: 19:30
Tickets are currently available from
Eventim
for 31.70 EUR
More Info: https://www.turbinenhalle.de/events/as-i-lay-dying
More on
As I Lay Dying
,
Erra
and
Bleed From Within