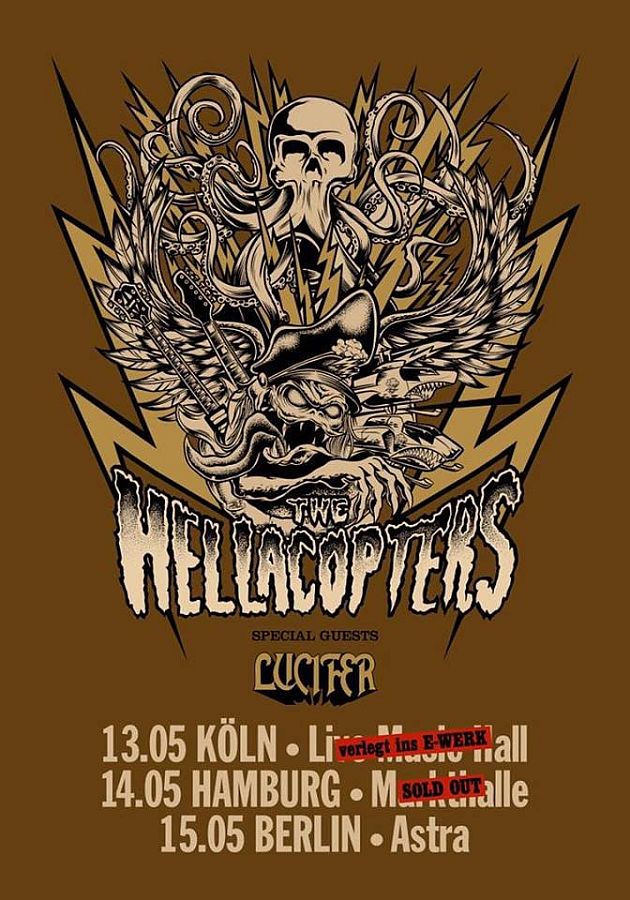 E-Werk, Cologne, Germany
13th May 2019
The Hellacopters - Tour 2019 - Special Guests: Lucifer

Did THE HELLACOPTERS save Rock'n'Roll? You bet! When these rude punks met in Stockholm in the mid-90s, they ignited a spark that set the scene on fire. Suddenly Rock'n'Roll was fun again, it was dangerous and alive. After ten endless years of silence, the legendary band now announces three concerts in Cologne, Hamburg and Berlin for spring 2019.
Shortly after their foundation in 1994, THE HELLACOPTERS went uphill. They received massive recognition for their infernally catchy songs and their "take no prisoners" attitude on stage. They churned out single after single and won a Swedish Grammy in 1996 for their wonderfully loud debut album 'Supershitty to the Max'. The importance of the band for the rebirth of Rock'n'Roll cannot be overestimated. After numerous celebrated albums and various world tours, the band ran out of fuel in 2008 and decided to take a much-needed break. In 2016 the reunion in original line-up for a single show on the occasion of the 20th anniversary of their debut album. The beast was awakened.
THE HELLACOPTERS are back and in 2019 they finally come back to Germany. And if your show gets upgraded to a bigger venue (E-Werk), that cannot be a bad sign after all.
Additional Concert Info

Doors: 18:30
Start: 19:30
Tickets: are available from
Eventim
for EUR 41.05 + fees
Info:
https://www.e-werk-cologne.com/programm/monat/vorschau-2019.html
More on
The Hellacopters
and
Lucifer