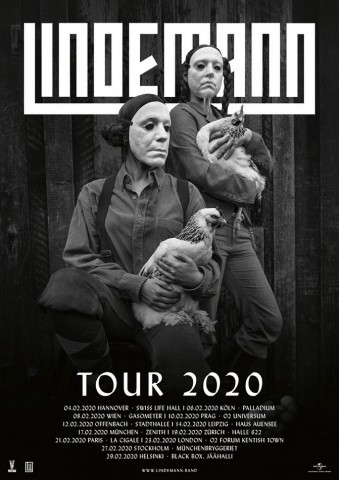 Palladium, Cologne, Germany
6th February 2020
Lindemann - Tour 2020

LINDEMANN, part two: In November, the German-Swedish cooperation LINDEMANN released their second album, 'F & M', and there will be their first tour ever. The men behind this project are RAMMSTEIN singer Till Lindemann and the multi-instrumentalist Peter Tägtgren, mastermind of legendary Swedish Metal bands PAIN and HYPOCRISY. To introduce the new album accordingly, LINDEMANN go on tour through eight European countries in February 2020. There will be twelve shows in total, seven of them in Germany (Hanover, Cologne, Offenbach, Leipzig, and Munich), Austria (Vienna), and Switzerland (Zurich).
About four years after the very successful debut album, 'Skills in Pills' that reached number one of the German Long-play Charts, a surprisingly new chapter is written with the new album, 'F & M'. The renewed collaboration leads the duo to unusual and so far unexpected paths. While the gold awarded debut, 'Skills in Pills', is all about English lyrics, the motto now is German texts, which are playfully staged in familiar intensity by Till Lindemann and his unmistakable voice.
Starting point of the new LINDEMANN songs was a collaboration between Till Lindemann and the Thalia Theater in Hamburg within the frame of a modern adaption of the Brothers' Grimm tale 'Hänsel & Gretel', which picks up topics like fear, hope, poverty, plenty, cannibalism, or death. Five songs of that acclaimed stage play and six new compositions were brought together to form the new, impressive studio album of the band LINDEMANN.
In September, the first single release, 'Steh auf', with its brachial sound directly reached the Top 10 of German single charts. Famous music video director Zoran Bihac, who already directed other RAMMSTEIN and LINDEMANN videos, created the belonging 'Steh auf' video that was made in Kazakhstan. Swedish Hollywood star Peter Stormare ('Fargo') is one of the main protagonists. Overall, this is just a forerunner of a new cycle. The fans were so excited about the release of 'F & M', and they are about the upcoming European tour including 12 live shows.
Additional Concert Info

Doors: tba
Start: 20:00
Tickets: are currently not available. You may try
Eventim
though.
Info: https://www.dirkbecker-entertainment.de/acts/lindemann
More on
Lindemann
,
Rammstein
,
Pain
and
Hypocrisy