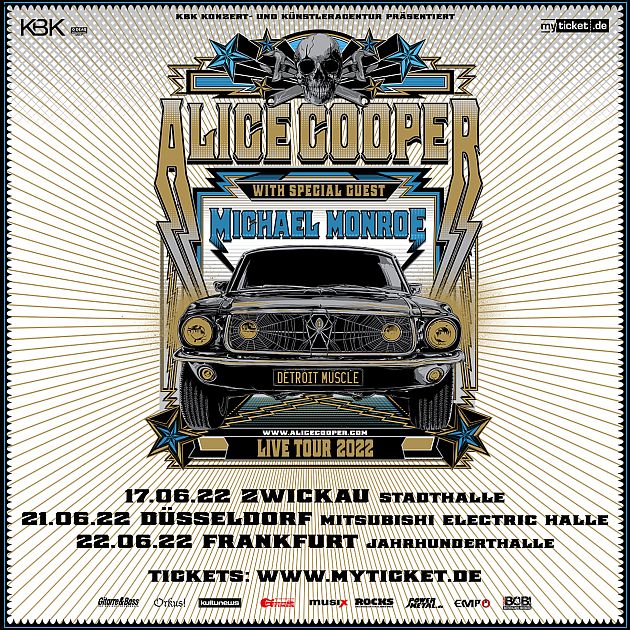 Shock rocker ALICE COOPER presents his #1 album 'Detroit Stories' and many hits in spectacular shows! Special Guest: Michael Monroe

For the first time ALICE COOPER is playing songs from his current CD 'Detroit Stories' (earMUSIC) live in Germany! The criticism of the musical tribute to his hometown, which even reached number 1 in the charts, was full of praise: The "nostalgia festival full of exuberant joy in playing and a lot of variety" (laut.de), at which "Alice Cooper once again has surpassed himself" (darkmusicworld.de), is "an unexpectedly great coup. You have to have it!" (Musikreviews.de).
In concert, COOPER & Co. also offer many hits and classics, which are usually a must for the cult star: 'School's Out', 'I'm Eighteen, Elected', 'Only Women Bleed', 'No More Mr. Nice Guy', 'Poison' or 'Under My Wheels'. And the Special Guest has it all: singer MICHAEL MONROE (ex-HANOI ROCKS) plus band. Interesting: An official film documentary will be published in 2022 about the life of the "first icon of Hair Metal" (arte), who, by the way, will celebrate his 60th birthday when the tour starts on June 17, 2022! Live, COOPER once again trusts his well-rehearsed troupe, who last performed with him in Germany in 2019: Nita Strauss (lead guitar, vocals), Chuck Garric (bass), Ryan Roxie and Tommy Hendriksen (both guitar / vocals) and Glen Sobel (drums). They are in their element, especially on stage.
The appearances embedded in a theatrical setting rightly deserve the term "unique". After all, ALICE COOPER is the inventor of Shock Rock. The son of a priest from Detroit was the first to incorporate horror elements such as chopped off doll heads, a guillotine, a choke snake, the gallows, the electric chair, including lots of fake blood, into a rock concert and thus had a lasting influence on the live genre.
COOPER has been in Rock Biz for over 50 years. The married family man, who is also a film actor ('Wayne's World', 'Freddie's Dead', 'Bigfoot'), host of the radio show 'Nights with Alice Cooper' and avid golfer (handicap 2), said in March 2021 during an interview with the Weekly newspaper Die Zeit: "Quality keeps you in the game. You have to play every show as if it were the last; Record every record like it's your legacy. If you follow this principle, your audience will follow you too."
Additional Concert Info

Alice Cooper - "Detroit Muscle: Live Tour 2022"
Special Guest: Michael Monroe (ex Hanoi Rocks)
June 17, 2022 Zwickau, Stadthalle (Doors open: 06:30 p.m.)
June 21, 2022 Düsseldorf, Mitsubishi Electric Halle (Doors open: 06:00 p.m.)
June 22, 2022 Frankfurt, Jahrhunderthalle (Doors open: 06:00 p.m.)
Start: 07:30 p.m.
Tickets available from Sept 14, 2021 via exclusive fan presale at www.myticket.de (FanPresale / Sep 14 – 16, 2021 and VIP tickets / from Sep 14, 2021 - promotion ends seven days before the respective concert) and general advance sales start from Sep 17, 2021 at 10 a.m. at www.reservix.de,
Eventim
and at stationary advance booking offices.
Bands: www.alicecooper.com, www.michaelmonroe.com
Info: https://sparkassenpark.de/termine/on-tour/