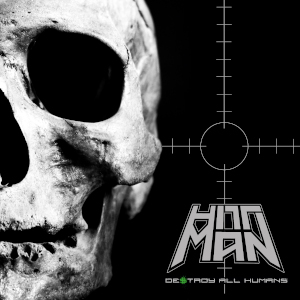 Artist: Hittman
Title: Destroy All Humans
Genre: Heavy Metal / Hard Rock
Release Date: 25th September 2020
Label: No Remorse Records
Review Flash

Some bands try to hold on to the golden 80s in order to recapture the sound and their former glory, HITTMAN know it better and just do it (If you believe in the teachings of Yoda you know there is no trying anyways). Formed in 1984 in New York, the guys still rock like time never passed by. 'Destroy All Humans' is the band's third full-length output. The guys have kept us waiting for quite a while to finally get a new record (27 years!). Once again, the Keep It True Festival reignited the public interest and probably even the spark HITTMAN needed to carry on with their flawless US Metal. Let's check what the press text has to say:
"When HITTMAN started recording, the first songs were sent to No Remorse Records and everyone was shocked by their quality! Top notch US Metal, powerful and yet melodic - the perfect continuation from their debut, including new songs but also two tracks ('Out in the Cold' & 'Code of Honour') originally written before the release of HITTMAN's debut album. Recommended for fans of QUEENSRŸCHE, IRON MAIDEN and DIO!"
Well! To be honest: I think the flawlessness is what holds me back from giving this a higher rating, I need something that stays in my head for a while and that is the only things 'Destroy All Humans' lacks. The guitars (Bacchi / Kristen), keys (Kennedy / Bacchi), bass (Bier) and drums (Fugazi) are on point and Kennedy on vocals is really damn good but I miss the stadium hymn. My fave is 'The Ledge' because it is solid, melodic rocker.
Conclusion: If you dig FIFTH ANGEL or CRIMSON GLORY (or some of the bands mentioned above).
Rating: 8 / 10