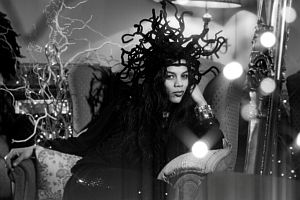 South Wales siren Volentéis set to release a trio of tracks called 'Broken Promises', seeing her further develop her electronic credentials. She has already received a host of critical acclaim and champions boundary blurring creativity and imaginative creativity. When she isn't spending her time being a full-time mum, Volenté is an extremely talented artist, with many years of experience within the music industry. These tracks are a fusion of drum'n'bass, jungle, electronica, classical music and R&B, with the heavy element of dubstep thrown in for good measure.


'Broken Promises' is a brutally honest bittersweet anthem with soaring operatic vocals, a fusion of classical music, electronic guitar, drum'n'bass beats and some dubstep thrown in the mix. Second track, 'So Many Times' is an electro-ballad which showcases Volenté's stunning vocal range with a hint of Massive Attack-like elements. With her effortless amazing vocal range, 'So Many Times' really showcases Volenté's ability to create totally unique songs, while remaining true to her own style. A minimal but very powerful track!

'End of Time's' beats and vocals hit the listener like an arrow to a target! With industrial-like hooks, a heavy sub-bass, a bit of jungle and Volenté's mesmerising, beautiful, haunting vocals will take you to another level. 'End of Time's' is definitely one set for the dance floor! Compared by critics to the likes of Bjork, cult indie favourites The Sundays and Kate Bush, 'Broken Promises', once again all produced, written, arranged and performed by Volentéherself, represents Volentéat her best!
Volenté will be playing a host of shows to promote 'Broken Promises' including:
Fri 22nd March – Warehouse 54, Newport
Fri 12th April – Dublin Castle, London
Fri 26th April – Buffalo Bar, Cardiff


Source: Press Release