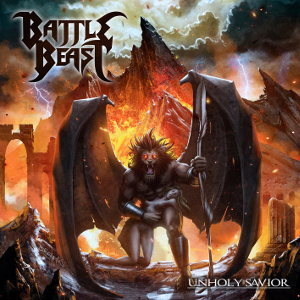 Artist: Battle Beast
Title: Unholy Savior
Genre: Female Fronted Power Metal
Release Date: 9th January 2015
Label: Nuclear Blast Records
Album Review

BATTLE BEAST is a Finland based power metal band that was founded in 2008. The band plays epic power metal and has won the Metal Battle Contest at Wacken Open Air 2010. At the end of the year 2011 the band signed a record deal with Nuclear Blast which released their first album named 'Steel' in 2012. In august of 2012, the first vocalist Nitte Valo left the band and was replaced with Noora Louhimo. The follow-up to 'Steel', the self-titled 'Battlebeast', was released in 2013.
Now in December 2014 I sit in my rather small apartment and listen to the songs of BATTLE BEAST's 3rd strike, 'Unholy Savior', and I can say two things rather quickly, first: I think I would like the band (at least a little bit) if it wouldn't be female fronted and second: I get the feeling that I heard everything on this record before, more brutal, faster and better. Nothing I hear is new or at least varied in a manner that demands balls. Nothing is brave, not one song provokes a feeling aside wanting to listen to something else. Don't understand me wrong, musically or technique-wise the band members know what they do, they just follow a path that has been walked a million times before.
Normally I recommend a song to listen to in this segment but I cannot recommend a song this time...
Tracklist

01. Lionheart
02. Unholy Savior
03. I Want The World... And Everything In It
04. Madness
05. Sea Of Dreams
06. Speed And Danger
07. Touch In The Nigh
08. The Black Swordsman
09. Hero's Quest
10. Far Far Away
11. Angel Cry
Line-up

Noora Louhimo – lead vocals
Anton Kabanen – lead guitar, vocals
Juuso Soinio – rhythm guitar
Janne Björkroth – keyboards
Eero Sipilä – bass
Pyry Vikki – drums
Website

www.battlebeast.fi
/
www.facebook.com/battlebeastofficial
Cover Picture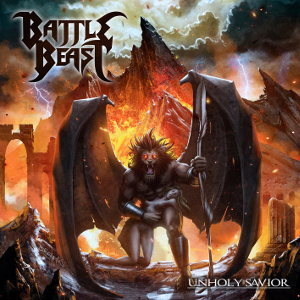 Rating

Music: 6
Sound: 6
Total: 6 / 10