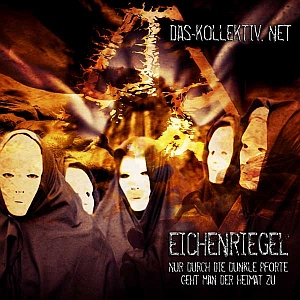 Title: Eichenriegel
Artist: Das-Kollektiv.net

Genre: Electro, Synth Pop, New Wave
Release Date: 25th September 2009
Label: Danse Macabre
Album Review

`Eichenriegel´ is the debut release of the mysterious project DAS-KOLLEKTIV.NET which has been silent on band history and members up to now. Instead, the masters favour wearing masks and refer to the formation's Freemason-like appearance that is confirmed by its pretty anonymous self-presentation you will find on the internet. However, as the phrase goes, what's in a name? The inner values are more important, and therefore, I tried to listen to `Eichenriegel´ with unprejudiced ears and was rewarded with a pleasant surprise.
Breaking from stereotyped thinking and fitted out with extreme danceability, the 10 tracks combine Electro, Synth Pop, New Wave and Industrial. Quoting Jesus´ last words when he was put on the cross, the opener `Gottverlassen´ forcefully bumps into the listener's ears and legs and has the potential to become an Electro dance floor filler due to its lashing basses and threatening synth sounds. The German language vocals demonstrate the rolled "R" I usually associate with RAMMSTEIN. The second track `Letzter Zeuge´ is pretty different from `Gottverlassen´: There's further vocalist who intonates a catchy Synth Pop gem reminding me of MELOTRON-pieces.
Thus, DAS-KOLLEKTIV.NET covers a wide range and is able to address listeners preferring melodic stuff as well as harsher Electro beats. The apocalyptic `Wut´ and the EBM-influenced `Grenzland´ could also raise the roofs of dark clubs. `Sieh deine Seele´ is moving towards Synth Pop again, as it contains electronic gimmicks broadening the soundscape and resulting in a certain depth. Apropos depth: In my opinion, the lyrics could have been more subtle, but that's my only point of criticism. All in all, `Eichenriegel´ is a fully recommendable long-player skilfully juggling with diverse styles.
Tracklist


01. Gottverlassen
02. Letzter Zeuge
03. Wut
04. Splitter
05. Was kommt dann?
06. Moment
07. Grenzland
08. Tief Im Herzen Eichenriegel
09. Sieh deine Seele
10. Die Stimme


Line-up

Kollektiv Einheit 5422 - lyrics, vocals
Kollektiv Einheit 501 - mixing, sounds
Kollektiv Einheit 262 - rhythm, sequencing
Kollektiv Einheit 438 - arrangements, programming
Kollektiv Einheit 454 - lyrics, vocals
Kollektiv Einheit 392 - lyrics, vocals
Kollektiv Einheit 126 - vocals
Website

http://www.das-kollektiv.net/
/
http://www.myspace.com/daskollektivnet
Cover-Picture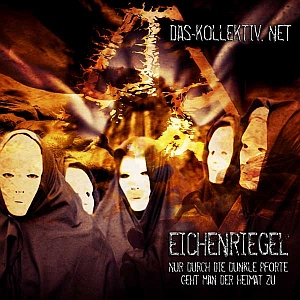 Rating

Music: 8
Sound: 8
Extras: -
Total: 8 / 10