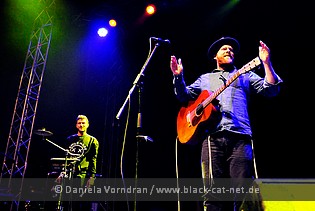 Turbinenhalle, Oberhausen, Germany
21st January 2015
Alex Clare (acoustic) & Special Guest: Saint James

Originally planned for last autumn, the tour had to be postponed because of the insolvency of original tour promoter. Luckily, with FKP Scorpio, a new promoter was found and the "Three Hearts Acoustic Tour" was finally taking place. The first date was on 21st January in Oberhausen. Sadly, the rush for the concert was not really high and the crowd was manageable. But still, they were enthusiastic and a great show was ahead of us.
Saint James

Opener of the evening was North London producer / rapper SAINT JAMES, who would later also accompany ALEX CLARE on stage. There is not much information about this young guy online. But one thing is sure, according to his bandcamp page, he has two releases on his sleeve: the single 'Easy' out in January 2015, and the 'Rumours Mixtape' containing four songs, also released in January. At 20:00, SAINT JAMES entered the stage for a short, twenty minutes set. He looked a little lost on stage, just accompanied by his laptop. But he was very likable and sympathies were on his side. As he said more than once, he's a nice person. He seemed a bit shy and Rap is not my kind of stuff, but the lyrics were definitely great, full of irony and humour, as he also proved when interacting with the crowd. Short but good start of the evening.
http://www.iamsaintjames.com
/
https://www.facebook.com/isaintjames
Rating

Music: 7
Performance: 7
Sound: 8
Light: 7
Total: 7.2 / 10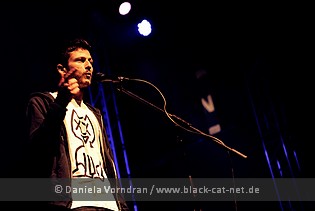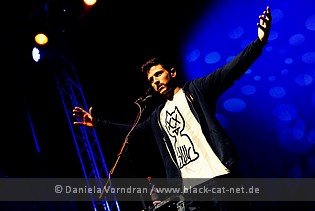 Alex Clare

A lot has happened in the life of ALEX CLARE since he had released his debut album 'The Lateness of the Hour' three years ago. 'Too Close' has become a global hit, being sold about five million times. His latest album 'Three Hearts' deals with other important events of his life: his marriage and the birth of his daughter. The records deals with the miracle of life. After a successful tour last year, CLARE is now back
to present the hits of this and previous albums. About the postponement of the tour, CLARE stated: "I was gutted to have to postpone these shows, and I can't wait to get back to the fans. I wanted people to know what happened, the shows are definitely going ahead, it has just taken longer than we ever hoped to sort it out. I can't wait to be back!"
The current tour is an intimate acoustic performance. CLARE says:
"I loved the busking shows in Hamburg, Berlin and Munich and am so excited to be playing acoustically again. When it's just you, the audience and a guitar it's a much more personal experience. It's where it all began."
http://www.alexclare.com
/
https://www.facebook.com/alexclaremusic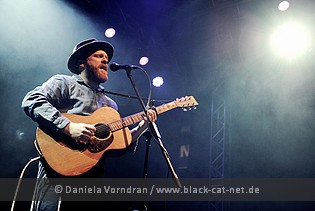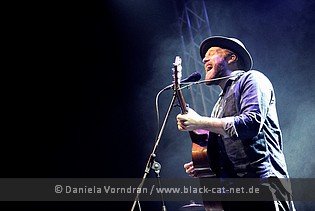 Music & Performance

Even though the stage needed no rebuilding at all, it took 40 more minutes until ALEX CLARE, accompanied by SAINT JAMES, finally entered the stage at nine. Having a short glimpse at the setlist, we soon realised that it won't be a really long show. But the show was intense from the start to the end. As mentioned earlier, the hall was not very well filled, but maybe this was just the right frame for an intimate acoustic performance. Both guys were welcomed by enthusiastic cheers and started the set with 'Never Let You Go'. Alex turned out as very nice and kind person, talking a lot with the crowd and making jokes. Very amusing. And of course there was his piercing voice, crawling intensely under your skin. Supported by fantastic sound, there was music-wise nothing to wish for. Alex was not supported during all songs by SAINT JAMES on his drum pad, but when he was, the drumming added some more intensity to the songs. But even when Alex was all alone on stage, he had the audience in his hands. He just has a great stage presence.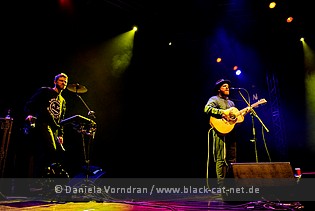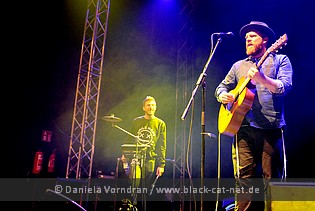 Towards the middle of the set, he asked into the audience, if there is someone with the name Caroline… One girl was there with that name or at least something similar – I could not understand it – but Clare dedicated the next song, 'Caroline', to her. Between the songs, he also tried to speak German with the audience and he promised when he's back to Germany next year, he will speak a better German. When the last song on the setlist, 'Too Close', was reached, just fifty minutes had passed and Alex waved goodbye. People could not believe that this was already the end. But there was first no sign that Alex would return. Even the lights in the hall turned on and people screamed and whistled. Finally, ALEX CLARE came back for two additional songs. All in all, the set took only one hour. Intense, but much too short. So Alex, come back to Germany, but please play longer. We need more!
Setlist

01. Never Let You Go
02. Just A Man
03. Three Hearts
04. Relax My Beloved
05. Goodnight Irene
06. Whispering
07. Caroline
08. Hummingbird
09. War Rages On
10. Unconditional
11. Too Close
---
12. Two more songs
Rating

Music: 9
Performance: 8
Sound: 8
Light: 7
Total: 8 / 10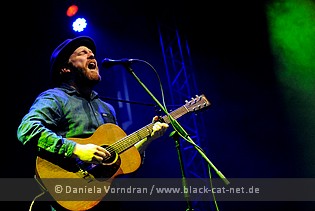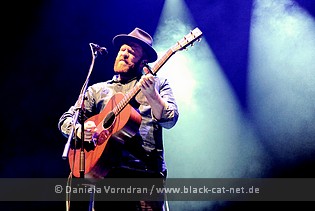 All pictures by Daniela Vorndran (
http://www.vorndranphotography.com
/
http://www.facebook.com/blackcatnet
)