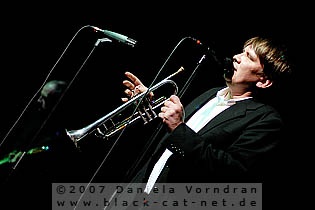 Congress-saal Halle Münsterland, Münster, Germany
7th March 2007
Element of Crime, Ed Csupkay

ELEMENT OF CRIME did not really care about coolness during the last 17 years. They changed languages as they wished; they explored new music but still continuity remained. Today, the band around singer Sven Regner is a classic of German Pop culture. Who else combines so naturally roots based in Punk with Chansons and Elements of "circus" music? Because of their very successful tour and sold out venues last year, ELEMENT OF CRIME are back for several more shows in 2007 – again with the latest album 'Mittelpunkt der Welt'. On 7th March, they played in front of about 1,000 fans at the congress hall in the "Halle Münsterland", supported by ED CSUPKAY.
Ed Csupkay

ED CSUPKAY grew up in Bremen / Germany where his Hungarian father forced the child Ed to play violin… as it suits a boy from the Puszta. Later on, he also learned guitar and mandolin; he played in lots of bands – in Folk bands, Punk Bands or even in a Psychobilly band. After Ed moved to Berlin, he continued working as musician, bouncer, barman and tour manager. He played in different bands and worked as tour manager for artists such as MOTÖRHEAD, ANTHRAX or MONSTER MAGNET. Sometime, he finally entered the stage under his own name ED CSUPKAY. The album 'Das Tier in mir' was released in January 2007.
http://www.edcsupkay.de/
/
www.myspace.com/edcsupkay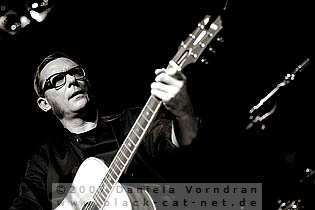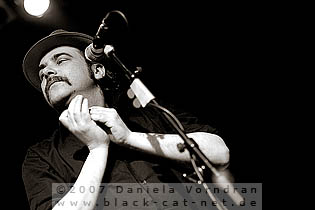 Music
ED CSUPKAY is presenting songs somewhere between Folk and Country. There were just two people on stage – Ed and his harmonica playing companion Malcom Arison from Manchester. He was presenting the one and only album he released so far (and which was produced by ELEMENT OF CRIME's Sven Regner) presenting all in all seven German Folk songs that move somewhere between Wild West and Street romance. Ed's rough voice is supported very well by his guitar play, violin or the harmonica. Even though the songs are arranged acoustically, they are of impetuous power – unpolished, authentic and striking. Straight forward he sings about hopeless and miserable love and how to deal with it; he moans about frustration and anger, gives an insight into his life. He's not making happy songs; the songs touch the soul and make you ruminate.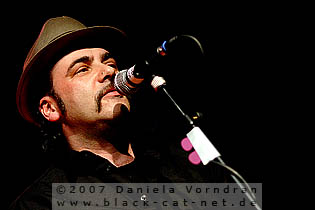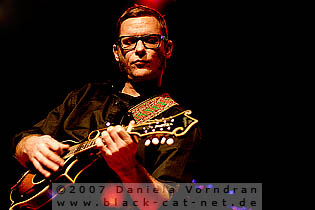 Performance
This support act was announced by Sven Regner himself. Not much was necessary for his show – just Ed and his harmonica player presented the mostly acoustic songs in quite a calm manner. There is not much deviation in the show, but this is not necessary for this performance because it's the music that counts. Highlight was the last song – a German version of the RAMONES classic 'I wanna be your boyfriend' what Ed supported with virtuous violin play.
Setlist
01. Wenn wir endlich weitergehen
02. Loch in der Brust
03. Einfach
04. Kopf
05. Kalter Wind
06. Holstein
---
07. Süßes Ding
Rating
Music: 7
Performance: 5
Sound: 8
Light: 7
Total: 6.6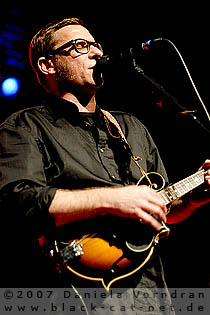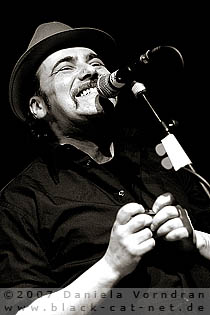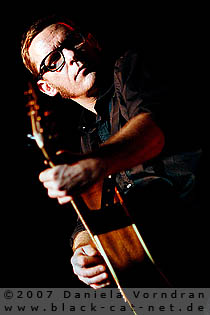 Element of Crime
The band's history is dating back to 1985 when ELEMENT OF CRIME (EOC) was founded in West Berlin. Also the first album was recorded that year – in just five days – and released later in 1986. Soon the band was signed at POLYDOR. While the first album was sold about 800 times in the first year, the second one released in 1987 made it to 10.000 copies in the first year. Lots of live shows followed. While the first albums all were English, the first German song appeared on the 1989 record 'The ballad of Jimmy and Johnny'. The live album 'Crime Days' – released in 1990 – is document of the English speaking era of EOC. The first German album 'Damals hinterm Mond' was released 1991 and caused quite some discussions. 1992, the band was invited as support of HERBERT GRÖNEMEYER. The 1993 album 'Weisses Papier' becomes kind of "hit" and brought EOC into the album charts for the first time of their career. The band's popularity was constantly increasing and brought them several more chart entries and sold-out shows over the years. The latest album 'Mittelpunkt der Welt' was released in autumn 2005 followed by extensive touring.
After several line-up changed over the year, EOC today are Sven Regener (vocals, guitar, trumpet), Jakob Ilja (guitar), Richard Pappik (drums) and David Young (bass) as well as light engineer Fred "DerFred" Winkler.
http://www.element-of-crime.de/
/
www.myspace.com/eofc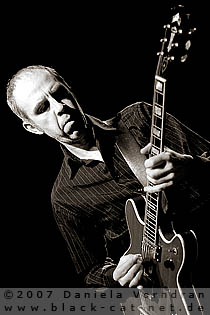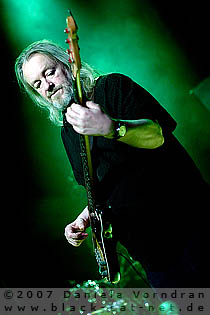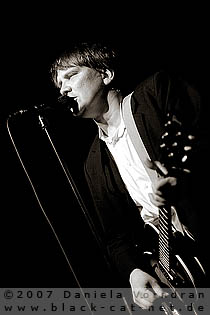 Music
ELEMENT OF CRIME – that's honest and calm Rock music based on worldly wisdom and beautiful melancholy. The music of ELEMENT OF CRIME consists of several sound crumbs – guitar, bass and drums – and things which would turn out to Rock music within other bands turn out as some kind of folk rock within ELEMENT OF CRIME. It is utterly good and always right. All band members are good musicians who could easily create elaborate songs; but they don't do that. If you work on classics, overkill is not good. With the latest album, the band again sounds rougher than during their previous two albums; more as a band again.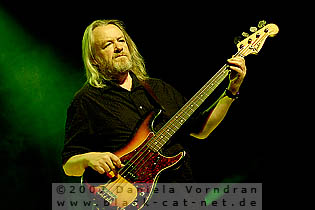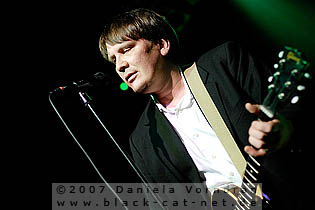 The band started with an intense pushing version of 'Straßenbahn des Todes'. The sound is well balanced from the very beginning (even though there were some smaller dissonances when sitting on the balcony) and Sven's lyrics very well articulated. The instruments were all very well adjusted too. Sven Regner changed between his longingly lost songs – intonated quite calm – and sullen Rock songs, often supported by his trumpet play which some kind of gives room to the songs. The guitar play of Ilja is crystal clear and bridges any genre borders. Together with David's bass play and the drum beats, EOC were creating perfect organic sound.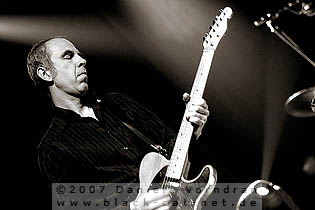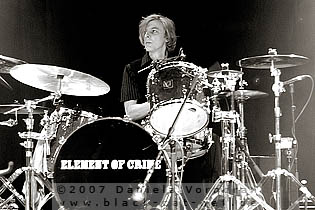 Performance
After the first song 'Straßenbahn des Todes', Sven welcomed the audience and explicitly said he wanted to do it at that early moment because in the past it was said that the band is arrogant. In a funny way he stated that this is true, but they don't want to appear like that… what caused the first laughs during the evening. And during several more funny statements, more should follow. When Sven started his trumpet play during the third song 'Geh doch hin', this was surely one of the first highlights of the evening. EOC were nearly playing the whole latest album 'Mittelpunkt der Welt' and it became sure that those songs reached the status of highly acclaimed audience favourites – and so people sang along the songs. There was not too much movement during the show – even though people were dancing along some of the songs – but it was more important to listen to the lyrics which are quite important. For 'Elbe 1', Richard left his place and started playing harmonica – together with Sven's trumpet play this song became something special. With 'Murder in your eyes' in the middle of the main set, the only English song has been played, remembering of the good old "Disco times".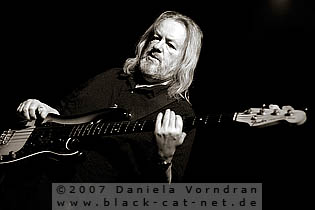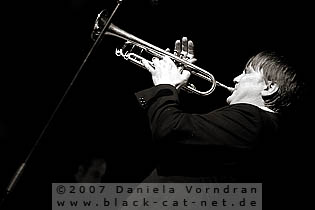 The light show – and especially the typical green light – is very important for EOC. So, it was a pleasure to watch the lights painting patterns onto the stage or creating shadows of the musicians on the walls. Very impressive and great for a quite "small" venue! 'Delmenhorst' and 'Mittelpunkt der Welt' marked the end of the main set and were celebrated by the audience. The band left the stage but came back for four times to play several more songs. With a new version of the UDO LINDENBERG song 'Leider nur ein Vakuum' a great show ended.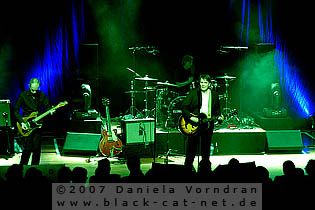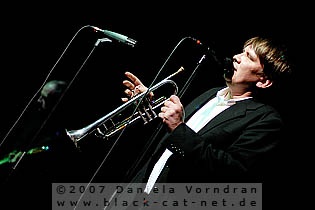 Setlist
01. Straßenbahn des Todes
02. Wenn du wartest
03. Geh doch hin
04. Wenn der Winter kommt
05. Finger weg von meiner Paranoia
06. Elbe 1
07. Mehr als sie erlaubt
08. Murder in your Eyes
09. Im Himmel ist kein Platz mehr für uns zwei
10. Ich kann warten
11. Gelohnt hat es sich nicht
12. Immer unter Strom
13. So wie du
14. Weißes Papier
15. Weit ist der Weg
16. Still wird das Echo sein
17. Delmenhorst
18. Mittelpunkt der Welt
---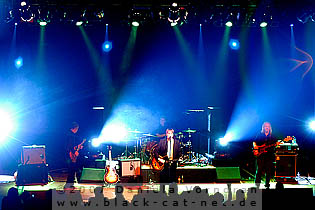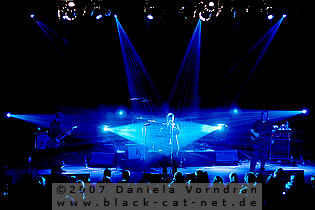 19. Die letzte U-Bahn geht später
20. Draußen hinterm Fenster
---
21. Damals hinterm Mond
22. Bring den Vorschlaghammer mit
---
23. Jung und schön
---
24. Leider nur ein Vakuum (Udo Lindenberg Cover)
Rating
Music: 8
Performance: 9
Sound: 8
Light: 10
Total: 8.6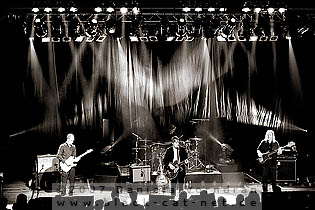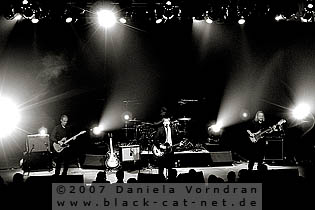 All pictures by Daniela Vorndran (
http://www.vorndranphotography.com/
/
http://www.black-cat-net.de/
)
{jos_sb_discuss:17}