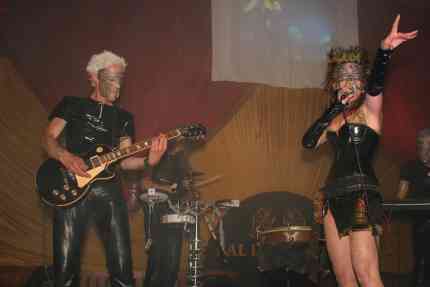 Bal du Masque, Amsterdam, The Netherlands
July 30th 2005
The Dreamside

You had to be on the list to get in, and give your password at the door but then… you were in for quite a party. When entering you first saw many wonderful outfits and magnificent masks. In the middle of this hall there was a table set up with silk like fabrics over it making it look like an icy rock. On this rock there was 'the ice queen' passing out ice cream with Champaign all evening. Outside there was a fire and an absinth bar and inside you could dance to all kinds of different tunes, but at 11:30 it was time for some life music, performed by The Dreamside.
The Dreamside
This evening The Dreamside was to present their new single 'Open Your Eyes' together with its music video. They could only perform 4 songs for it was just a presentation and not a full performance. When the time was there they were announced by Medusa, who had organised this masked bal.
Music
I had never heard The Dreamside before and was very curious how they would sound, I did not know what to expect. They play a mixture of styles, both gothic and metal collide in their music. You can head bang to the guitars or dance to the beats, there is something in there for everyone. Kemi (vocals) has a diverse voice; she can both hit the high notes and sound raw. There seemed to be some trouble with the sound for when Kemi was singing her high notes she had to hold one ear closed, but whatever troubles there might have been, there was no sign of that in the way she sounded.
Performance
Behind clouds of smoke two flaming torches appeared, they were the drum sticks of Merijn for this first song. It was dark and dreamy on stage, maybe a little too dark and a little too much smoke but the idea was nice. Each band member was wearing a silver mask which looked like it was made out of metal. Kemi even had feathers on her mask and a great outfit on, not much fabric but what was there looked great. Because of the masks it was hard to see the expressions on the faces of the band and also due to the fact that there was hardly any light on stage, but still they looked as if they were having a good time, also considering their movements. Kemi has some wonderful moves on stage and she knows how to capture the audience. Because it was a very small stage the men had to stay put. Kemi did walk around a bit and made contact with the other band members; this showed they had fun amongst each other.
Rating
Music 8
Performance 7
Sound 6
Light 4
Total