Page 1 of 2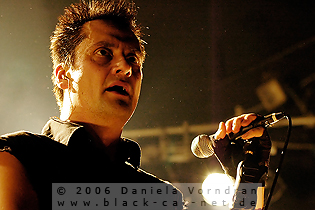 Kulturfabrik, Krefeld, Germany
27th January 2006
Die Krupps, Lluther, Undergod
'Die Krupps' is another legend which saw a return in 2005. To celebrate 25 years of existence, the band around mastermind Jürgen Engler returned on stage and also recorded new material – a new version of 'Wahre Arbeit Wahrer Lohn' with collaborator Douglas McCarthy (of 'Nitzer Ebb' fame) and the brand new track 'Der Amboss' featuring the girls of the British electro pop duo 'Client'. The anniversary tour continues in 2006 and we joined the tour in a very special place for 'Die Krupps', the Kulturfabrik in Krefeld. Supported by 'Undergod' and new Industrial Metal hope 'Lluther', it was a night to remember!
Undergod


This band from Switzerland looks back on a rather long career. 'Undergod' released their debut 'Aurora' back in 1998; and their 4th album 'Killove' saw a Europe-wide release this February. The band features Thommy Baumgartner (vocals, guitars), Maja Schwarz (guitars), Aelle (bass), Chris Specker (drums), and André Champaloux (programmings). After many tours including support slots for 'Zeromancer', 'Letzte Instanz', 'Voivod', 'Foetus', 'Clawfinger' and 'Disturbed', the band now supported German music legend 'Die Krupps' on a 10-dates tour.
http://www.undergod.net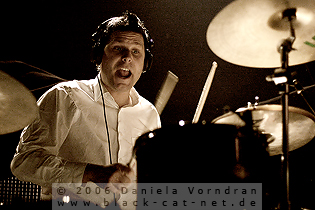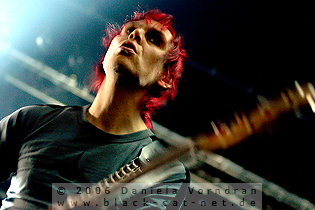 Music
'Undergod' are often described as Industrial Rock, although they are more on the Heavy and Rock side of things. Still they put nicely electronic elements into their music. Parallels to bands like 'Orgy', 'Gravity Kills' or the more straight-forward, rockier side of 'Nine Inch Nails' (like on their last album 'With Teeth') come to mind, as well as US-Rockers 'Filter' and 'Two', the project of Trent Reznor and 'Judas Priest's' Rob Halford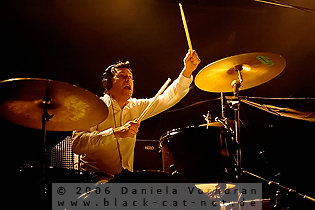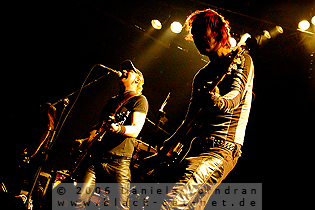 Performance
'Undergod' were unknown to most people in the audience, so it was (unfortunately) no surprise that the audience were holding a safety distance of a few meters from the stage. Only the photographers and one or two 'Undergod' fans were closer to the stage. However, the band was left unimpressed by that and delivered a solid set. After four albums and many many gigs they are a routined live act, and new member Maja Schwarz incorporated into the band smoothly with her guitar play. Best song of the set was 'BerliN', the lead single off 'Undergod's' recent album 'Killove'.
Rating
Music: 6
Performance: 7
Sound: 5
Light: 5
Total: 6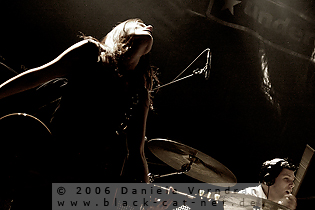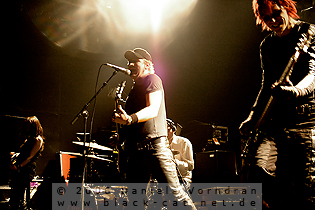 Lluther


'Lluther' is the project of vocalist, songwriter, arranger and producer Gerry Owens. 'Lluther' is praised as the new hope in Industrial Metal and got some hype in Germany by scene magazines like 'Sonic Seducer' or 'Zillo'. Yet unfamiliar with their music, I was curious if the band – whose live line-up also consists of deK (guitar), Chief (bass), Heff (samples/guitar) and Ger Farrell (drums) – can stand the test in a live setting.
http://www.lluther.com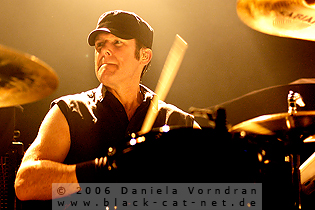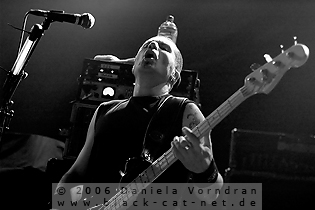 Music
Gerry Owens, mastermind of 'Lluther', was a member of 'Skindive' and learned a lot while working in the studio with Danny Saber, known of 'Bowie' and 'U2', Dave Ogilvie, known of 'Manson', 'NIN' and 'Skinny Puppy', and Adrian Sherwood, known of 'Ministry' and 'Sinead O'Connor'. The single 'Fixer' and the debut album 'Agents of Empire' got raving reviews but are yet unknown to me. So I can only judge the band from their live appearance…
Performance

Thanks to the hype 'Lluther' had a few more fans in the crowd than 'Undergod'. Still most people decided to stay more in the back of the venue. Perhaps this has also to do with the fact that 'Lluther's' gig was very loud – too loud! The performance was quite decent but I have to admit that I wasn't too impressed. I heard similar bands many times before, and being the latest darling of the press doesn't mean that you're actually really good. But to be fair, 'Lluther' did their best to get the crowd involved and the fact that I wasn't to impressed by their musical style shouldn't mislead one that the band actually played very very well – just something I heard in other bands before. ;-)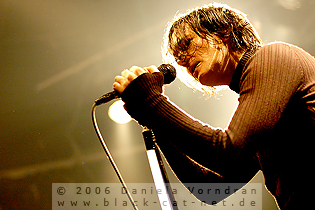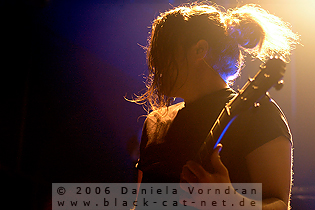 Setlist

01. Father Of Lies
02. Fixer
03. People Is Ugly
04. In Decline
05. Venus Complex
06. For You
07. American Gods
08. Agents Of Empire
09. Disconnect
Rating

Music: 9
Performance: 9
Sound: 8
Light: 6
Total: 8 (8.4)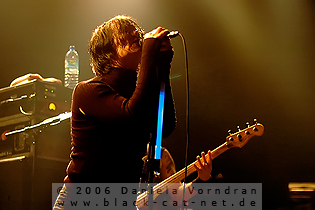 Die Krupps


It's surprising how many legends from the Electro/Industrial saw a return over the last one or two years. 'Die Krupps' are one of the bands who made music history and after years of silence hit the road again. 'Die Krupps' 2006 are Jürgen Engler (vocals), Ralf Dörper (keyboards), Rüdiger Esch (bass) – this trio forms the nucleus of the band – plus live members Marcel Zürcher (guitar) and Oliver Röhl (drums).
http://www.dkay.de/krupps_index.html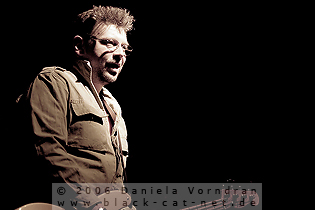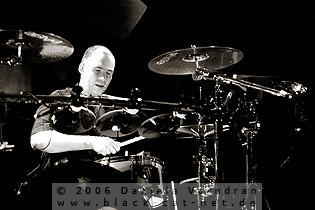 Music

Emerged from the early Punk band 'Male', 'Die Krupps' were founded by Jürgen Engler and Ralf Dörper in Düsseldorf, Germany, in 1981. Their first release was 'Stahlwerksinfonie', a two track mini-album which was the foundation stone for 'Die Krupps'' reputation as pioneers of Industrial and electronic music. They left the guitar-driven Punk of 'Male' behind and created a more avant-garde, experimental sound. 'Stahlwerksinfonie' also introduced the use of steel and drills as percussive instruments, similar to the contemporary 'Einstürzende Neubauten' from Berlin. Engler later even invented a new music instrument called 'Stahlophon' (steelophone). 1981 also saw the release of the single 'Wahre Arbeit Wahrer Lohn', one of 'Die Krupps'' biggest hits, which had a dancier and more direct approach. The single 'Goldfinger' and the album 'Volle Kraft Voraus', both released in 1982, followed this path. Together with 'Deutsch-Amerikanische Freundschaft' (DAF), 'Die Krupps' pioneered yet another time in a new musical style which subsequently evolved to Electronic Body Music in the late 80s, with bands like 'Nitzer Ebb' citing 'Die Krupps' as one of their biggest influences. In 1989, 'Die Krupps' even collaborated with 'Nitzer Ebb' for a new version of 'Wahre Arbeit Wahrer Lohn' re-titled 'The Machineries Of Joy'.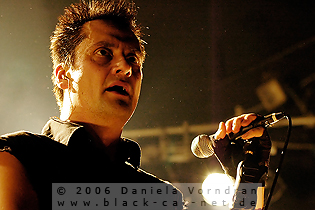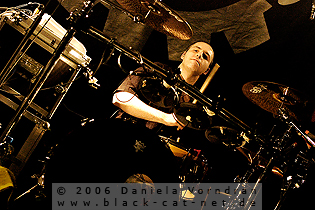 In 1992 'Die Krupps' opened a new chapter with the album 'One' and introduced heavy guitars to their electronic sound. At that time a quite unusual step to combine Electro with Metal. Although some American bands like 'Ministry' took the Industrial Rock road by combining Metal guitars with sampling technology, 'Die Krupps' perfected this style by truly merging heavy guitars with electronics on an equal footing instead of just having Metal with some electronics added (like 'Ministry'), or doing synth-based Rock songs (like early 'Nine Inch nails'). With their 1993 album 'II – The Final Option', which spawned the massive Alternative hit 'To the Hilt', they perfected this crossover of Metal and Electro-Industrial. A musical style that became quite popular in the early and mid-90s. With the following two albums, 'III – Odyssey Of The Mind' (1995) and 'Paradise Now' (1997), 'Die Krupps' dived deeper into the Metal genre, gaining new fans from this scene but also loosing some old fans who weren't too happy anymore with the more and more Rock orientated direction. Still both albums were successes chart-wise. After 'Paradise Now' it became silent around 'Die Krupps' and Jürgen Engler released two solo albums under the name 'Dkay.com'. 2005 marked the 25th anniversary of 'Die Krupps', and Engler and Dörper reactivated the band to celebrate the anniversary with an extensive tour.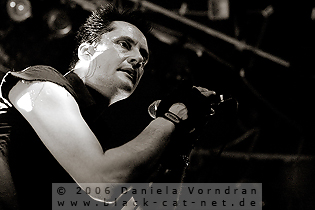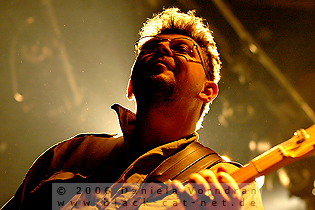 Performance
A 25th anniversary tour being special anyway, the show in Krefeld was even more special for 'Die Krupps' as the Kulturfabrik was the location where 25 years ago 'Die Krupps' played their first gig ever! Hence historic place for Jürgen Engler and his band mates! A show which would have deserved to be sold out but unfortunately wasn't – but still a very good crowd was waiting for 'Die Krupps', including a few 40-somethings who have followed the band since the very early days of 'Wahre Arbeit Wahrer Lohn'. After a short intro the band started with "Hi Tech Low Life" – reminded me on the tours in 1991/92 when 'Die Krupps' used to open their shows with this song as well. People were dancing from the start and the excellent 'Isolation' – I just love this great electro-bass! – caused the first little riot. Jürgen Engler proved that he didn't lose his magic as a front man over the years and provided a great and very active performance. A few welcoming words and the remark that this location is very special in the history of 'Die Krupps' followed, and then 'Crossfire' broke in. The Metal heads joined happily in the mosh pit, and I wondered if 'Die Krupps' will go back further than their 90s material.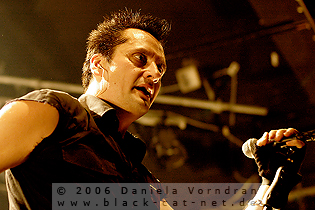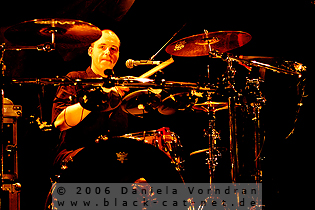 Yes, they did! The guitarist left the stage and hard-beating extended version of 'Germaniac' pleased the fans of the very early days of 'Die Krupps'. This was followed by a totally unexpected 'Für einen Augenblick' from 1982's album 'Volle Kraft Voraus', followed by the title track of the album in a medley together with 'Goldfinger'. Great stuff! And these songs still don't sound dated, it was astonishing how fresh and powerful these more than 20 years old gems still sound in 2006. With 'Scent' and 'Alive' the band returned to their 90s outputs and then offered brand new material – the track 'Der Amboss', up to now only available on a limited CD sold at the shows, and the yet unreleased song '5 Millionen'. With the lyrics of this new track 'Die Krupps' take up political and social issues again, like they did so many times in the past, bewailing the 5 million jobless in their home-country Germany and the clueless politicians who babble instead of solving problems. The next round of songs included classics and crowd pleasers like 'To the Hilt' or the superb 'Metal Machine Music' before 'Die Krupps' finished the main set with 'Fatherland'. Engler was on a high, running around on stage and finally climbing the PA. Whatever you think about this kind of Rock-star pose, the fans (including me) loved it, and you wouldn't think that this is a man very well in his mid-forties. Great man, great performer! 'Die Krupps' came back for a two-song encore, including the classic 'Machineries of Joy' (of course without guest vocalist Douglas McCarthy, though it would have been excellent).
All in all a brilliant gig, much better than I had expected. 'Die Krupps' still got it and proved that they are an exciting live band. I especially loved that they included many of the very very old Electro classics and not only those Industrial Metal songs which brought them mainstream success in the last decade. Latest news are that 'Die Krupps' will play some big festivals in Europe this summer, something you shouldn't miss at all!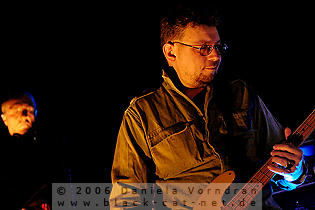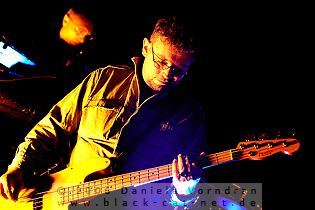 Setlist

01. Intro
02. Hi Tech Low Life
03. Isolation
04. Crossfire
05. Odyssey of the mind
06. Germaniac
07. Für einen Augenblick
08. Volle Kraft / Goldfinger
09. Scent
10. Alive
11. Der Amboss
12. 5 Millionen
13. Black Beauty White Heat
14. Dawning of Doom
15. Metal Machine Music
16. To the hilt
17. Fatherland
---
18. Machineries of Joy
19. Bloodsuckers
Rating
Music: 10
Performance: 10
Sound: 9
Light: 7
Total: 9 (9.4)