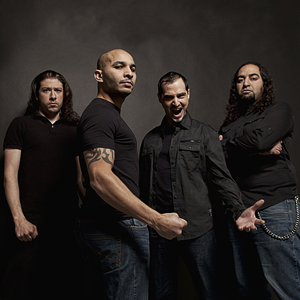 Interview with

Foued Moukid (drums and percussions) from ARKAN

Up till now if anyone told me about a great French Death Metal band, my reply would be o la la... but when the discussion comes to ARKAN and their latest album 'Salam' we are talking about one of the best releases in the genre of 2011. In our discussion with Foued Moukid, their founding member, we have touched on topics as their music, politics, inspirations and aspirations, and even riots.


Reflections of Darkness (RoD): Could you briefly introduce the band to those who might not have heard of you, how did you come together?
Foued Moukid (Foued): ARKAN was created in 2005 by me after joining the band THE OLD DEAD TREE. I wanted to launch a musical project that combines metal and oriental music. For this band, I wanted to work with musicians who had the same passion and aspired to the same goals. Samir, Mus and Florent joined the band in summer 2005, and Sarah collaborates with ARKAN since the end of the composition of 'Hilal'. In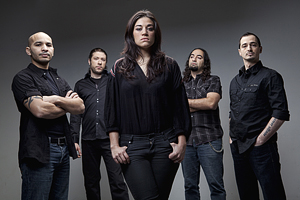 2006, we released our first EP 'Burning Flesh'. Subsequently, we began the composition of our first album 'Hilal' which was recorded at Studio Fredman in 2008 under the leadership of Fredrik Nordström. In order to promote this album, we realized several tours (through France, Switzerland, Holland and Tunisia) including two tours with SEPTICFLESH and ORPHANED LAND. Fully satisfied with our collaboration with Fredrik, we wanted to repeat the experience for our second album, "Salam," which has just been released.

RoD: What gave you the inspiration to combine Black Metal with traditional oriental instruments?
Foued: The idea to combine metal and oriental music in this project goes back a long way and even pre-dates the time when I joined THE OLD DEAD TREE. I have always wanted to combine my cultural origins with the music I am most fond of. Except a small number of bands, oriental music was not represented in the European Metal scene. I thought this project might bring a new breath in trying to mix two very different styles: oriental music including Chaabi which is the musical style the most popular in Maghreb and a powerful metal with growls and hard riffs. It is difficult to find good musicians to form a metal band but it's even more difficult to find great musicians playing both metal and North African music. My inclusion in THE OLD DEAD TREE helped me to build my experience in a professional band and create a social network in this scene. In 2005, Mus and Samir, former members of an Algerian death metal band named WORTH, and FLORENT, a former member of WHISPER-X, joined me with the same desire to try something new.

RoD: In 2005, when the band was formed, there has been a riot in the suburbs of Paris. How has it influenced the band? Can you describe us your version of Paris?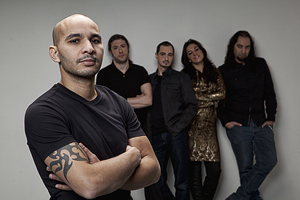 Foued: It was a period close to apocalypse. We understand this exasperation but we can't condone the violence generated. I can't really say that these events have been an influence on the band. However, these uprisings have individually affected us.

RoD: From your previous album, 'Hilal', there has been a shift in the way you're playing. What made you change the approach of the orchestrations?
Foued: We started with the premise of 'Burning Flesh' then 'Hilal' and 'Salam' is the logical next step. Our only goal was to incorporate in a more pronounced way our oriental influences. 'Salam' continues the direction initiated by 'Hilal'. 'Salam' is therefore more melodic and a more prominent part was given to oriental moods and harmonies. ARKAN was never intended to do two identical albums / EP. The compositions of our releases are different but follow the same connecting thread.

RoD: What was your vision when you were writing the songs for 'Salam'?
Foued: The musical approach in 'Salam' is different from that of our first album. 'Hilal' is a compendium of everything we loved, listened and wanted to say at that time. This album also covers 60 minutes. It's intense. It is a very rich album and we intended to show to everybody "Hey guys, look at what ARKAN is able to do". However, 'Salam' is not intended to prove anything. It is just the continuation of our musical approach. We no longer want to scream to the world that we exist. We just would like to share our passion for Metal music with our audience by adding a touch of musical diversity.

RoD: Which were the biggest difficulties you had to face over the years as a band?
Foued: For the moment, even if it's hard to create and develop a band like ARKAN, I must confess that we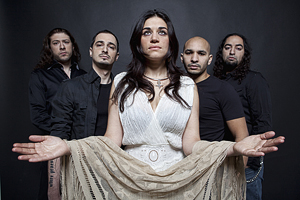 haven't been confronted to strong difficulties which would result in the end of the band. Obviously, all is not rosy. Certain intense working periods are not easy to support but working hard is the hallmark of ARKAN. We've cross all these steps because we are not afraid of working and we'll never change this process.

RoD: Riots marked the forming of the band and now as it seems riots In North Africa and Middle East are shuttering the regimes. What is your opinion about what has happened there?
Foued: The various uprisings taking place right now in the Arab lands clearly show one thing: people intend to control his future. Arab peoples have been oppressed by their authoritarian and corrupted rulers since a long time. There is a real problem of wealth distribution as evidenced by the fortunes amassed over decades by Mubarak, Ben Ali, Kadhafi while their people lived in poverty. Don't forget that some North African countries like Algeria and Libya are rich in natural resources (oil and gas). These mineral treasures should allow local people to experience a real economic development.

I think all people's emancipation from tyranny is a good thing and is a sign to the other oppressed people all over the world that a better future is possible if everyone would decide to control his destiny. I hope that the richness average level of the Arabian people will increase due to a new share system of wealth. In order to reach this purpose, they must eradicate oligarchy and corruption. It's not impossible that you will see in the future more Arabian bands in the international metal scene cause of this new wealth share and the decrease of social pressure on metal fans. Generally speaking, we wish good luck to all peoples of the world who fight for freedom.

RoD: What are the future plans of the band? Do you plan to give live concerts in North Africa and/or elsewhere?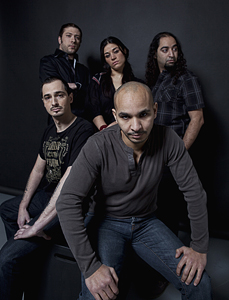 Foued: Regarding 'Salam', I think I can say that the hardest part is behind us. So, we are working on upcoming gigs and in particular on a gig for the Motocultor Festival in August. Changes in the performance of our new album due to the departure of Abder require an adjustment period in order to give our best on stage. Several dates following the release of "Salam" are being booked and we have just announced a European tour scheduled for the end of 2011 through France, UK, Germany, Belgium, Spain, Netherlands, Switzerland, Denmark, Austria, Hungary and Romania with ORPHANED LAND. Moreover, we'll finish this tour with 4 dates with ARCH ENEMY in France.

RoD: Black Metal has attracted quite diverse fans over the years.  What are their reactions towards you?
Foued: 'Salam' and 'Hilal' have been chronicled by numerous magazines and webzines around the world and feedbacks have all been very good. It's always nice to see that a lot of people with diverse backgrounds like our music despite the distinctive and particularly of our compositions. Moreover, at each place during our various gigs, we received a very warm welcome from an open-minded public which was very receptive to our music. I think a lot of fans know that the message we spread in our lyrics is very tolerant. ARKAN wants to encourage people to think for themselves and does not try to impose its vision.

RoD: Most of the Black Metal bands seem to follow either a course of esoteric matters or spitting out their neurosis.  Was it a conscious decision to take a different route?
Foued: Relating to its music and lyrics, ARKAN always want to avoid stereotypes. We want to propose something new, a new musical and conceptual experience. I think a lot of Black Metal bands have esoteric lyrics because they haven't inspiration or consider lyrics as something not important. It's not the philosophy chosen by ARKAN.

RoD: What are your interests besides music? Which things challenge you or provoke you?
Foued: It depends on each musician but except music we haven't a lot of "free time" to invest ourselves in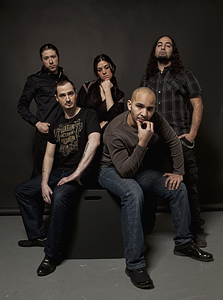 new projects. ARKAN is a band which needs a 100% investment. This requires that we accept concessions which are in reality accepted without problems because every day we see results. So, we use our free time to rest. Personally, I try to spend maximum time with my family.

RoD: Whilst France is known for its enthusiastic metal fans there are not many internationally famous metal bands coming from over there. Why do you think this has happened?
Foued: For years, the French metal scene has suffered from a bad impression. Fortunately, things are slowly changing. I think we have some very good bands in France whose technical level is comparable to Scandinavian and U.S. bands. Bands like GOJIRA or DAGOBA are currently restoring the reputation of French Metal scene. I think also that the French public is looking for some musical originality and wants more cultural innovation. The mixture of cultures in the West favours this openness. Metal fans are becoming more curious and want, particularly via the Internet, new musical experience. ARKAN is trying to meet this need and offer original music.

RoD: You're standing between two cultures and apparently there exists much prejudice and suspicion between the two sides. Has that affected you personally? What are your opinions on all that? To what degree does it affect you when you're composing your songs?
Foued: I am French and my parents have Moroccan origins. Samir, Mus and Sarah were born and bred in Algeria. Florent even if he is French has Greek and Italian origins. So, we actually come from different backgrounds, each member having his/her own roots and cultural influences. It's these cultural differences which make the things interesting. It allows us to have a very large inspiration in terms of compositions. Everyone pitches in and brings his personal touch.

Multiculturalism in France is strength, not a weakness contrary to what some politicians want us to believe. Philosophical and cultural exchange has beneficial effects and helps us to be open to the world. We are trying to create a bridge between people from different musical and cultural backgrounds. We are facing this diversity of cultures in our everyday lives. I think music transcends ethnicity. During our gigs, we see completely different kind of fans. Some of them are pure extreme Metal fans; others are fans of melodic Metal, rock or oriental music. We regularly receive messages of support from all around the world (from Europe of course but also from the United States, Turkey, Algeria, Syria or Siam!).

RoD: Would you like to give a message to all your fans?
Foued: Thanks for this interview. You can learn more about our news by visiting our official website www.arkan.fr, our MySpace www.myspace.com/arkanband and Facebook page. Stay tuned!

RoD: Thank you very much for taking time to answer these questions!