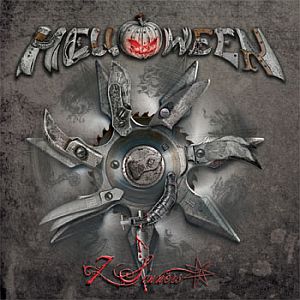 Artist: Helloween
Title: 7 Sinners
Genre: Power Metal
Release Date: 29th October 2010
Label: DRA (Sony BMG)
Album Review

After 16-17 years since Michael Kiske left HELLOWEEN, the battle between the metal heads still rages on; Kiske or Kai Hansen? Of course few noticed that the band had changed a singer meanwhile and Andi Deris became the lead vocal. The year was 1994 and the band was losing its reputation after the rather catastrophic 'Pink Bubbles Go Ape' (and certainly from the 'Chameleon'), a reputation built from their debut album 'Walls of Jericho' only to be magnified by the single 'Judas' and of course the paramount 'Keeper of the Seven Keys'. From that point onwards every comparison made was to be between the past of the band and the present, which was found lacking in front of it. The firing of the drummer Ingo Schwichtenberg due to his illness made things even worse since his technical skills were unquestionable.
But now we are in 2010 and the HELLOWEEN have returned with a new album the '7 Sinners'. I guess that the title is meant as a reply to the 'Keeper...' and to the past of the band. The similarities do not end at this point. The song 'World of Fantasy' can be listened to juxtaposed with the anthem 'I Want Out', the 'You Stupid Mankind' as a continuation (or a second part if you prefer to) of the 'Judas' and 'Far in the Future' with what else but the 'Future World'. Yet what is more important is the overall feeling of the album; my personal estimation is that it was written and performed as a form of patricide. How else could one explain not only the aforementioned similarities but much more importantly the very lyrics of 'Who is Mr. Madman?' about the
"sixteen years have passed.... since the Casanova of his time... where is he now?"
, a personal attack at Michael Kiske. Maybe not meant exactly for him as a person (though his stance, finding only negative points for the period which he has been the singer of HELLOWEEN must have been a small contribution to it) but surely as the most prominent singer the band ever had, the singer who in the minds of not only the metal heads but of all the other Power Metal bands was identified as the singer of the 'Keeper...'.
Therefore it is not strange that in '7 Sinners' Deris tries to compete with his own ghosts and fears if I may add. Paradoxically enough this song is one of the very best of this album. The overall feeling of the album after listening to it is that HELLOWEEN are back in the game. 'Are You Metal?' one of their songs asks and they surely are metal - Power Metal with a tone of Progressive that is. The umbilical cord with the past is cut and though the baby resembles its parents it isn't identical with them. The oldest and the hardest core of their fans will find great songs to love; the newest will love it anyway!
Tracklist

01. Where The Sinners Go – 3.36
02. Are You Metal? – 3.35
03. Who Is Mr. Madman? – 5.43
04. Raise The Noise – 5.07
05. World Of Fantasy – 5.15
06. Long Live The King – 4.13
07. The Smile Of The Sun – 4.37
08. You Stupid Mankind – 4.04
09. If A Mountain Could Talk – 6.44
10. The Sage, The Fool, The Sinner – 4.00
11. My Sacrifice – 4.59
12. Not Yet Today – 1.12
13. Far In The Future – 7.44
Line-up

Andi Deris – Vocals
Michael Weikath – Guitar
Sascha Gerstner – Guitar
Markus Grosskopf – Bass
Daniel Löble – Drums
Websites

http://www.helloween.org/
/
http://www.myspace.com/helloween
Cover Picture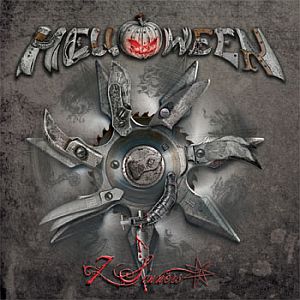 Rating

Music: 8
Sound: 8
Total: 8 / 10
{jos_sb_discuss:19}