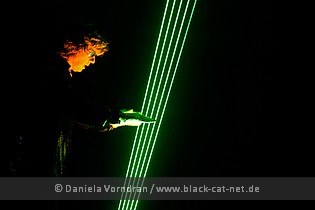 Westfalenhalle, Dortmund, Germany
4th November 2011
Jean Michel Jarre

JEAN MICHEL JARRE has written music history. Not only with the music itself, 'Oxygene' for instance, but with the whole live setting. On every single of the shows he's performing he's creating a live spectacle incorporating laser elements, making it a visionary experience. Also. He's holding various live records and it is doubtful that any other modern musician could come up with a similar history. You need an example? There you go: More than 2 million people attended his show on occasion of the 200th anniversary of the French Revolution. In this year's November, JEAN MICHEL JARRE embarks on a tour of Germany and two dates within the Ruhr area were on his schedule, one of which we were a part of in Dortmund. http://www.jeanmicheljarre.com/ / https://www.facebook.com/jeanmicheljarre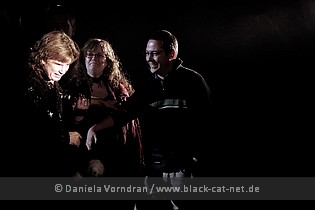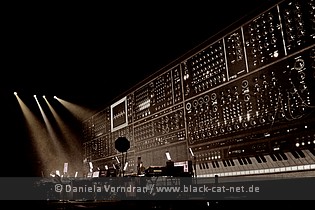 Music & Performance
You could tell how popular JEAN MICHEL JARRE still is by the masses gathering at the entrance area to soon get in. Turns out it still wasn't enough to fill the hall completely because there was still a lot of free space left when we got into the venue at last. Sharp at 8pm, the show started with the intro sounding from the front and Jarre entering the room from the back right through the audience shaking hands. A few words to greet the crowd followed and then it was time to kick things off so he and his musicians took place behind their respective machine parks. Opening the show was the famous 'Oxygene 2' with its distinctive melody before 'Equinoxe 7' brought up a more clubby rhythm and a 3D journey into the depths of an analogue synth projected on the cinema-sized wall in the back. For a while it seemed that his was the only thing we'd get. I mean, Jarre and his fellow musicians hiding behind their machineries.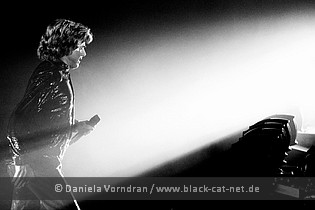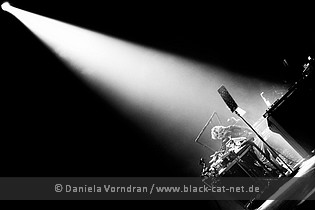 At least Jarre wouldn't keep it that way. First time he walked to the front was to use a kind of laser synth thing I've never seen in my life. Those beams were stretching right up to the ceiling and as soon as he'd reach into it, it would create a sound so he could play it like a piano and so he did over the next track. Another special was him playing the Theremin. I've seen a lot of people playing that instrument but not like he did it, processed with effects and stuff. That way he could great textures of any pitch, and a bass sound that was nearly stopping your heartbeat. So it turns out that I was a little wrong. There was quite some action there, even if it was a different kind of action than you'd get to see with a real band. The ego camera was another cool idea by the way. So what's the bottom line of it all? If you ever get the chance to see JEAN MICHEL JARRE live, take it and make sure you get a good view on the stage for the incredible laser show.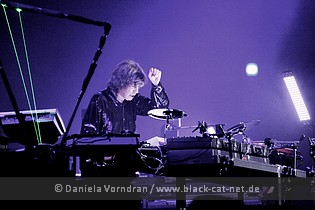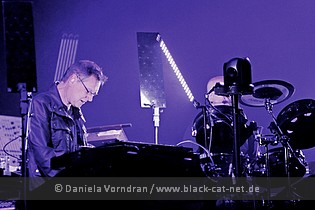 Setlist
01. Intro
02. Oxygene 2
03. Equinoxe 7
04. Equinoxe 5
05. RDV 3
06. Magnetic Fields 2
07. Souvenir de Chine
08. Oxygene 5
09. Variation 3
10. Theremin
11. Equinoxe 4
12. Statistics Adagio
13. Chronology 1
14. Rev Industrielle Part 3
15. RDV 2
16. RDV 4
17. Chronology 2
18. Oxygene 4
19. Oxygene 12
---
20. Teo And Tea
21. Vintage
22. Fin De Siecle

Rating
Music: 9
Performance: 9
Sound: 9
Light: 9
Total: 9 / 10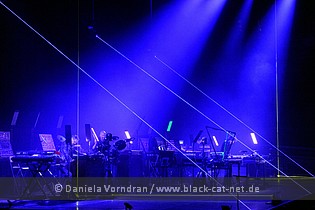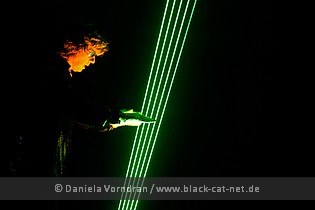 All pictures by Daniela Vorndran (http://www.vorndranphotography.com / http://www.black-cat-net.de/ / http://www.myspace.com/vorndranphotography / http://www.facebook.com/blackcatnet)