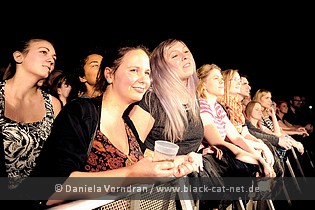 Essigfabrik, Cologne, Germany
9th December 2015
Maximo Park & Clock Opera

It is already ten years ago that bands like MAXIMO PARK, BLOC PARTY or EDITORS released their debut albums. While latter mentioned bands nowadays walk on totally different paths… up to electronic-wave sounds, the quintet from Newcastle still is up for nostalgia. During all in all four German concerts, the debut album 'A Certain Trigger' was played in full length.
Clock Opera

Wednesday evening in Cologne was opened by London based Indie Rock band CLOCK OPERA, being founded in 2009 by singer and guitarist Guy Connelly. The band is completed on bass and guitar by Andy West, on drums by Che Albrighton and liven stage by Dan Armstrong on keyboards and vocals. Their debut album 'Ways to Forget' was released in April 2012. The second album, 'Changeling', will be released soon. It is financed by a crowd-funding campaign. On 5th November, 2015, the first track from the band's upcoming second album was premiered.
http://www.clockopera.com
/
https://www.facebook.com/clockopera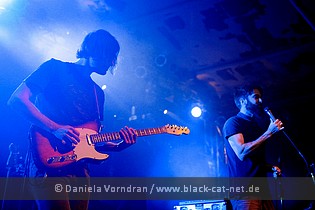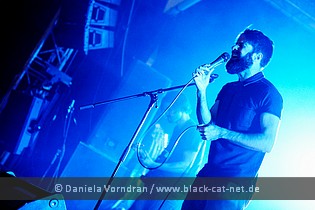 Music & Performance

Well, CLOCK OPERA entered the right stage in time after they announced a few days before the concert that they would play on 9th December in Heidelberg. Of course this was wrong. But joking aside: the Londoners played a set of seven songs, stylistically moving between mid-tempo Indie Rock and Electronica. Fans of the US band THE FAINT should prick up their ears. Singer Connelly understands very well to manoeuvre his voice to various heights without any trouble and also his three companions could convince with not too monotonous sounds. So, the thirty minutes quickly passed away, even though the volume level was a bit too low. Especially 'Lession No. 7' at the end of the set made the audience in the well filled location spent more than just polite applause support acts usually get.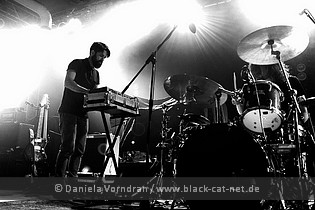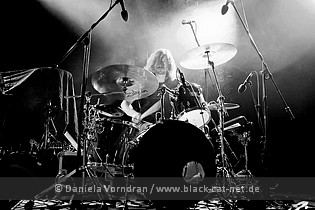 Setlist

01. Closer
02. Changeling
03. In Memory
04. Disobey
05. Ron
06. Cat's Eye
07. Lesson No. 7
Rating

Music: 7
Performance: 7
Sound: 7
Light: 7
Total: 7 / 10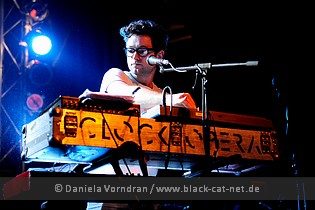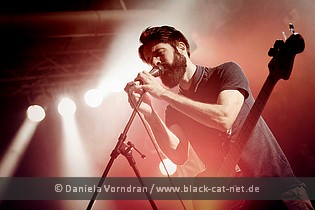 Maximo Park

The band from English Newcastle was founded in 2003. They've sold over 2.5 million records, have reached the UK Top 10 three times by now, and were awarded silver, platinum, and double platinum records. Without doubt, MAXIMO PARK is one of the most important and influential Indie bands of the British tradition. Duncan Lloyd (Guitar), Tom English (drums), Lukas Wooller (keyboards), Paul Smith (vocals) and Archis Tiku (bass) have released five albums so far, the last one 'Too much Information' in January 2014. But their artistic and commercial biggest success, MAXIMO PARK was celebrating with their debut album 'A Certain Trigger' from the year 2005.
http://www.maximopark.com
/
https://www.facebook.com/maximopark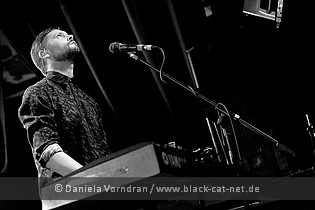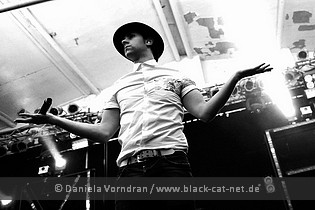 Music & Performance

Different to many other album concerts these days, the quintet opened with a colourful cross-section through their history of the years 2007 to 2014. Live on stage, the band is supported by HOT CLUB DE PARIS bassist Paul Rafferty, replacing Archis Tiku who does not play live anymore since 2012. Pleasant thereby: not only the well-known singles of the albums two to five were played but also the rarely live performed 'Wraithlike' from the third album as well as 'Wasteland' from the British Charity compilation 'Help! A Day In The Life' from the year 2007 found their way into the setlist of the first half of the gig. From the very beginning with 'Girls Who Play Guitars', the audience proved itself as very word-perfect and ready for celebration. I guess there is no need to talk sprawlingly about the as usually concentrated-calm (Lloyd, English, Rafferty) to antsy-euphoric (Smith, Wooller) performance of our five protagonists. After the big his 'Our Velocity' and 'Books From Boxes' there was time for a little break.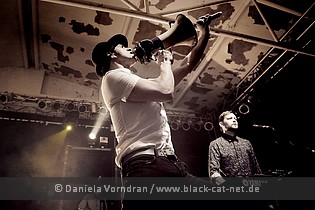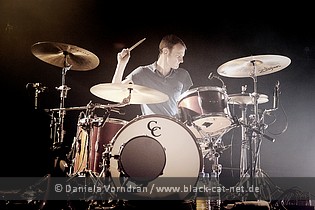 Back from the break, singer Paul Smith returned with his well-known black-red outfit which the front man already was wearing during the first bigger concerts of the band in 2005. With the onset of the album-introducing drum sounds from 'Signal And Sign' there was no holding-back in the audience area anymore. Of course, this was no surprise. Hit after hit on of the highest-class Indie albums of the last fifteen years was played… with perfect acoustic and decent, but very fitting light show, enriched of the usage of lasers every now and then. Only one attendee seemed to be willing to resist the concept of the evening and several times requested 'Let's get clinical' from the 'Quicken the Heart' album loudly. Singer Smith commented with a smile and the words "I like that song, too and I promise that we will play it again in the future. But this part of the show is built on a concept" in his usual charming manner. Also a second request for 'Parisian Skies' from the 'Our Earthly Pleasures' album remained unheard… sad at the end.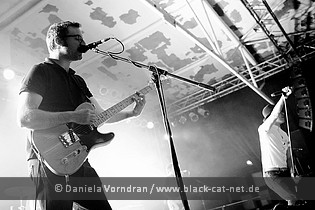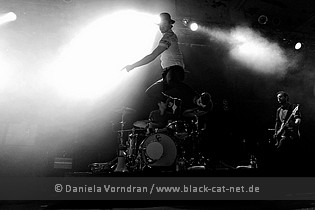 The only complaint on this evening was the lack of any encores. The lights just went on after 'Kiss You Better'. In my opinion, the perfect end of the show would have been indeed 'Let's get clinical' and 'Parisian Skies' which was proved as last song of a show in the past years…
Setlist

01. Girls Who Play Guitars
02. The National Health
03. Wraithlike
04. The Kids Are Sick Again
05. Leave This Island
06. Hips And Lips
07. Wasteland
08. Russian Literature
09. Give, Get, Take
10. Our Velocity
11. Books From Boxes
---break---
12. Signal And Sign
13. Apply Some Pressure
14. Graffiti
15. Postcard Of A Painting
16. Going Missing
17. I Want You To Stay
18. Limassol
19. The Coast Is Always Changing
20. The Night I Lost My Head
21. Once A Glimpse
22. Now I'm All Over The Shop
23. Acrobat
24. Kiss You Better
Rating

Music: 9
Performance: 10
Sound: 10
Light: 9
Total: 9 / 10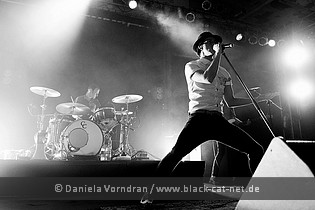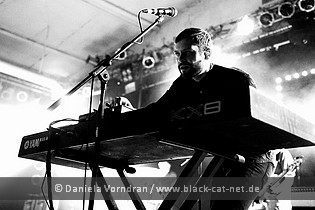 All pictures by Daniela Vorndran (
http://www.vorndranphotography.com
/
http://www.facebook.com/blackcatnet
)