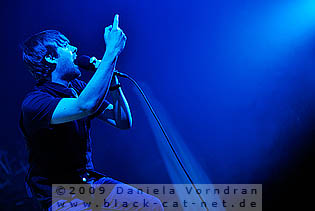 Live-Music-Hall, Cologne, Germany
21st January 2009
Kaiser Chiefs, Dananananaykroyd


The KAISER CHIEFS invited to Cologne and people from near (like us for instance) and far - far in this case means England - streamed to the Live Music Hall to celebrate with the British guys and to learn that there's actually a band with the name DANANANANAYKROYD…



Dananananaykroyd

The band came together in 2006 in Glasgow. Already later the same year, their former vocalist quit his job, which was eventually taken over by the drummer. Debut single 'Totally Bone' was released through Moshi Moshi in 2006, to be followed by 'Some Dresses' on Jealous Records later the same year. After switching over to another label, their first proper EP 'Sissy Hits' finally got released in April 2008. DANANANANAYKROYD is Laura Hyde, David Roy, John Baillie Jnr, Duncan Robertson, Paul Carlin and Calum Gunn.
http://www.dananananaykroyd.co.uk/
/
http://www.myspace.com/dananananaykroyd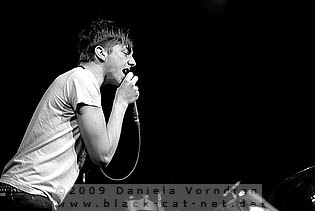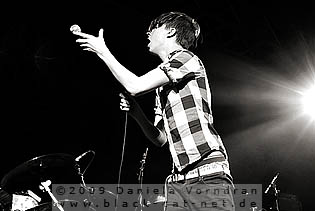 Music & Performance

Well, if a band calls itself DANANANANAYKROYD it's safe to assume two things: Firstly, they have a waggish sense of humour, and secondly, they have a freak-ish on-stage attitude. Both things just hit the nail on the head as we found out very soon, when the six- piece entered the stage to warm the crowd up for the eagerly awaited KAISER CHIEFS. Despite those indeed welcome character traits, they had a bit of a problem initially to succeed in fulfilling that task, because except for a few individuals, many people just stood there like poles, while the band literally freaked out up there. The guitarist even played his tool on his back and for a moment I thought I saw a second set of strings attached to the instrument's back and they had two fully-fledged drum sets on stage with drummers displaying a remarkable synchronicity in playing them.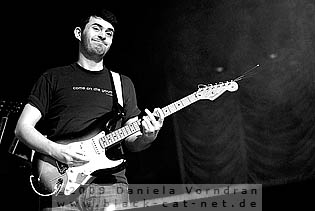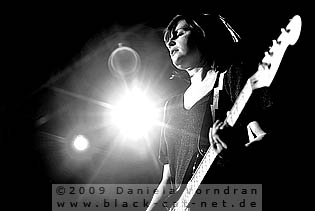 The highlight, not only for me I have to add, was the 'Wall of Cuddles'. Don't know what a cuddle is? Shame on you, it's a hug, actually. To demonstrate how it's done, they audience was ordered to form an alley and was divided into 2 teams. What was coming next was basically, everyone hugging their opposites. Strange ritual, but funny! At the end of the show, they had fulfilled their task. They did warm up the audience which was pretty reluctant at the beginning with a good compound of driving rhythms, riffs, and humour.
Rating

Music: 7
Performance: 8
Sound: 7
Light: 7
Total: 7.3 / 10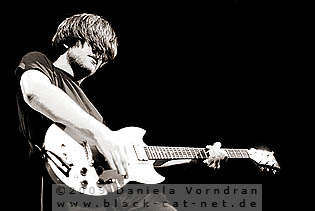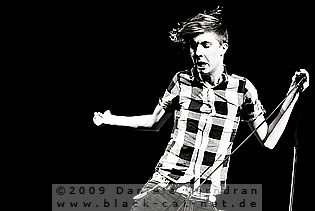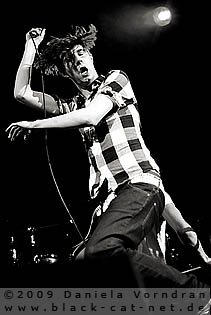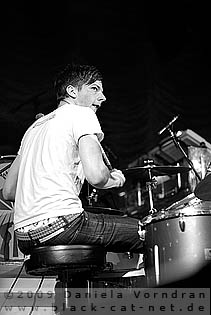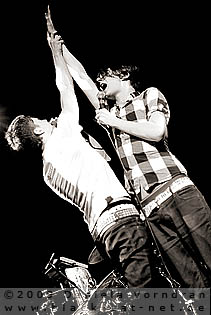 Kaiser Chiefs

The KAISER CHIEFS are a band formed in 2003 in good old England, specifically in Leeds. They had their breakthrough in autumn 2004 with the single 'Predict a Riot', reaching the British single chart with it. With the re-release of debut single 'Oh my God' they cracked the Top 10 in England right away.2005 then saw their debut album release 'Employment', peaking at number 2 of the UK albums chart and being certified 5 times platinum. Following albums like 'Yours Truly, Angry Mob' (2007) and their most recent disc 'Off With Their Heads' (2008) easily repeated its success 'Yours Truly, Angry Mob' even reached #1. KAISER CHIEFS are Ricky Wilson (lead vocals, percussion), Andrew White (guitar), Simon Rix (bass), Nick Baines (keys) and Nick Hodgson (drums, backing vocals).
http://www.kaiserchiefs.co.uk/
/
http://www.myspace.com/kaiserchiefs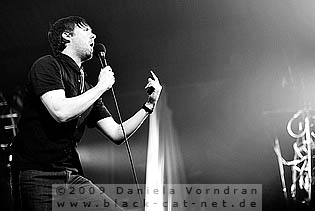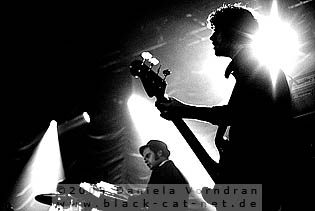 Music & Performance

During the rebuilding break, the venue filled up rapidly and soon was packed. Some fans even seemed to have followed the band all the way from England. Real fans!!! Anyway, the KAISER CHIEFS, as main act, of course didn't have to worry about a too timid crowd. The chiefs appeared and everybody's adrenaline level went straight to a 150% and a rain of cheers poured down on them short before the opener 'Spanish Metal' sounded and dancing people all over the place could be spotted. Actually it was rather metal than Spanish, but who cares if you can have a good time with it. For those not so familiar with the works of the British lads, they're mixing up elements of Garage and Indie Rock, but also drawing influences from many other stylistic corners, which include some electronics as well. Now back to the concert itself: Keeping the aforementioned mood in mind one wouldn't think it's necessary or possible to up anything.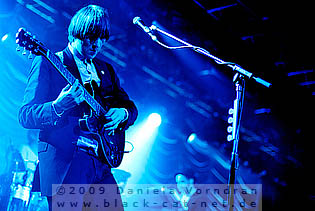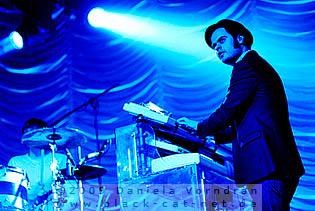 Singer Ricky Wilson did it anyway and it was fascinating to see that, as a reaction to his encouragement, which also included stepping up the barriers to the security pit to get as close to the fans as possible, even the last one's in the hall now got infected by the virus which is called good temper. They're just radiating good atmosphere and if you're then feeding the crowd with anthems such as the rather down-tempo 'Ruby' developing a magnificent power in its chorus, or the song with the hard-to memorize phrase 'Na na na na naa', everyone could sing loud enough after a little practicing session with Ricky. Later on followed a little social criticism with the statement "It's cool to know nothing" on 'Never Miss a Beat', just to come 'round the corner with the breakthrough hit single 'Predict a Riot' and come up with really cool solo parts on the speedy 'Take My Temperature'. I enjoyed my first show with the KAISER CHIEFS a lot and if some time in the future another chance for me to see them comes along consider me in on the party.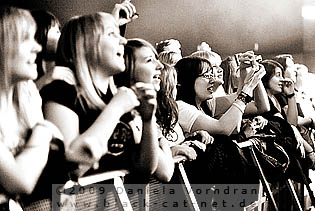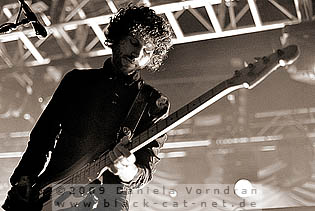 Setlist

01. Spanish Metal
02. Everyday I love you less and less
03. Everything is Average Nowadays
04. Heat dies down
05. You want history
06. Ruby
07. Thank you very much
08. Good days bad days
09. Na na na na naa
10. Modern Way
11. Half the truth
12. Never miss a Beat
13. I predict a Riot
14. Take my Temperature
15. The Angry Mob
---
16. Can't say what I mean
17. Oh my God
Rating

Music: 8
Performance: 9
Sound: 8
Light: 8
Total: 8.3 / 10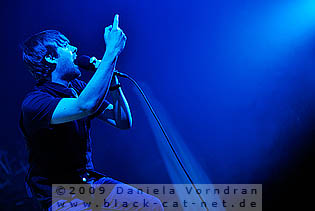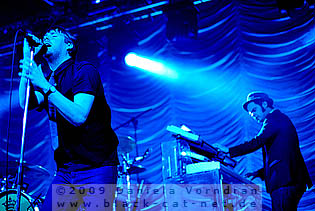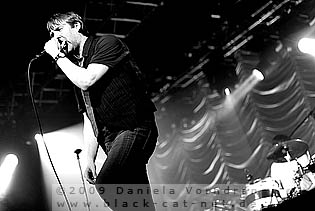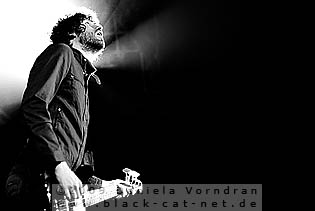 All pictures by Daniela Vorndran (
http://www.vorndranphotography.com/
/
http://www.black-cat-net.de/
/
www.myspace.com/vorndranphotography
)
{jos_sb_discuss:17}