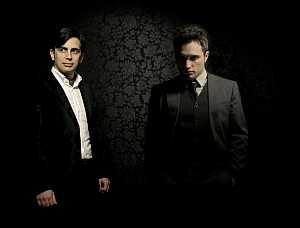 Interview with

Gianpiero Timbro (vocals, guitars, bass, lyrics) from Oniric

In one of the hot spring evenings during my journey to Rome, I had my first meeting with Gianpiero Timbro, the front man and vocalist of ONIRIC. I wanted to know more about this promising Italian band and so we talked about the band itself, its music and future plans…


Reflections of Darkness [RoD]: Your band is quite unknown among our regular readers and visitors of the website – could you tell us a little about yourself? Such a presentation from yourself.
Gianpiero Timbro [Gianpiero]: ONIRIC is a duo project composed from me Gianpiero Timbro and Carlo De Filipp; we have invited another person – Simona Giusti the female voice and singer. The band was born in 2006 and the first album came out in 2009. The title of this album was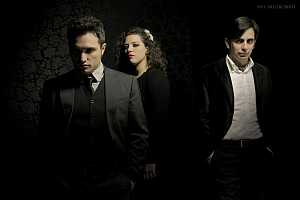 'Cabaret Syndrome'. And now in 2013 will be out our new album 'Mannequins'.

RoD: For a long time I considered you a French band. In your debut album 2009 there were a few songs in French. The main part of your songs is traditionally in English. Why are you not singing in Italian? It's one of the most beautiful languages in the world. (But special thanks for French from me).
Gianpiero: French inspired us because last year we were traveling in French. I was inspired by the atmosphere of the landscape. It's not only from French language and music but from landscape and the feeling, as it was shown by Jean-Pierre Jeunet, filmmaker of "Le Fabuleux Destin d'Amélie Poulain". It's an example. But back to your question, in this second album we have one song in Italian language. I think in future will be some more songs in Italian.

RoD: You are called a clone of SPIRITUAL FRONT, but more romantic and sweet. What do you think about this? Tell us about your relationship with SF.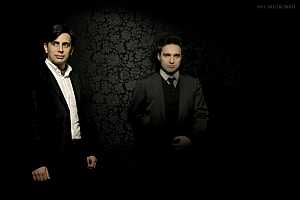 Gianpiero: I think to be similar with other band it's not so great. We have a female voice that SF does not have. People think that there is some similarity because of using the same instruments as accordion for example, because of male voice, maybe physical, as we look like. Sure their music is fantastic and it's normal that we were inspired by them.

RoD: But you know guys from SF personally?
Gianpiero: Yes. For example, Andrea the drummer. Last year I propose him to play drums with us. But he is too busy; he has a lot of projects.

RoD: And what is your relationship with other Italian bands in this genre (neo-folk, dark pop)?
Gianpiero: We have some friends from other bands. Our big friends are the trio ASHRAM (http://www.ashramusic.com). Their music is very, very deep, composite by violin and male voice.

RoD: And do you think to work with some other bands in future?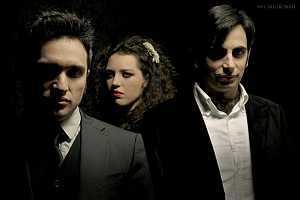 Gianpiero: I think that ASHRAM is such band, if it will be possible; we want to do something together with them.

RoD: The first album that you recorded was with a beautiful girl, Simone, who is not included in the band ONIRIC. Please tell me, did she take part in the new album that's coming out soon?
Gianpiero: Yes, she is our guest, but a special guest. Because her voice is very complicated. She is our great friend. And I don't know other female voices that can pass to ours. She is a guest because ONIRIC was born as a duo and will die as a duo. We don't want to change our concept.

RoD: What interesting things will bring this new album music-wise? Will you support the success of your debut album, or aren't you afraid to surprise us with something new?
Gianpiero: For me, ONIRIC music is inspired only from multiplication of dreams. So we made music in our own way. Which kind of music it is? I don't know. I didn't ever categorize for me which kind of music is ONIRIC. That's why I can't answer your question .After debut album I see it as dark folk and dark cabaret. And in these styles we will stay for now.

RoD: Please tell us how you got with your first album on the label Caustic, which normally specializes on EBM music.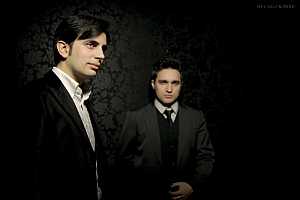 Gianpiero: I don't know why Caustic label decide to produce us. I think that our music is not only for dark cabaret or dark folk, it's for pop music too. And besides, Caustic has two brands, white and black. Black brand is all electronic music, EBM, electro dark, future pop, industrial. And white brand for dark folk and other. We were released on a white brand. I know electronic label, but I think that ONIRIC was first release from dark music label.

RoD: Your plans for future? Do you want to visit Russia and the Ukraine?
Gianpiero: In future we want to play in Europe if it will be possible. I try to contact some promoters. My dream is currently to play in Russia and Ukraine and I hope it will come true.

A few days before this Interview is finally published, ONIRIC has released the new video 'Found love in a pain(t) [you make me feel]', so enjoy it too: http://www.youtube.com/watch?v=pGIGNVgVPDA

Photography by Carlo Roberti (http://www.solobuio.com/)
Written by Daria Szegeda (Ukrainian Gothic Portal). The Russian version of the article is available here. Special thanks for helping to prepare the questions for this interview to Maryna Evilly