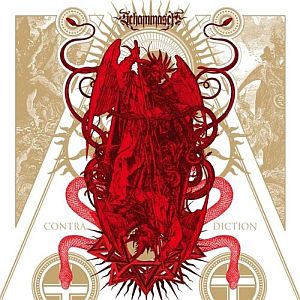 Artist: Schammasch
Title: Contradiction
Genre: Black / Doom Metal
Release Date: 28th April 2014
Label: Prosthetic Records
Album Review

SCHAMMASCH were founded in 2009 and released their debut 'Sic Luceat Lux' in 2010 via Black Tower Productions. With their follow-up 'Contradiction', the Swiss quartet presents a unique and self-contained album, which is divided into two parts and has a play-time of over 84 minutes.
It is hard to pinpoint a definite style or genre, since SCHAMMASCH incorporate a variety of influences into their music, ranging from Black Metal to Doom Metal. However, 'Contradiction' is a dense mélange of said elements alongside multi-layered instrumentation, suspenseful and often unforeseen changes of tempo as well as complex song structures. As a result, 'Contradiction' needs most definitely time to breathe and let the listener absorb and indulge in all different sorts of moods and atmospheres. Moreover, the lyrics form a layer on their own, since they embrace different states of mind and outlooks in an often metaphoric way.
The album consists of two parts, whereas 'Crown' serves as sort of transition or disjunction between the two. The first CD somewhat expresses rage, chaos or more straight-forward emotions, the second CD seems more thoughtful and introverted. Thus, the title 'Contradiction' appears programmatic and most fitting. It is hard and probably unjust to highlight one or several songs, since they are all of equal, high quality and form a coherent progression. However, the latest 'JHWH' sticks out to a certain extent, due to its very unique and enthralling atmosphere, which is a result of a tense and interesting combination of clean and harsh vocals. The whole album is furthermore well-produced, so that each and every single facet can be perceived. 'Contradiction' is thus a very demanding but conclusive album, which probably ranks among 2014's most important surprises in Extreme Metal.
Tracklist
CD1
1.Contradiction
2.Split My Tongue
3.Provoking Spiritual Collapse
4.Until Our Poison Devours Us
5.Crown
CD2
1.The Inner Word
2.Serpent Silence
3.Golden Light
4.JHWH
Line-up

C.S.R - Voice/Guitar
M.A - Guitar
A.T - Bass
B.A.W - Drums
Website

www.schammasch.com
/
https://www.facebook.com/SCHAMMASCH
Cover Picture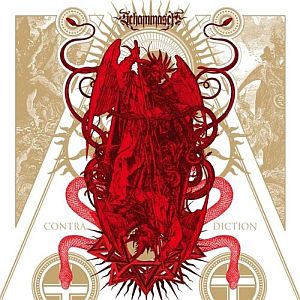 Rating

Music: 9
Sound: 9
Extras: -
Total: 9 / 10