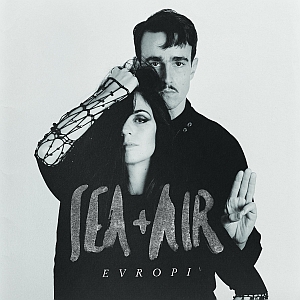 Artist: Sea + Air
Title: Evropi
Genre: Ghost Pop
Release Date: 21st August 2015
Label: Glitterhouse Records
Album Review

The word eclectic is a far too limited description for the music husband and wife/ Greek and German duo SEA + AIR create. It's a start, but once you dip a toe into their contradictory yet weirdly harmonious ghost-pop, summing them up with one word just seems, well, rude somehow. Theirs is a journey across Europe, picking up and then discarding influences, instruments, textures and creative ideas, begging, borrowing, and stealing all the time, but then throwing out finished songs of staggering originality with an ease that frankly shouldn't be allowed.
To get an idea of the range on offer on 'Evropi', compare the calm, haunting opening sounds of breaking waves and ethereal, gothic singing on the darkly gorgeous 'We All Have To Leave Someday' with the bouncy pop master class of 'Follow Me Me Me'. They couldn't be further apart in many respects, yet they are clearly the result of the same creative process, from stately melancholia to an infectious joie de vivre after only two songs. On 'Should I Care', there are gentle folk undertones and perfectly weighted harmonies between the male and female vocals, and even a slightly sickly chorus can't sink this one. There are flashes of eccentricity in the vocal interplay, cascades of piano and general ebb and flow of 'Mercy Looks So Good On You', which could be THE DRESDEN DOLLS in their prime, and on 'Flowers From The Distance' the other-wordly singing is eerie and wonderfully bizarre, sound-tracking some long lost psychedelic sci-fi film perhaps, or a night-time melt-down in a neon bedsit.
There are moments when 'Evropi' drifts a little too close to MOR for comfort, and there's a dip in quality control around the half-way mark, losing some of the earlier momentum. But by 'Lady Evropi' they're back to their best, this clever little pop song giving itself a good kick across mainland Europe. 'We Understand You' is a 'We Are The World' moment, but with none of the cheese and glop, and there's even something of Lennon / McCartney in the structure. If this doesn't make you smile, nothing will. The album could happily have ended here, but opts instead for a dramatic swoon of beautiful harmonies and gentle, swaying instrumentation on 'You Are'. It's as if THE CARPENTERS were somehow transported to 2015 and asked to write a song overlooking the spires and fountains of a grand European city. Simply beautiful.
So, we leave SEA + AIR as they traverse the continent, physically, metaphorically and emotionally, and we certainly avoid calling them merely eclectic. Theirs is a shifting, restless and endless journey, and it's one you'll want to make with them.
Tracklist

01. We All Have To Leave Someday
02. Follow Me Me Me
03. Should I Care
04. Mercy Looks Good On You
05. Peace Begins At Home
06. Misery
07. Flowers From The Distance
08. Pain Is Just A Cloud
09. Lady Evropi
10. Hahahaha
11. We Understand You
12. You Are
Line-up

Daniel Benjamin - Vocals, Concerto Guitar, Drums, Cymbals, Bells
Eleni Zafiriadou - Vocals, Harpsichord, Organ Bass Pedal, Drums
Website

https://www.facebook.com/SeaandAir
/
http://seaandair.net/
Cover Picture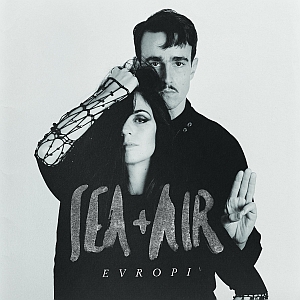 Rating

Music: 8
Sound: 8
Total: 8 / 10