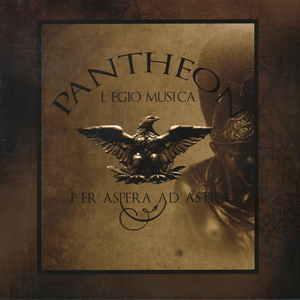 Title: Per Aspera Ad Astra
Artist: Pantheon Legio Musica
Genre: Ancient Industrial
Release Date: 4th April 2008
Label: Thonar Records
Album Review

Thonar Records presents a new young German project called PANTHEON LEGIO MUSICA. And if that name conjures some associations with the ancient Rome in your mind then you're quite close to the truth. The band calls their style "ancient industrial folk" and the topic of the debut 'Per Aspera Ad Astra' is indeed the ancient Rome.
Already the first song shows a central element that will, which accompanies the listener throughout the album and is one of the trademarks of the band. As a title for the first song serves initialism from a Latin phrase, "Senātus Populusque Rōmānus" ("The Senate and the People of Rome" or "The Senate and Roman People") referring to the government of the ancient Roman Republic. The trademark I mentioned before is the use of martial seeming percussion instruments, melted with industrial influences. The following 'Vesta' opts for a different approach and more emphasis has been placed on the creation of monumental sounds such as choirs, marching drums and walls of strings. One has indeed the feeling of being witness to the mustering of the roman legions, prepared to conquer. The first vocalized song comes out of the speakers with 'Sacred Grove' which is carried by clean female vocals hovering above a composition resembling the one in the first song yet it's a bit calmer and spreads a more mystic oscillation. Besides all the harsh an frisky industrial and percussion rhythms, there exists also a more reluctant side of PANTHEON LEGIO MUSICA on which songs like the hymnal 'Pantheon' putting the ambient side to the fore and one of my favourites, the gloomy mystical 'Memento' with its wonderful choirs and a subtle rhythmic accentuation, while a distant female voice enchants you, always broken by dense atmospheric entities filled with acoustic guitars and wistful ale chant.
With their first album PANTHEON LEGIO MUSICA opens a new musical field and doesn't limit itself to one particular mood. The album constantly swings between the strength of mighty sonic walls and the fragility of Glass.


Tracklist

01. SPQR – 4:20
02. Vesta – 5:44
03. Sacred Grove – 5:33
04. Son of Jupiter – 3:34
05. Pantheon 4:58
06. Pompeii – 4:19
07. Hymn to Kalliope & Apollon – 3:28
08. Asia Minor – 4:14
09. Ignis – 4:44
10. Prayer to Mars – 4:06
11. Legio XIX Augusta – 5:24
12. Herculanaeum (Pompeii Alt.) – 5:31
13. Roma Secunda – 3:48
14. Memento 3:54
15. Omega – 2:20
16. Fragment – 1:31
Line-up

Andreas R - Composition, Guitar & Lead vocals
Marcus S - Composition, Drums & Percussions
Thomas B - Drums, Vocals, Percussions
Website

http://www.pantheonhq.com/
/
http://www.myspace.com/pantheonhq
Cover Picture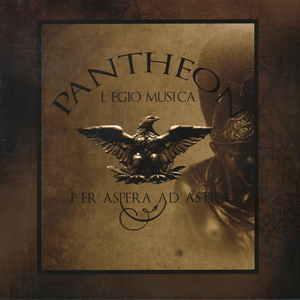 Rating

Music: 8
Sound: 7
Extras: -
Total: 7.5