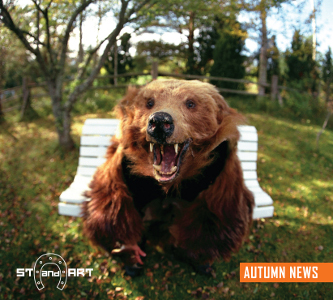 Title: Autumn News
Artist: STandART
Genre: Electronic / Dark Wave
Release Date: 8th November 2009
Label: Unsigned
Album Review

Founded in 2002 by Kalvis Kluburs, the line-up of STANDART was subject to several chances in the days to come before settling with a fix cast eventually. The project has released its first album 'Australia' in 2007. It's been nominated "Best Debut of 2007" at Latvian Music Awards and received positive recognition from DJs and press alike. In the live department they can come up with several shows in the Baltic territories and Poland, including a support slot for CAMOUFLAGE in Estonia. A good two years from their first record, STANDART return with their sophomore 'Autumn News'.
'The Field Where I Died' brings back the throbbing synth pulse of 80s electronic music heroes and combines it with a vintage industrial vibe laced with roaring guitars. The best thing though, and a really surprising one at that is the crystal clear and astonishing vocal delivery, brittle and strong at the same time. 'Animals Of Our Kind' elaborates more on the 80s factor in STANDARTS music and leaves out harder guitars completely. It's also quite a timeless composition, one of those never loosing their attraction for the listeners. Its light rhythms, though prominent enough not to be overheard, always have to succumb to the urgent melancholy they're embraced by that only sometimes is complemented by a certain Dark Wave or Post Punk feeling. Besides that, its lyrics are quite a decent reflection of the human behaviour! My lack of knowledge of the Latvian language prevents me from giving you any sort of interpretation of the lyrics to 'Ausmas Dziesma'.
However, I can give a description of the sound which has a somewhat folkloristic timbre in the way the vocals interact with the marching rhythms and acoustic guitars. It's like the dark counterpart of a national anthem in some way. 'Season People' returns to the English language again and is a song that struck me right away with its fiddling string intermezzi and reflective spirit. It's provoking deep thoughts from the very first seconds you'll be surrounded by its washes. For the most part it's not using any kind of rhythms except a dull, droning synth line in the background. The lyrics tell about those people only around you for a certain time. Relationships destined to break-up at a certain point, but able to change your life in ways you never dared to imagine. 'I'm the Voices' adds a bit of aggression and harshness to the sonic cocktail.
Its build is much colder, rather driving and equipped with a sense of desperation. 'June' is considered by many as a month of warmth, the beginning of the summery season. On a more personal level, it can also mark the end of something precious, say a relationship. It's something you can feel throughout the entire song, something definite lies in the words and music, even though there's tender warmth in it as well. The title track is introduced by a lulling piano melody leaking under your skin and soon, after the drums have come in, it's getting obvious that the song's carrying "autumn" in its name for a good reason. The season reflects in the song's every note and the atmosphere is transferred directly to the listener, getting dragged with it right into its world.
To be frank, I thought when I first heard the opening track of 'Autumn News' that it sounded pretty cheap production-wise but I revised my opinion. Why Is that? Because first looks can be deceiving, they don't reveal enough to form a qualified opinion and in case of STANDARTS new album it would have been a shame. The arrangements are well worked out in their vintage clothing, detailed enough to not get bored by it after a short time already, and with a voice like that on top they should be able to break out of their niche existence soon and getting to play themselves into the hearts of a much bigger audience.
Tracklist
01. The Field Where I Died - 5:03
02. Animals of Our Kind - 3:11
03. Pioneers - 5:04
04. Ausmas Dziesma - 5:35
05. 61 - 5:33
06. Season People - 6:13
07. I'm The Voices - 4:36
08. June - 6:24
09. Hydrology - 3:56
10. Autumn News - 6:54
11. Lapsu Nakts - 2:16
Line-Up
Kalvis Kluburs
Mārtiņš Links
Vladislav Belsky
Harry Belsky
Website
http://www.myspace.com/standart
Cover Picture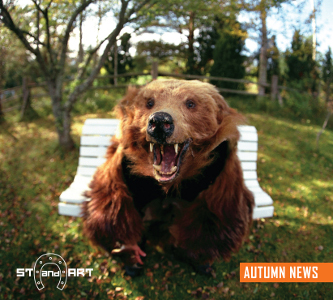 Rating
Music: 8
Sound: 9
Extras: -
Total: 8.5 / 10
{jos_sb_discuss:19}