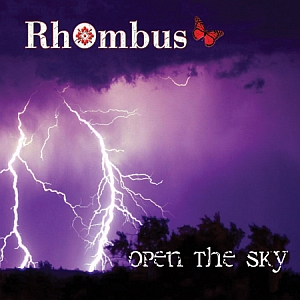 Title: Open The Sky
Artist: Rhombus

Genre: Gothic Rock
Release Date: 4th January 2010
Label: Model's Own / AFMusic / Resurrection Records
Album Review
RHOMBUS make me feel nostalgic, but in a good way. In the kind of way that reminds you that there are still good quality Gothic Rock bands that haven't been totally drowned out by the Industrial / EBM revolution of the late 90's and early 00's. There are so many "Gothic Rock" bands around that downplay the "Rock" part in favour of a drowning in synthesizers sound. Even though that was kind of crucial in bridging the gap in scene, it has done little to encourage the return of good guitar based Gothic Rock. But bands like RHOMBUS along with Solemn Novena, Lupine and others in the UK, as well as those further a field are bringing that guitar sound back kicking and screaming.
RHOMBUS is not just about nostalgia, though it's true that they are first and foremost a traditional Gothic Rock band (don't you dare say "Trad Goth"!), they are an entity in their own right. The band's sixth album is identifiably a RHOMBUS album - while the band's influences are blatantly obvious as being the 80's and 90's Gothic elite, they have nevertheless crafted their own unique identity out of the remnants of that scene.
The first track 'Lightning Strikes Twice' is a classic slice of Gothic sweeping guitars, throbbing bass and ethereal vocals the pours out of the speakers like honey that can't fail to get hooks into you. '4472' is a faster, early Sisters of Mercy-a-like track that ups the tempo and throws in a catchy sing-a-long chorus in for good measure. The title track 'Open the Sky' is a bombastic rocking track befitting the Fields of the Nephilim that could shake you out of an EBM induced coma. 'Addiction FFS' is a darkly groovy rock track that sees the guitars get a little dirtier, the bass a little heavier, and the chorus a little bigger for good measure. 'Almost Everything' is a fast swirling danceable track that The Mission used to write in their heyday - the drum machine and the vocal harmonies of Mya and Mr Grassby being what separates them from "The Mish".
'Denied' is a sumptuous Celtic infused ballad that shifts the pace of the album nicely, providing a moment to stake of the tracks thus far. 'One More Day' has that early Sisters of Mercy vibe with a riff that sounds reminiscent of 'The Temple of Love', but it quickly reveals itself to be a unique creature with its own driving bass line and big sing-a-long vocals. 'Leave You To Burn' carries on the up-tempo danceable rock that has featured on most of the tracks with some more Mission-like guitar embellishments for a little ethnic twist to their standard guitar sound. The penultimate track 'Anywhere' has more of an early The Cult sound but with a sleeker more modern take on their particular guitar style. The final track 'Into The Rain' is a slower semi-acoustic ethereal Gothic Power Ballad that closes the album in a truly entertaining and uplifting way.
RHOMBUS has become a rather finely tuned band in its own right. This album in particular representing a big stride in studio performance and song writing for the band. The only criticisms I have (and this is me really nit-picking) is that in some of the songs the different elements all vying for attention can at times drown out the song itself. Other than that it is a superb effort.
Tracklist

01. Lightning Strikes Twice
02. 4472
03. Open The Sky
04. Addiction FFS
05. Almost Everything
06. Denied
07. One Day More
08. Leave You To Burn
09. Anywhere
10. Into The Rain
Line-up

Rob Walker
Mya
Edward Grassby
Ian Grinn
Websites

http://www.rhombus.org.uk/
/
www.myspace.com/rhombus
Cover Picture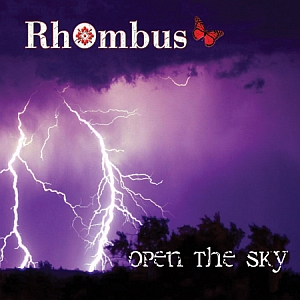 Rating

Music: 8
Sound: 8
Extras: -
Total: 8 / 10
{jos_sb_discuss:19}