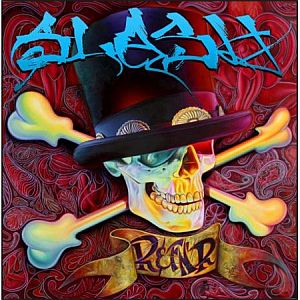 Title: Slash
Artist: Slash

Genre: Hard Rock
Release Date: 9th of April, 2010
Label: Roadrunner Records
Album Review

Only few people can manage to establish themselves with their nickname - SLASH is definitely amongst them. He is mostly known for being the lead-guitarist of GUNS 'N' ROSES, but participated in lots of side projects over the years and achieved a good reputation for his guitar work. In 2010, with lots of guest musicians on his side, he finally released his first, real solo record, featuring musicians such as Ozzy Osbourne or Lemmy Kilmister but also Fergie from THE BLACK EYED PEAS.
Already in the first song, 'Ghost', it becomes clear what will be in the centre of attention for the next thirteen songs: SLASH's characteristic guitar playing, modified in different ways and accompanied by different vocalists. 'Ghost's is a mid-tempo, grooving, relaxing rock song, which serves as a nice introduction to the album. The following song, 'Crucify the Dead' starts in a rather slow and atmospheric way, being dominated by Ozzy's distinctive voice. With 'Beautiful Dangerous', a female voice is included; Fergie surely adds her own style to this song. 'Promise' appears like a ballade, whilst 'By the Sword' is strongly influenced by Andrew's vocals, remarking a pretty catchy tune.
'Gotten', sung by the singer of MAROON 5, is fairly cheesy and easy to listen to, moreover illustrating a gap filler. After all those pretty slow songs, 'Doctor Alibi' (including MOTÖRHEAD's Lemmy) is a pleasant rock n roll song, of course dominated by Lemmy's whisky-voice. Furthermore, 'Watch this' (with Dave Grohl on drums) makes up a heavy and fast-forward song, with a relatively dark beginning. 'I Hold On' is surely a candidate for being played in the radios, including Kid Rock's country style. Definitely the fastest and most surprising track is 'Nothing to Say', with M. Shadows from AVENGED SEVENFOLD on the vocals. Fast drumming and riffs - unexpected and felicitous!
On the contrary, 'Starlight' is again a ballade - easy accessible and rather unspectacular. With 'We're All Gonna Die' a suitable ending is presented, combining punk and hard rock. To sum it up, fans of Slash will surely find their highlights on this record. Even though some songs are rather unspectacular, it is yet a nice album.
Tracklist
01. Ghost (Ian Astbury)
02. Crucify The Dead (Ozzy Osbourne)
03. Beautiful Dangerous (Fergie)
04. Promise (Chris Cornell)
05. By The Sword (Andrew Stockdale)
06. Gotten (Adam Levine)
07. Doctor Alibi (Lemmy Kilmister)
08. Watch This (Dave Grohl/Duff McKagan)
09. I Hold On (Kid Rock)
10. Nothing To Say (M. Shadows)
11. Starlight (Myles Kennedy)
12. Saint Is A Sinner Too (Rocco De Luca)
13. We're All Gonna Die (Iggy Pop)
Line-up

Slash – Guitar
Chris Chaney – Bass
Josh Frees – Drums
Website

http://slash.ultimate-guitar.com/
/
http://www.myspace.com/slash
Cover Picture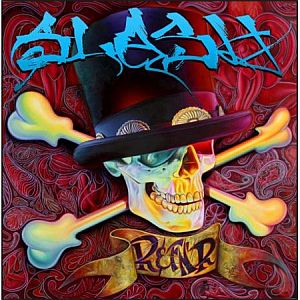 Rating

Music: 7
Sound: 8
Extras: -
Total: 7.5 / 10
{jos_sb_discuss:19}