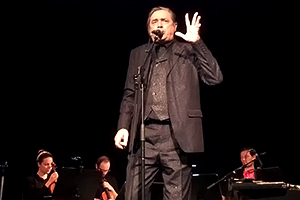 Kulturkirche, Cologne, Germany
7th June 2016
Teho Teardo & Blixa Bargeld – Nerissimo Tour

Blixa Bargeld (57) is to most of us a living legend born in the underground Berlin music scene and part of the Dadaist movement. However, due to his low profile and experimental sprit, he isn't so well known to everyone. His stage name "Blixa" stands for a German brand of blue felt pen, and "Bargeld" for the German word for "cash". He is best known for his amazing live performances and recordings with the bands EINSTÜRZENDE NEUBAUTEN ("Collapsing New Buildings") from 1980 till present and NICK CAVE AND THE BAD SEEDS (1983-2003). His art is an evolving work in progress registered in over 35 studio albums (solo + bands + collaborations).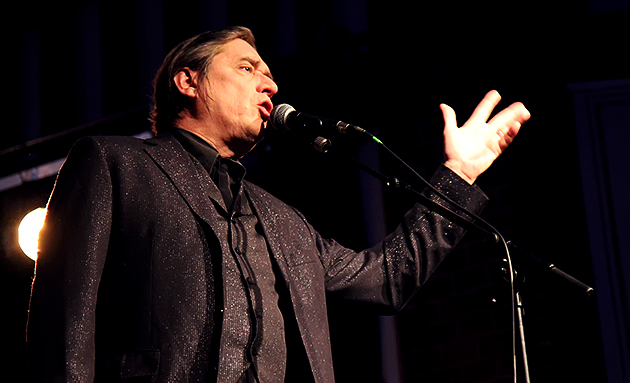 Year after year throughout his solo carrier, as lead singer, guitar player and as a collaborator he incorporated innovative musical and performance elements such as custom-made instruments, scrap metal, building tools, and noises, in addition to standard musical instruments, poetry and cinema. Teho Teardo (49) is an Italian musician, composer and sound designer with a classical musical background. He has collaborated with artists such as GIRLS AGAINST BOYS, LYDIA LUNCH, COP SHOOT COP, ALEXANDER BALANESCU, WIRE, MICK HARRIS, MARIO BRUNELLO, JIM THIRLWELL, ERIK FRIEDLANDER and many others. Always in the search of possible connections between electronic and acoustic sounds, he has explored different musical fields releasing 11 albums (solo + collaborations). Teho composed music scores for many Italian films like Gabriele Salvatores' Denti or Paolo Sorrentino's 'The Family Friend' and 'Il Divo'.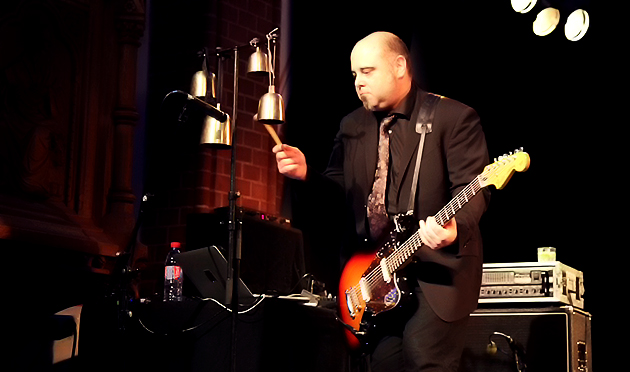 In 2013, Teho and Blixa started a fruitful collaboration giving birth to three studio albums: 'Still Smiling' (2013), 'Spring' (2014), 'Nerissimo' (2016). Teho lives in Rome and Blixa, his wife and daughter reside in San Francisco, Beijing and Berlin. Their meetings, jams and recording sessions are always international experiences so as the stories behind the multi lingual lyrics and texts written by Blixa - a fascinating collaboration of ideas and beautifully constructed musical backdrops to Blixa's lyrical adventures.
https://www.facebook.com/tehoteardopage
/
https://www.facebook.com/pages/Blixa-Bargeld/108388055852397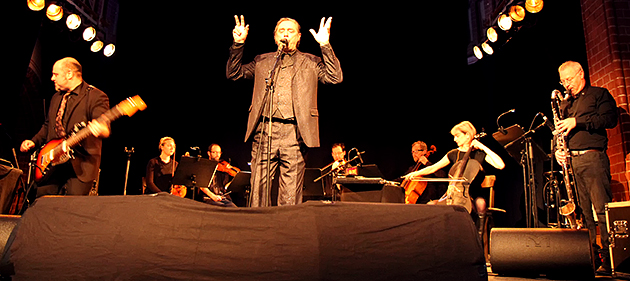 Music & Performance

Teho and Blixa are presenting 'Nerissimo', their brand new and 3rd album in collaboration. The last time I saw Blixa live was in 1989 at the Goethe Institute in Buenos Aires, Argentina. Long-time no see! I'm a big fan of his work so I'll try to be as objective as possible. Sometimes venues are just square rooms with a stage having better or worse acoustic and lighting. The Kulturkirche is not the case. Its slogan is "The other side of the evangelic church". It's nothing less than a beautiful church which serves as venue for artistic events. The altar replaced by a stage was the centre of a tribute to experimental music. Days get longer as we approach the long awaited summer. The show began at 20:00 when the sunlight was still bright and the stained glasses were shining their holly beauty.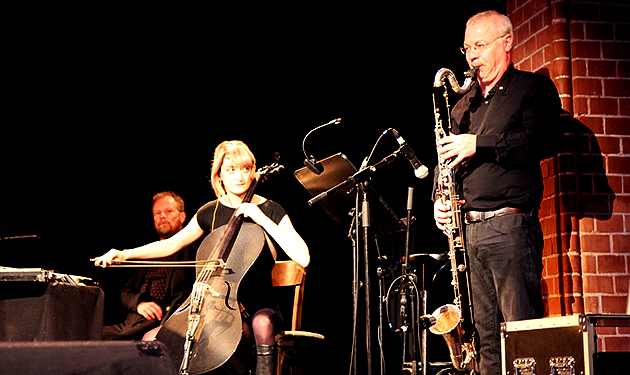 The musicians entered the stage: Two violins, a viola, two violoncellos and a bass clarinet followed by Teho and Blixa. Big applause! They started playing 'Nerissimo', the song which titled their album. My first surprise was to hear Blixa singing in perfect Italian. Wow! The next song was 'The Beast', a display of textures captured within an unusual framework of instruments, including the not so often heard bass clarinet, as well as bells and Teho's framing baritone guitar. They played 'Mi Sussi' from their first collaboration album followed by a bittersweet version of Brazilian musician and composer Caetano Velosso's, 'The Empty boat'. Blixa sampled, looped and distorted his own voice and Teho added synthesized sounds and distortion effects to his guitar taking us to an exploration of the sounds, rhythms and meanings of words from Italian, German and English.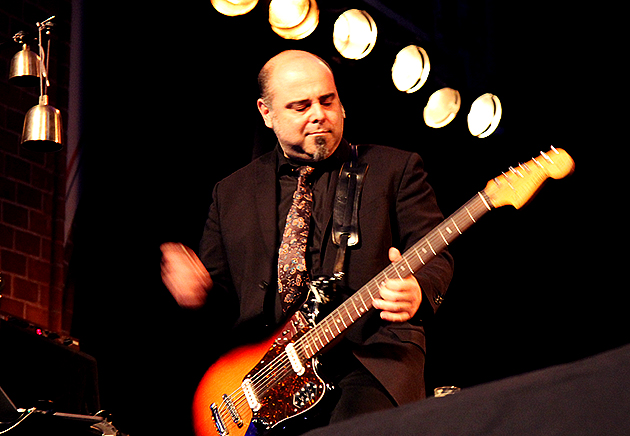 I suddenly realized that the music got darker. The solo violoncello sounded like sweet lament. I realized that the stained glasses weren't shining anymore. It was dark outside as well. The lighting of the church and the stage were amazing. Although Blixa is German and despite being in Germany, he spoke mostly in English because he said that he wanted to have fun with his Italian buddy. And it was funny indeed. He told anecdotes of all kind. Before playing the song 'Ich bin dabei' (~ 'you count on me') he told us that he wrote the song inspired by the suffering of his wife while spending winters in Berlin.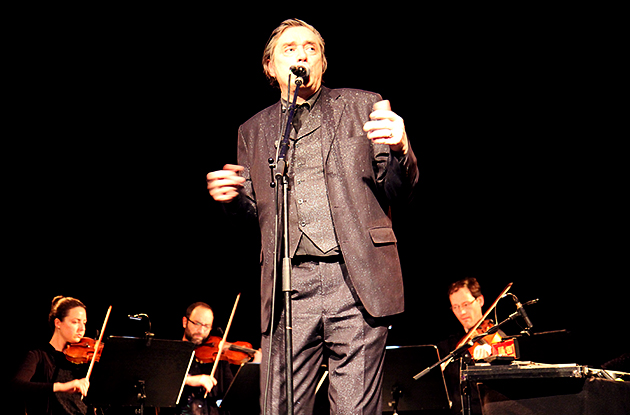 They left the stage after playing the English version of 'Nerissimo' to come back for the first encore featuring 'Nocturnalie' from their first collaboration album followed by an INCREDIBLE VERSION of the Italian pop song from the 60s, 'Solo si moure'. The alternative guitar arrangements from Teho and Blixa's voice brought us to a rock climax. After big applause they left the stage again. We wanted more and we got more. They returned for a second encore. Blixa introduced the musicians. The last two songs were 'Quiet life', their first collaboration for the sound track of the Italian film with the same title by Claudio Cupellini, followed by 'Defenestrazini' from their first collaboration album. I'm writing this review while hearing 'Nerissimo' and remembering and reviving an unforgettable experience.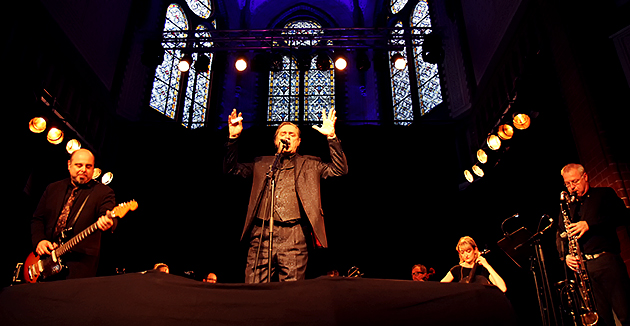 Setlist

01. Nerissimo (Italian version)
02. The Beast
03. Mi Scussi
04. The Empty Boat (By Caetano Velosso)
05. Animelle
06. What If?
07. Nirgendheim
08. Still Smiling
09. DHX 2
10. Axolotl
11. Ich Bin Dabei
12. Come Up And See Me
13. Geve Me
14. Nerissimo (English Version)
---
15. Nocturnalie
16. Soli Si Moure (By Patrick Samson)
---
17. Quiet Life
18. Defenestrazioni
Rating

Music: 9
Performance: 9
Sound: 10
Light: 9
Total: 9.25 / 10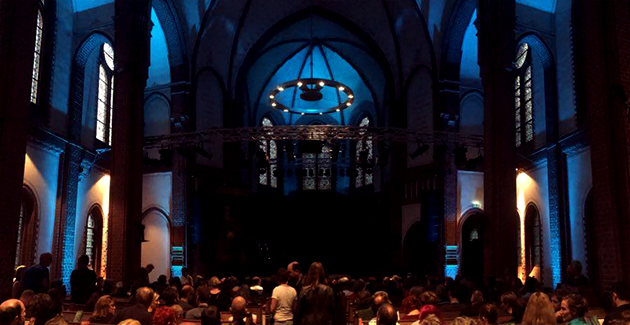 All pictures by Nicky Everett