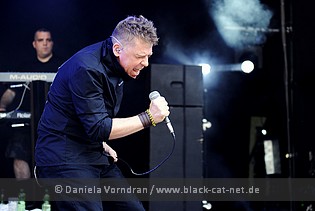 Interview with
Paul Kuhs (Music, vocals) from The Saint Paul

If you think that you have the festival season 2015 behind you, you are wrong. On 26th December 2015, Electronic Dance Art presents their small EDA Festival. To show what you can expect we are happy to present today a small interview with one of the bands taking part in this festival, THE SAINT PAUL.
Reflections of Darkness [RoD]
: You just released your new album 'Days without Rain'. How was the work on this release?
Paul
:
At the beginning we thought about how to make a similar or even a better long-player as we did with the first one, 'Consequence'. The work turned out to be difficult at the beginning. We had fragments and song parts without context and meaning but then something happened and changed everything and that's what I call the break-even. Song parts, ideas and fragments suddenly got sense, everything went almost automatically and here we are.
RoD
: The first two of your releases came out via Danse Macabre Records; the third one on Infacted Recordings. Why have you changed the label?
Paul
:
You get to know someone coincidentally, it fits and you act, if not maybe you'll regret it.
RoD
: What is the concept of the video for 'White Unicorn'? Who was the author of this video and who had the idea for it?
Paul
:
The concept was not to make a "clean" and "smart" cliché video. It should be trashy, oppressive and maybe a bit touchy. We've made it on our own, means these were our ideas but we got some technical help.
RoD
: As main source of your inspiration for the new release you call "everyday discoveries, situations and people that come to life suddenly." However, the "Hite Unicorn" in 'Days without Rain' is a pure fantasy image. So in which space living is THE SAINT PAUL living in? In our reality or in the world of surrealism and phantasmagoria?
Paul
:
This is a really nice question! We steal experiences from our reality to create a particular world, useful for our songs, sometimes truth and sometimes fantasy, or what you called surrealism. The way how to handle our songs, I think that I'll leave to the listener.
RoD
: What have you prepared for Electronic Dance Art Festival? Will your set contain new tracks, or will you play something from 'Consequence'?
Paul
:
We are really happy to be a part of the EDA Festival and by the way this will be our first gig belonging to Infacted Recordings. Yes, we'll play tracks from 'DWR' and 'Consequence' and sure we've prepared a special video show for this evening!
RoD
: End of the year is a good time to summarize all what happened during year. How was 2015 for you? What were the most important events and things that happened to you?
Paul
:
Well, 2015 we played at a lot of locations but the best one was definitely the WGT! As I mentioned before, we met there new and important people for us. It really changed our lives!
RoD
: And in the end a few words to our readers.
Paul
:
Yes, we wish you all a Happy new year 2016, hope to see you @ the Electronic Dance Art Festival and don't skip tracks before they end! Some songs are only effective as a whole. GREETZ!
Written by Viola Noir and Daria Tessa (Ukrainian Gothic Portal). The Russian version of the article is available
http://gothic.com.ua/Interviews/3135.html
.
Electronic Dance Art 2015 (26.12.2015):
http://festival.electronicdanceart.de/