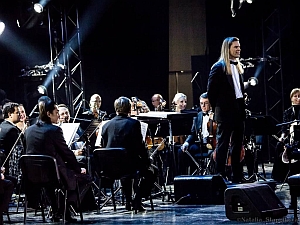 Interview with
Ulf Wadenbrandt

Ulf Wadenbrandt is one of the famous conductors in Europe. He is known for his symphonic pop and rock concerts. Ulf has directed many of greatest performing artists, such as Susan Boyle, Loreen, Elena Paparitzou, Robert Wells, E-type, Agnes Carlson, and so on. With the habit of moving successfully between musical genres on stage and on record using creative collaboration and musical boldness, Ulf sets new standards for what a symphonic orchestra is able to do. The concerts where Ulf conducting, have an amazing atmosphere, he works with all and with each passing - orchestra, the band and the audience, of course. His shows always sold out and people asking him to return. Despite his busy schedule, he found time to answer a few questions.
Reflections of Darkness [RoD]:
Hello Ulf. Glad to hear you! Let's get back to the start) You said that you had become a drummer because your father and brother were drummers too. In fact this is a usual story when kids continue the work of their parents. But I want to ask if you remember the first time you decided to be a drummer and nobody else?

Ulf:
I decided it when I was 12 years, we started up a band and were out playing two concerts every weekend. It was some kind of dance music and I started to study the music, I also started earning my first own money.
RoD:
Did you start up a band with your school friends?

Ulf:
Yes it was with my school friends, we also started to play at school dances. Just to get gigs! We played at weddings, birthdays, dance clubs everywhere.
RoD:
And why did you decide that your place is in front of the drums? Not the guitar or keyboards or vocal?
Ulf:
I had no choice, hahahaha, I'm a drummer! It's in the family.
RoD:
Did your parents help you with your hobby? Or they hoped you would choose another way?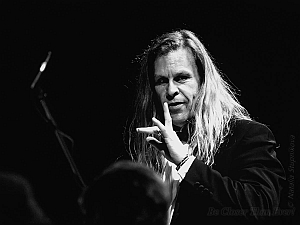 Ulf:
My father loved that I chose the drums, he driven me everywhere to every concert and gig, my mother is not a musician but she also supported me, sometimes it was an extremely loud in our little house when there were three drummers at home!
RoD:
This must be crazy when three drummers start playing at once. But later you had to change your profession... I read a bit about it in Swedish press but not sure that I translated the whole story right?

Ulf:
I'm not really sure when I switched over more to conductor it had been going hand to hand with my drumming and percussion playing, I studied at university at Ingesund Sweden in Percussion and also took lessons of conducting. At the same time I worked in a band as a professional drummer and in a symphonic band and also had students, it was a really wonderful time with a lot of cool work! When the conductor got ill during the rehearsal I had to jump in and conduct both during the rehearsal and the concert and after that I was trapped, and after that it starts growing, and now it's my job! It's many hours of handwork behind this fairy tale!
RoD:
It's an amazing story!! Now you're one of the most famous conductors in Europe. But it was different earlier. What was your way after graduation?

Ulf:
Yes I'm one of a lot of really good conductors! But I think my style is unique! In my case I like to work really hard very much, I started to work a lot with students because they always gave me so much energy, so in the beginning I conducted a lot of young and hungry orchestras and I still really like to work with young orchestras it's a kind of holding me French in my thinking! I work nowadays with about 10 different orchestras regal in Sweden and also have my own Symphony Orchestra called Sweden Symphony Orchestra. I really love both with the orchestra and the audience to keep everyone feeling real good before during and after the concert! I think that's my trademark! So I still work with both professional orchestras and student orchestras and I think it's a fantastic combination!
RoD:
Oops 10 different orchestras!!! That's impressive! Tell me more about Sweden Symphony Orchestra. You said that it's you own Orchestra.... You founded this orchestra, or....?

Ulf:
Yes I created this orchestra exactly after my thinking of good musicians! I always want to work with good, hungry and crazy musicians that tighter with me can explode together on stage even if it is classical pop or Hardcore that we play. It's very, very important for me that we have fun together on stage and also when we are in the tour bus so I think we are a really good team! Recently we did the Rhapsody in Rock tour with 27 concerts together with Mr King of Piano Robert Wells it was really amazing!
RoD:
We well come back to Robert Wells. But now! Why have you decided to be not a pure classical conductor? How and why did you start to make orchestral versions of popular pop and rock songs? How have you formed your style as a conductor?

Ulf:
You know I started as a rock drummer and it never changed you know! Even if I studied classical music as the main thing, I love all styles of music, and you know I listen to all good music and of course I want to work with all kind of music, I think I will be a better conductor and musician if I am open minded! And that formed me as a conductor and drives me move on all the time, I also learn when I work with new styles, new musicians and audience.
RoD:
And have you never heard from people in a professional environment, that it will not work? I know that classical artists are very conservative and don't like people who do not like they.... who try to make something different....

Ulf:
You know I follow my heart and do what I like, people see that I love what I'm doing, I think that's the main thing for me! I like to do a lot of things, this is my passion and it drives me. And you know one thing, when I worked with an orchestra I always came back/ I think it's a good result. Yes it's a lot of conservatory in music business but my work is to have fun and do a good job, I think that's why I'm a popular guy in the business!
RoD:
Yes it's true. How and where did you find musicians for your orchestra? I think it was not easy to find so many people...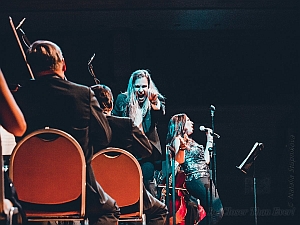 Ulf:
Ahhhh, Sweden has a lots of good musicians! It's a freelance orchestra so we have a lot of young musicians who have just graduated from university and conservatory in Sweden and around Scandinavia, we also have one Russian musician and one musician from Belarus!
RoD:
So, you don't have a permanent line-up of musicians who work only in SSO?

Ulf:
Yes its permanent musicians, but when we don't have upcoming projects they also work in other orchestras.
RoD:
What is included in the permanent repertoire of SSO?

Ulf:
We do various repertoire all the time, it's never the same! We do a lot of popular music and a lot of movie music and also of course classical music!
RoD:
Only you yourself pick up the repertoire for orchestra or anyone can give the idea? How does the preparation go for the performances in terms of selection of compositions and rehearsals?

Ulf:
Sometime promoters who rent The Orchestra do the repertoire with songs the artist is famous for. And then we do our own concerts we do what the audience wants to hear. It's so much force and dynamics in it!
RoD:
Normally you make an orchestra cover version of popular music... Do you have your own music? I mean composed music.

Ulf:
To be honest it was a long to time ago when I composed my own music. Nowadays I don't have time for it! Nowadays I work with so many good music every day so right now I feel really comfortable with it! Maybe when I am a bit older and will not work so hard as now I will start again! But I have done three music books for drums students! It's for students who want to be really good drummers with a lots of good exercises and grooves.
RoD:
As far as we started to talk about students.... I know that you have your own music school....Can you tell me about this part of your work?

Ulf:
I work at the Music school in Sweden called N3 in Trollhätan. I was one of the important persons who startled N3, I was driving force of it! I have been the boss there for 12 years but nowadays I just work with the N3 Symphony Orchestra as a conductor and with percussion students. I tour so much that I don't have time to be the boss now! So now I just work there 2 days a week. I received The Prize of creativity from the town of Trollhätan 2012 for my work at N3 as conductor and boss for N3.
RoD:
Let's return to Robert Wells. How long have you been work with him? How did your cooperation start?

Ulf:
I think we found each other on the big Music exhibition in Gothenburg 1999. We met and told each other we really had to work together. I think it was back in the year 2000 it started up, two years after I worked with E-Type for the first time! We did some sold out concerts with my earlier Symphony Orchestra - Sundal Rock Orchestra! We really liked each other from the start cause we talk same Music language and always work really well together. It's the magic in our work. I have done accord of concerts with him! Nowadays I am his chief conductor in Rhapsody in Rock. Robert is the fantastic musician and I really Love to work with him!
RoD:
This November you will play an unusual show for you - with Russian heavy metal legend — Aria. Did you hear anything about Aria before you had been invited to this show? And after of course (I guess) you listened to a lot of Aria's songs. Do you have any favourite songs of Aria as of yet?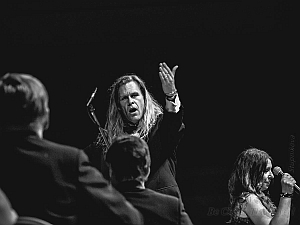 Ulf:
Yes, yes the concert in November 29 will be a memory for me for the rest of My life! I'm looking forward to it greatly! Yes I have heard about the band before and understand now why they are so big in Russia! It's great Music! I really like both the early songs and the new ones. I really like Bullfighter, The Black Legend and so on! It's really hard to choose because they have too many good songs. And now I listen to it every day to get in the right mood before the concert. And the guys in the band are very cool guys, I understand why they are so big! Good music and good guys, perfect match!
RoD:
As far as I understand it will be your first cooperation with heavy metal band in the career. What do you feel about it and what do you expect from this show, the audience...

Ulf:
Ahhhhhhh yes! My feelings... It will be a really different audience another type of show than for example classical concert! You know I'm like an animal in cage now! I am waiting for it! I know that Aria fans will love the concert and we will explode together. It will be fantastic. And you know I also get mail from classical musicians that write me, I really love ARIA and if you need a musician in The Orchestra I will be with you!
RoD:
I saw you on stage and can say that it's something incredible! You have so much pure energy! You interact with the orchestra and the singers and the audience at once! How do you do this?!

Ulf:
You know it is some kind of magic when we are together nothing can stop us and my job is to get The Orchestra play good and have fun. It is just like a big party on stage! It's something in the blood nothing can stop it on stage and the audience is also a really good and big part of it!
RoD:
When you hear the music for the first time what do you notice first? What is the most important for you in the music, songs?

Ulf:
My first thing I listen to is if I like the melody the harmonies and of course the beat. The text is not the first thing I listen to! The music is number one for me.
RoD:
Do you listen to the new music?

Ulf:
Yes I try to listen also to new coop and rock music. It is important for me I need to know what's up in the air because I work with a lot of artists that do new music as Agnes Carlsson, Oscar Linnros and so on! My favourite artists are always the guys with the upcoming concerts with me.
RoD:
And about your other cooperation! In artist list on your web-site there are so many great names - Loreen, Bobby Kimball, Elena Paparizou, E-type, Agnes Carlsson, Susan Boyle... Can you tell how this going. The artists find you or? And what was the most memorable cooperation in your career?

Ulf:
I think we find each other! Sometimes I get a call from artists and promoters and sometimes I say hey guy we need to do some cool stuff together! I think at pop and rock concert was E-Type. I really love to work with that great guy and cool music and crazy on stage just like me! Of course Robert Wells and Rhapsody In Rock is really big and fun for me Robert is a fantastic musician!
RoD:
By the way, what is this project (Rhapsody in Rock) about? I have seen that it was 25th anniversary of this project...

Ulf:
It's a really big concert with Robert Wells and guest artists together with Symphony Orchestra. It have been millions of people to see the show in these years! It's both a classical and a rock concert at the same time.
RoD:
Do you have an artist of your dream with whom you want to work? And maybe you have you song or maybe music that you have not played yet and want to make it with The Orchestra?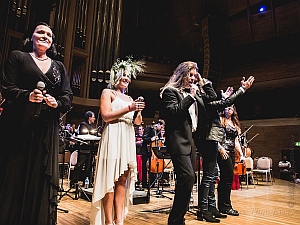 Ulf:
You know there is so many work left to do still! But to do Kashmir live with Symphony and Led Zeppelin is really cool! I'm really eager to do new things and collaborations!
RoD:
This October you will have a big concert dedicated to Eurovision, won't you?
Ulf:
Yes it is right. We celebrate 60th anniversary of Eurovision! It will be with my Symphony Orchestra SSO and four great Swedish singers - Jan Johansen, Sara Löfgren, Magnus Bäcklund and Annli Axon. And we will do all the biggest hits from Sweden of these years. We will do Eurovision winners like 'Take Me To Your Heaven', 'Hero', 'Diggi Loo Digiley', 'Främling' and some more Swedish winner songs! The audience will love it for sure!
RoD:
Whose idea was to make this show?

Ulf:
It was mine and a promoter, you know in the past it was a real Symphony Orchestra at Eurovision now we taken it back again. We need real musicians not playback or sing back!
RoD:
Did you plan to invite some winners of Eurovision to this show?

Ulf:
Yes, next year we will have more concerts like this and we will have winners with us!
RoD:
It turns out that this is not a one-off project... You are planning to make it regular, aren't you?

Ulf:
Yes, it's very popular so its growing all the time!
RoD:
What can you say about Eurovision song contest? Do you follow this one every year...

Ulf:
My children watch it! And we watch it together if I don't have concerts! Some years it is good some years not so good! But I want more good music, sometimes all music sound very similar! But there are always some good songs every year!
RoD:
What do you think, this contest helps popular music grow up or hinders its development?

Ulf:
I think it helps new artists come up but it is also a problem because it's just one hit song and the artist needs to stay at the top it is a great pressure if the artists are not ready for it.


RoD:
I totally agree with you.... Who is your favourite Eurovision winner and what do you think, what changes are this contest should have?

Ulf:
About the Swedish winners I think Hero the winners of this year! For the show I think Lordi some years ago and I really love the Norwegian winner some years ago Alexander Rybakk with Fairytale.
RoD:
If you do not mind, let's return to your family. Your brother is a drummer. Is he a rock drummer?

Ulf:
Yes he is a great rock drummer and also a singer, bass player, guitarist and piano player. He does it all! But drums is his first instrument! He is a session musician a teacher and a cool guy!
RoD:
And as far I remember, both of your daughters play violins... Why did they choose this instrument?

Ulf:
I think It is because they have been together with me at all of my Symphony Concerts, they really love the violin and the Orchestra sound!
RoD:
So is it totally their choice... they said "dad we want this one"...

Ulf:
Yes. And they both also play drums of course. It's cool and its good for them to learn about the beat! They love it!
RoD:
Do you expect they both will be a professional musicians?

Ulf:
Yes I think so. And they will be as me I think, like and play all good music!
RoD:
And what about your wife. Is she a musician too?

Ulf:
No she is just listening! It is cool I think three musicians is enough for the family.
RoD:
I have one provocative question... You are a very charming man and you know it I guess. Did you have problems with a crazy girl-fans who sought you?

Ulf:
For the first thank you! I have never noticed that! But yes it happens sometimes, it can be a little crazy or really crazy. But I'm always nice and polite so it's not a big problem for me, I'm happy that they like my work!

RoD:
What do you think about the future of the music: classical, pop. rock... Why, how do you think, in nowadays crossover style becoming more and more popular and a lot of artists (pop, rock, metal and even black metal) want to play with Symphony Orchestra?

Ulf:
I think it is the start and it will be even more crossover music with Symphony in the future! I think that different styles have much to learn from each other. And in Sweden it is also a survivor thing for the classical music, because young people don't listen to classical music and the crossover thing starts new audience and listeners to the concert halls! It's good for everyone. And the rock guys learn to listen to classical music and do on. And it's also good for health (smile).
RoD:
So is this the future for all styles of music?

Ulf:
Yes I think so! And it also suites me as a conductor. I have a mission.
All pictures by Natalia Stupnikova