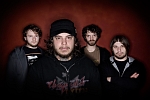 Interview with
Scott Mellinger (guitarist) of ZAO

ZAO has been well known throughout the metal scene for some time. The US band currently released a new album 'Awake?' and we took the chance for an interview with guitarist Scott Mellinger.
Reflections of Darkness (RoD)
: The name of the band ZAO is interesting to say the least and sounds as if there is a story behind it. Where did the name come from and what is the story?
Scott
: "
Zao" means alive in Greek. Unfortunately I didn't name the band but I think they wanted a nice, short to the point name.
RoD
: Can you briefly summarize how the band formed and what you do in ZAO?
Scott
:
The band formed in 1995 in West Virginia. Sadly most of the members quit and the drummer wanted to soldier on and found some willing participants in us. I have played guitar in the band since 1999 and I sing a little too. Also I have been the main songwriter since I joined as well.
RoD
: Your lyrics are infused with heavy detail and raw emotion. What is it that normally gives you inspiration when writing lyrics and is there a concept behind the music you create?
Scott
:
Our lyricist gets inspiration from everywhere. A lot of Dan's stuff is very personal and comes from his experiences. Also I would say that a lot of consider ourselves pretty active politically so that comes through too.
RoD
: Your new album 'Awake?' is coming out. How has the reactions been thus far? What can fans expect when they listen to your music?
Scott
:
The reaction has been amazing. We are truly humbled when people give us a chance and hopefully we didn't disappoint. I think you can expect a very heavy, emotional record. We try to always do something that may be different then the last record but keep it aligned with our sound.
RoD
: How do you think you will affect the music scene you are part of? What are your thoughts on the growing popularity in it as well?
Scott
:
Affecting the music scene isn't really something I care about. Unfortunately this scene has changed so much since I joined. I hate seeing something so dear to our hearts get run through the ringer so to speak with how popular it is getting. Bands used to care about each other now they only care about getting bigger its lame.
RoD
: Will we be seeing a new music video anytime soon?
Scott
:
Nah, video's cost money and we don't have the budget for it. They never seemed to help promote the record for us anyway. Haha.
RoD
: Many of your songs are so hard and intense that I am sure they translate well into a live setting taking on a whole new life in front of a live audience. How does it make you feel when the emotion and power that you envisioned in the recording studio, come to life while playing in front of a crowd?
Scott
:
It's overwhelming. There is nothing more exciting than seeing other people connect with you.
RoD
: What are the upcoming plans for ZAO?
Scott
:
Just play as much as possible and write for more records. Music is embedded in our blood we can't get enough.
RoD
: How has MySpace and the internet impacted your band and do you think downloading helps or hinders the artists?
Scott
:
MySpace has been huge; being able to directly talk to fans has kept our band in their minds. Downloading hurts and helps, in a perfect world people would download and if they liked the record they'd buy it. That's exactly what I do. I like owning records of my favourite bands.
RoD
: What is the toughest lesson you ever learned in the studio and on the stage?
Scott
:
I don't think of anything as a tough lesson the only way to grow and learn is to make mistakes. The biggest lesson I guess I've learned is you never know everything so keep your ears open when someone you respect gives you advice.
RoD
: What bands would you like to tour with and who has been your favourite to tour with this far? Any particular reason?
Scott
:
We'd like to tour with anyone that is personable. I seem to like bans music more when there are awesome people, with our age and how long we have been doing this we have no time for assholes. The DILLINGER ESCAPE PLAN best hands down!
RoD
: Every band has its musical influences. What are some of the other bands and artists that have greatly influenced you guys and your music?
Scott
:
There are so many from the bands that played in our hometown to the big stuff. We all like different stuff but we tend to take influence from bands that aren't our style like Radiohead, smashing pumpkins stuff like that.
RoD
: What's your reaction when/if a fan told you a very meaningful statement such as "Your music changed my life"? Has this ever happened to you?
Scott
:
Yes it happens and it is very humbling. The funny thing is, most fans don't realize that they change the bands lives as well. It's like a circle we give they give back there's nothing better.

RoD
: All of that passion that you play with must be tough on you physically. How do you prepare for the physical demands of a tour?
Scott
:
Well eat well, exercise and keep your mind open and clear. Honestly being mentally ready for things is as important just ask anyone in sports. Being mentally prepared is half the battle.
RoD
: Anything else you'd like to add?
Scott
:
THANK YOU, THANK YOU. It's because of people like you that do these interviews and the people that read them that we get to do what we do!
{jos_sb_discuss:21}