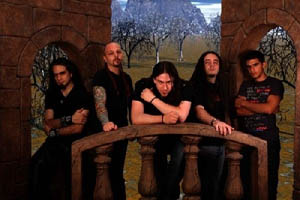 Interview with


George Charalambous (vocals) of Winter's Verge


Word's out that we have six more weeks of winter or wait that's not it, it's that WINTER'S VERGE had turned our beloved winter wonderland into a frozen land when George Charalambous (vocals) talks to me about the band's current release 'Tales of Tragedy', what is the meaning behind the lyrics and what is in store for Winter's Verge come the 2010 term.
Reflections of Darkness (RoD):
Give me a brief history on how WINTER'S VERGE came to be

George:
Hey this is George (vocals), WINTER'S VERGE was born around 5 years ago when Stefanos (keyboards) and I met up to discuss creating a band with more of a melodic feel to it. 5 years later and after a lot of line up change especially in the guitar and bass area, here we are today, George Charalambous (vocals), Stefanos Psillides (keyboards), Harry Pari (guitars), Miguel Trapezaris (bass) and Chris Ioannides (drums).

RoD:
Is the line-up you have as of now a solid one?

George:
Yes I believe this is the best line up we have ever had and what's more is that there is a lot of potential for improving and becoming better for the future.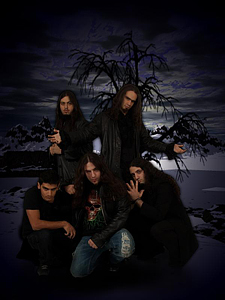 RoD
: Since your formation you have not released a single music video. Why and when will we be seeing one in the future?
George:
I believe it never really came up as an issue, but now it is probably the time to do so.

RoD:
What about your new release 'Tales of Tragedy'? What can be said about it that hasn't been said?
George:
For one, 'Tales of Tragedy' is our second official album. I believe the only thing that has never been told about the album until now, is probably the fact that the track 'Envy' is based on an old ghost story that exists in an old town up in the mountains of Cyprus.
RoD:
How about the lyrics and theme that surrounds it? How much different is it in comparison to your older releases?
George:
The lyrics of this album are like little different stories, the kind you would get if you would open a story book 11 tales of Tragedy. The only song that has a certain theme to it is the song 'I swear Revenge' which is a continuation to the song 'Eternal Damnation' on the first album.
RoD:
Will the WINTER'S VERGE be going out on tour anytime soon and will you be invading the U.S.?
George:
We just finished our European tour with STRATOVARIUS and let me say that it was an incredible experience! If the chance comes to us for anything else we would definitely do it!

RoD:
Who are some of the power metal bands you look up to the most and why did you choose this particular genre to establish yourselves as?
George:
Our influences are bands like STRATOVARIUS, SONATA ARCTICA, BLIND GUARDIAN, IRON MAIDEN, RAGE and many more. The genre came to us by itself. We just play the music we like!

RoD:
What does 2010 have in store for WINTER'S VERGE?
George:
Gigs, Festivals, a music video and the writing process for a new album!

RoD:
Do you remember me reviewing your previous release? I believe it was for Thrash Magazine?

George:
I personally don't but I'm sure our keyboardist does. He takes care of all the networking.

RoD:
Any last words?
George:
Thank you for the interview and we hope to see you soon somewhere down the road. Cheers


{jos_sb_discuss:21}