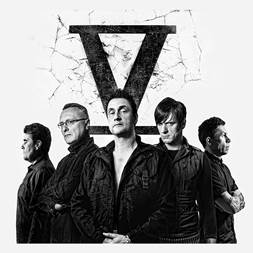 Long before RAMMSTEIN, EISBRECHER and co., DIE KRUPPS set clear and new standards in the matter of electro and hard rock riffs with their ground-breaking record 'I' from 1991 on which the song 'Metal Machine Music' was included – not only in Germany. The series of the numbered records was continued by 'II – The Final Option' which included the classics of the band, 'To The Hilt' and 'Fatherland', followed by the top 20 charts records 'III – Odyssey of the Mind' and the unnumbered fourth (IV) record 'Paradise Now'.
With this sound, DIE KRUPPS ultimately paved the way in Europe for industrial metal bands like NINE INCH NAILS (with whom they also toured) and MINISTRY who were on the rise in the US and were also becoming more popular in Germany. The crucial impulse for this success is the first collaboration of DIE KRUPPS co-founder Jürgen Engler and the thrash metals ACCUSER from Siegen on 'I' whose drummer has returned to DIE KRUPPS after two decades and who will replace the rhythm machine on stage. Further important companions in the hard 90s rock phase of the KRUPPS were Lee Altus (EXODUS, HEATHEN) who was featured on the subsequent records. The harsh guitar sound paired with compelling sequencers turned DIE KRUPPS into the epitome of innovation: especially this mix makes their music timeless which is best described as Metal Machine Music and which is still a guarantee for full dance floors and energetic live shows after almost 20 years! To the hilt!!!
In summer 2015, DIE KRUPPS return to a distinctly guitar-heavy sound with their new release 'V – Metal Machine Music'. The new songs are in no way inferior to the 90s material. Quite the contrary, the hardness grade has even been increased quite a bit. Stylistically, 'V – Metal Machine Music' closes the circle even if DIE KRUPPS have never interweaved extremely brute guitars and hardest sequences this consistently before... all of that produced in a contemporary sound form which will shake the grounds! This will be felt at the upcoming shows. The line-up is completed by Volker Borchert (drums), known from ACCUSER, and Steve Römhild (guitar), ex-WARPATH and RICHTHOFEN, alongside both DIE KRUPPS machinists Ralf Dörper (synthesizer) and Marcel Zürcher (guitar).
Electro metal extraordinaire is awaiting old and new fans of DIE KRUPPS! Jürgen Engler describes the new DIE KRUPPS record with following words: "'V – Metal Machine Music' is 100% on point and the music's in your face! And so it shall be."
DIE KRUPPS – "V - Metal Machine Music" Tour 2015
Presented by Rock Hard / Sonic Seducer / Melodie & Rhythmus
Support: The Red Paintings / Janosch Moldau
04.09.2015 Leipzig/Deutzen – Nocturnal Culture Night
05.09.2015 St. Goarshausen – In Extremo Jubiläums Festival
06.09.2015 Dortmund – FZW
08.09.2015 Frankfurt – Nachtleben
09.09.2015 Munich – Kranhalle
17.09.2015 Krefeld – Kulturfabrik
18.09.2015 Schiffweiler – Tanzritual Festival
19.09.2015 Berlin – K17
30.09.2015 Hamburg – Knust
http://www.die-krupps.de/
/
https://www.facebook.com/diekruppsofficial
Source: Press Release