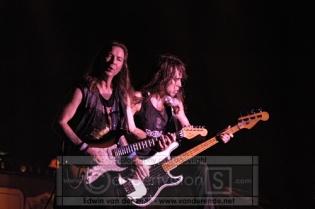 Graspop Metal Meeting – 10th edition

26th june 2005
Dessel – Belgium
Iron Maiden, Lacuna Coil, Dio, Yngie Malsteem, Aborted, Hatesphere
The last day of the tenth anniversity of Graspop. A day with many big names, but also a day to relax a bit in the sun. The day that there were a lot of people with a 'one day' ticket. It is funny to see all those 'fresh' people, who seemed to be a bit lost. After some nice bowl from fruit for the vitamines and the energy they day could start.

Hatesphere
The kick off was in the hands of this Danish band. They are one of the fast growing bands at the moment and they toured with many big names like Morbid Angel and also with Kreator. For a upcoming band they work hard and this 'trashcore' formation knows what they want.

Music
Altough it is very early, also for the Danish men, they have as much energy as usual. The sound is good and blow away all the sleep. They start with some songs from the last record: The Killing Ep. A good title, because the songs are a killer: fast guitars and a old school drum in combination with the tortured voice of the frontman. Those men know how to play their instrument and when they play a song that will come on the upcoming album, it sounds more direct, but exactly what Hatesphere is: faster and faster pushing their sound on a higher level, certain and direct with a good impact.

Performance
The frontman defenitly had a lot of coffee, because he is very much awake. He screams, runs and makes some fast movements. All with a face what's shows his emotion, altough it is a bit sweaty. He know how to play with the audience. The other bandmembers are a bit more qutie, but the more they make the base for the songs. There is a certain chemistry, altough there is not that much interaction between them. Sometimes some poses, but not a spontanic moment.
They had to quit earlier, shame, becauset they were getting more into their set.
Rating
Music:8
Performance: 6
Sound: 7
Light: 6
Total: 7 (7.2)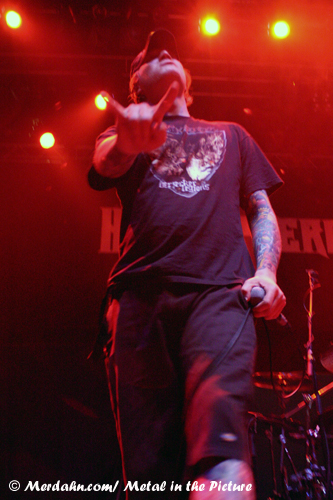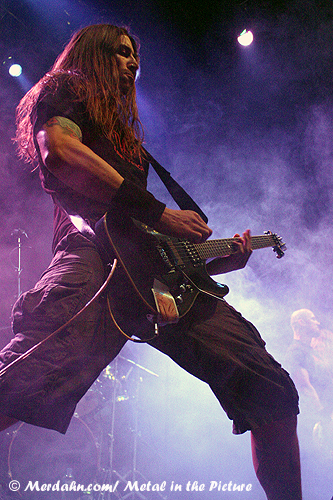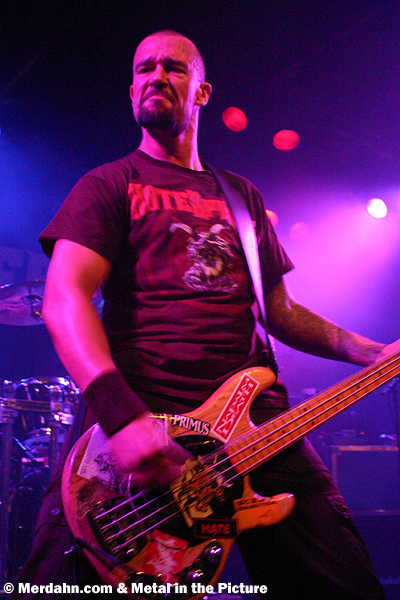 Aborted
Some old school deathmetal is played by Aborted. These guys are the proud of the deathmetalscene in Belgium and they are a respectfull name for many people. They haven't invent the sound, but they know how to play some strickt deathmetal.

Music
Brutal and direct: just go for it. That is the attitude of this band and with an uptempo set the impress everyone. They played a lot of new songs from the last record 'The Archaic Abattoir' (2005) and it was all perfect. The grunts from Sven are sometimes a bit too massive, but together with the strong guitarlines they blow away everyone.

Performance
There were even two moshpits going on, a sign that there was a lot of activity in the audience. They make the belgiums move, finally. There is a real good feeling there: people are headnbanging and there is enough water. The band is very natural on stage and doesn't have the attitude to be arrogant. That makes it a lot easier to be open minded for the music. They set the tone for the rest of the day.

Rating
Music: 8
Performance: 7
Sound:7
Light:7
Total: 7 (7.3)

Yngie Malsteem
The guitarplayer with the 'golden fingers.' He plays so easily guitar that it is amazing to see him on stage, but maybe too perfect, because it is almost unrealistic. It is a long set in the heat of the sun. It is 2 pm and people are relaxing in the grass..maybe waiting for an other band..but it is amazing to observe the sound of this legendaric guitarplayer.

Music
Altough there is a whole band, Yngie is the one who gets the most attention. With his long guitarsolos and variations on themes he is meanthing in the music. There is a good drumplayer and keybordplayer. Those two men are hard to hear sometimes and that's a shame, because it would give the music some more dimensions. Guitar is a wonderfull instrument but after a while it can be an overkill and this what it was. The vocalist is hard to hear because of the wind, so the sound isn't perfect.
Performance
Yngie knows how to impress people. To make a lot of movements with his guitar. Trowing in the air, running around, playing as fast as possible and even plays a wellknown classical theme. He is a respectfull artist but the performance is a bit too much. It makes it overwelming and too full. Most of all: it leads the attention from the music to the person. In this case it would be better when the souns of the whole band was better then the performance.


Rating
Music: 7
Performance: 6
Light: 7
Sound: 5
Total: 6 (6.3)
Dio
Does this band need any introduction? The name Ronnie James Dio is good enough. I am too yong to know the growingprocess of this artist, but I see what he means now and that is more then a respectfull artist. Bruce Dickerson (leadsinger of Iron Maiden ) was honerd to play with him on the graspop stage: ,, I feel honerd to share the stage with Dio" is the first thing he sayed when he enterd the stage.
Music
Since 182 Dio is the frontman of this band. After a lot of line-up change the band from the USA is finally there with the new recod 'Master of the moon.' They can choise a lot of songs and it is a very mixed set with new and old songs. Of course the classical songs like 'Stand Up And Shout' or 'Man on the Silver Mountain' and new once like 'One More For The Road.' The sound is cristal clear, everything is in balance. It seems that Dio doesn't need a microphone, so clear is his voice. Impressive is also the sound of guitarplayer Craig with his classical heavy metal sound.

Performance
With the backdrop from the cover of 'Holy Driver' (1983) the band is ready to kick off from the mainstage. When Dio comes up, everyone starts to scream. With a big small he start to sing and on a natural way he grapes you, get's your attention and finally with a big smile the whole audience is enjoying this gig. It is beautiful to see that a band can have such a plessure on stage like they do. The frontman is running around time by time. Sometimes a bit theatral with his hands up to the sky. Most of all the emotions are reflect on the face of this little man. You really can see what he feels when he sings the lyrics of all those songs.
Rating
Music: 9
Performance: 10
Light: 8
Sound: 8
Total: 9 (9.2)

Lacuna Coil
They are back in Europe again after a long adventure in the United States. They are a huge success there and it is not amazing that the tent is totally packed when Christina and her men enters the stage.
Music
With their melancholic and dark gothmetal sound this band is a real 'unicum' in the scene. Christine shows that gothic isn't sweet, but can be sturdy in a charismatic way. They had a lot of problems with the sound, but they are not the only one this day. The voice of Christine is hardly good to hear, but later on it goes better. The guitarlines are loud, but not overdone. They play a lot of 'hitsongs' like 'Heaven's A Lie' and the Italian song 'Sezafine.'

Performance
Christine is not a typical gothmetal vocalist: she has a low and raw sound and that reflects also on stage. In black trousers, and black handgloves she looks a bit heavy metal and it fits her well. She runs around, kneels every now and then, but is very active on stage. Together with the man vocalist Andrea, there are some real dueal going on. A good duo on stage and they are one of the highlights of this day.
Rating
Music: 9
Performance: 9
Light: 7
Sound: 6
Total: 8 (8,4)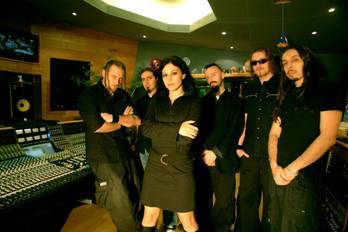 Iron Maiden
They stood on Graspop before, but now they are the headliner of the tenth anniversity of this festival. Now they are here to play songs from only the first four records. This in line with the recent dvd. There is no better headliner than Bruce and his men.
Music
A perfect sound as always with an enthousiastic automatism. The heavy guitarlines, strong drumparts and above all the amazing sound of Bruce Dickerson. Even when he has the flue he gives more then 200 precent. This perfect machine still impress everyone. It is great that they have this tour, because the band can play some songs they never played before. Also the classical sing- along -songs like 'Running Free' and 'Wrathchild.' In the end Bruce voice is thinner and raw so he deceided to quit after 1,5 hours, but that doesn't change the fact that Iron Maiden is still the master of this festival.

Performance
Does I need to discribe Bruce? You just have to see it with your own eyes. There is no man who knows how to handle a crowd of 30.000 people. Bruce talks a lot with the audience, to introduce some songs or make some jokes with his typical sense of humor. Also the guitarplayers are very active on stage: running around, making poses and joking with eachother. Nicko (drums) is hard to see behind his drumkit. There is a great lightshow and during 'The Trooper' Bruce runs around with a big flag. Also the changements in the backdrop makes is a very interesting show. Images from different cd covers and during 'Numer Of The Beast' flickering lights of 666 are there. Of course there are Eddies on stage during the gig. Never the same, always different. Iron Maiden is the only band who can return year after year with a different show.

Rating
Music: 10
Performance: 10
Light: 9
Sound: 9
Total: 10 (9,7)