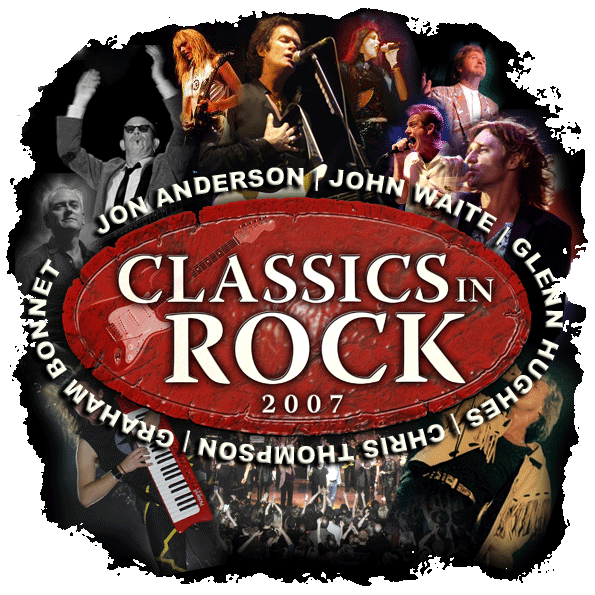 PRESS RELEASE
GRAHAM BONNET (RAINBOW) ALSO TO APPEAR AT CLASSICS IN ROCK!
The man who sang the worldwide hit "Only One Woman" into the charts in 1968 with his striking voice when fronting his band The Marbles, has been added to the bill of Classics in Rock, which will be held on Friday, 23 March at Ahoy' in Rotterdam.
That this single provided absolutely no indication of what the man's future rock career would hold was proven when Ritchie Blackmore asked him to join his band Rainbow in 1979. Bonnet's talent for singing songs into the charts showed again when no less than two tracks from the Rainbow album 'Down to Earth' became rock hits. All Night Long and Since You've Been Gone became Rainbow's anthems and secured the band a place in the charts in a variety of countries, which also enabled them to reach a wider audience.

Graham Bonnet was born in Skegness (England). He was introduced to the world of hard rock when he joined Rainbow, faced with the extremely difficult task of making people forget his predecessor Ronnie James Dio.
However, Bonnet could not have wished for a better entrance into this world, as "Down to Earth" also became Rainbow's most successful album. Nevertheless, after the tour that followed the album's release – the highlight of which was their legendary performance at the Castle Donington Monsters of Rock festival in 1980 – the collaboration between Blackmore and Bonnet came to an end.
Following the release of a handful of solo singles that met with varying international success, Bonnet received an invitation from Michael Schenker to join MSG (Michael Schenker Group). This also meant a reunion with his former Rainbow bandmate Cozy Powell. The band subsequently entered the studio to record the "Assault Attack" album.
After the album's completion, Bonnet left for Los Angeles to form Alcatrazz with Yngwie Malmsteen (who was later replaced by Steve Vai). After recording a number of albums with Alcatrazz, Bonnet decided to dissolve the band. Following another couple of vocal excursions with the likes of Chris Impellitteri, Forcefield (with Cozy Powell and Dutch guitarist Jan Akkerman) and Blackthorne, he decided to once again focus solely on his solo career.
Graham Bonnet has now been residing in the US for a number of years and still tours with his own band. He also does session work for other artists, including the last Impelliteri album (System X) and the new project Elektrik Zoo. Graham Bonnet's priority for 2007 will be the reformation of Alcatrazz, as well as a new CD and subsequent tour…
His participation in Classics in Rock will be good news for the many fans of Rainbow and Michael Schenker. Rainbow no longer perform live and Michael Schenker is once again trying to steer his musical career in a clear direction. However, we can now all enjoy these songs one last time (and sing along at the top of our voices) with the man with the masterly voice…All Night Long!
General info:
- Classics in Rock will be held on Friday, 23 March 2007 at Ahoy' in Rotterdam.
- The doors will open at 7.00 p.m. and the programme will commence at 8.00 p.m.
- The show will last approximately 2 ½ hours (inc. break)
- Tickets for Classics in Rock are now available via Ticketservice Nederland or from the Ahoy' box office
- For additional information regarding the event, please visit
http://www.classicsinrock.com/