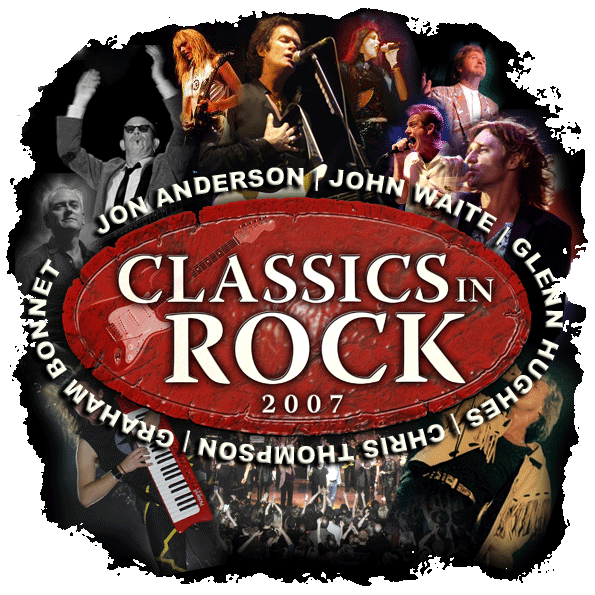 PRESS RELEASE

CLASSICS IN ROCK:
TIMELESS ROCK GEMS AT AHOY'
Jon Anderson (Yes) also confirmed for classic rock party in Rotterdam
Now that Jon Anderson – vocalist of the legendary rock band YES – has confirmed that he will be participating in Classics in Rock, we can look forward to an evening featuring the best rock songs of all time.
With performances from vocalists John Waite (the Babys), Glenn Hughes (Deep Purple, Black Sabbath), Chris Thompson (Manfred Mann's Earthband), Graham Bonnet (Rainbow, Michael Schenker Group) and the final addition to the programme – Jon Anderson – the line-up is almost complete!
Jon Anderson has always remained the voice of Yes. The band began its career as a progressive rock group in 1968 in London. Their complex rhythms and instrumental and vocal harmonies combined with the technical abilities of the individual band members rapidly gained them recognition among symphonic rock fans. The angelic vocals of Jon Anderson complemented by the often bombastic music meant that they soon achieved megastar status. The band remains officially active to this day, and apparently talks were even held last year with regard to resuming activities. Although no official announcements have yet been made, rumours have since been circulating on the internet that the original Yes line-up will regroup in 2008 – rumours that have not been denied by the band members…

In the meantime, Classics in Rock offers the ideal solution. With world hits such asYours is No Disgrace, I've Seen All Good People, Roundabout and, of course, Owner of A Lonely Heart , the organisers have been able to add few more gems to the programme.
Classics in Rock is a two-and-a-half-hour rock spectacle featuring five legendary vocalists performing their greatest hits, a variety of guest performances, a house band (SAS Band) comprising musicians from Whitesnake, Fish, the Brian May Band under the guidance of musical director and keyboard player Spike Edney, who also fulfilled this role for the Queen rock musical We Will Rock You.
To make matters even more exciting, a number of songs will performed in unique collaborations with the 32-piece Classics In Rock symphony orchestra, C.O.D.A. For those of you who grew up in the bustling 1970s and '80s this will be real nostalgia trip, whilst for people born after this period, it will serve as an introduction to the source of many of today's hits.
Classics in Rock, Friday, 23 March 2007 at Ahoy', Rotterdam in collaboration with: Jon Anderson, John Waite, Glenn Hughes, Chris Thompson, Graham Bonnet, Bert Heerink, Spike Edney, Neil Murray, Jamie Moses, John Marter, Joost van den Broek, Floor Jansen, Dany Lademacher, Arjen Lucassen, Ted Oberg, Michel van Dijk, Robert Soeterboek, Dick Kemper, Jos Zoomer and many more.….