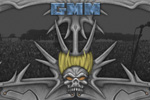 AEROSMITH – IRON MAIDEN - OZZY OSBOURNE - KORN
GRASPOP FESTIVAL WELCOMES TOP-CLASS METAL!

Once again, the GMM gossip factory has been working overtime! The air is rife with rumors and wild guesses and everyone's speculating what bands may or may not be programmed for this year's edition. Oh well, you probably deserve a little foretaste, so we won't try your patience any longer.

Take a deep breath and hold on to your hats because here comes the first batch of names for the GRASPOP METAL MEETING 2007:


This year's line-up features America's number one rock band AEROSMITH. They will be closing the festival on Friday. With Aerosmith, Graspop is bringing a legendary hard rock 'n' roll circus to town. The Boston band with singer Steven Tyler and guitarist Joe Perry coloured the seventies with hits like Sweet Emotion and Dream on and with powerful records such as Toys in the Attic and Rocks. Rock debauchery almost brought the band to its knees in the early eighties, but absolute hits like Rag Doll and Janie's Got a Gun put Aerosmith back on top. Recently the band returned to two of their biggest loves: the blues on the Honkin' on Bobo album and performing live on Rockin' the Joint. Aero Force One has landed!
British heavy metal legends IRON MAIDEN have been confirmed as headliners for Saturday 23 June. Iron Maiden is a well respected guest at the Graspop festival. Whereas their previous passage showcased the first four albums, this time the new milestone A Matter of Life and Death will be the centre of attention. With this rather progressive album the English gentlemen have reinvented themselves and consolidated their heavy metal throne for years to come. The promised blend of new songs and classics such as Fear of the Dark or Hallowed Be Thy Name are an ironclad guarantee for live fireworks. Being there on Saturday night will be a matter of life and death for every metalhead!
Bruce Dickinson " We are all delighted to be returning to to Belgium and Graspop this summer. Sadly we were unable to schedule a show in Belgium at the end of last year so as we've been extending the tour it seemed only right that we come to see all our fans at the Graspop, a festival we have always greatly enjoyed playing. On the first part of the tour we played the whole new album but this time, as its summer and open air , we will include more of the classic songs we know the fans like to hear in an outdoor party atmosphere, along with some songs from A Matter of Life or Death. And we have stopped Eddie going on holiday so he will definitely be there along with our full show. It should be a great night for all of us"

The line-up for Saturday also includes KORN . The name Korn is inextricably bound up with nu-metal. Ever since 1994, the founding fathers and leading band of the genre have managed to remain in the public eye with the albums Life Is Peachy, Follow the Leader and Issues. The 2005 album See You on the Other Side revealed an experimental Korn, whereas Live & Rare and an MTV Unplugged album confirmed the stage as this Californian band's natural habitat. Korn are famous for their explosive live performances, so expect arched backs and savage jumping around from band and fans alike. Better loosen up those muscles…

Not bad for openers, is it? And would you believe there's more to come? To top it all off, Graspop managed to snare the Ozz Man Himself! Black Sabbath's frontman OZZY OSBOURNE will close the twelfth edition of the Graspop Metal Meeting. The MTV reality sitcom almost makes you forget that Ozzy is and always will be the godfather of all things hard and heavy metal. After introducing the world to metal with Black Sabbath, Ozzy carved out a solo career and thrilled audiences worldwide with his unique style of catchy hard rock. Instant classics as Blizzard of Ozz, Bark at the Moon and No More Tears were the result. Ozzy's varying line-ups have always had one thing in common: the presence of a star guitarist. How else to describe the much-missed Randy Rhoads, Jake E. Lee or Zakk Wylde, Ozzy's present bearded shredder? Ozzy is a breed apart, they just don't make them like that anymore.


Friday 22 June 2007:

BLIND GUARDIAN - THERION - SABATON - GRAVE DIGGER – VADER – 1349 – PAIN OF SALVATION – AMORPHIS


Saturday 23 June 2007:

KORN - LIFE OF AGONY - CANNIBAL CORPSE – TIAMAT - DIMMU BORGIR - ME FIRST & THE GIMME GIMMES - SIRENIA – BRUTAL TRUTH – DROWNING POOL – ATHEIST


Sunday 24 June 2007:

BLACK LABEL SOCIETY – CHILDREN OF BODOM - AMON AMARTH - FINNTROLL - MOONSORROW – DEVIL DRIVER - KORPIKLAANI - IN THIS MOMENT – TURISAS – ELUVEITIE

We'll be announcing the second batch shortly so keep your eyes peeled! In the meantime we're hard at work to make sure the bill lives up to our usual impeccable standard.


TICKET PRESALE FOR GMM 2007 TO START ON SATURDAY

As of Saturday 10 February, tickets for the next edition of the Graspop Metal Meeting will be available by phone, SMS and online. Presale in the usual outlets will start on Monday 19 February.

Weekend-All In Tickets
€125 (booking fee not included)
This ticket includes: access to the festival grounds on Friday, Saturday and Sunday; acces to the camping site; access to the parking area; shuttle service from MOL train station to the festival grounds and back.

Day Tickets
Friday ticket, Saturday ticket or Sunday ticket: €69 (booking fee not included)
This ticket includes access to the festival grounds on Friday, Saturday or Sunday, depending on the day ticket you've purchased; shuttle service from MOL station to the festival grounds and back. Access to the camping site and parking area are NOT included. One-day ticketholders need to buy a one-day camping ticket (€15 p.p.) to enter the camping site. These one-day camping tickets are not available in presale and will only be sold at the box office of the camping site itself. This ticket is valid on the same day as your ay ticket, from 8 am till noon the following day. Access to the camping grounds is free for combi tickets holders; they DON'T need to purchase an additional camping ticket.
NEW With this tickets (combi and day ticket) you can travel free of charge by train ONLY in Belgium. More information about this, you will find at
http://www.graspop.be/
.
Tickets can be ordered as of Saturday:


Belgium:
By phone: Proximus Goformusic: 0900 2 60 60 (€0,45/min)
SMS: SMS code to 3060 (€0,50/sent-received SMS)
Note: This SMS service is only available if the user is registered with Goformusic.
All-In Ticket (Combi: SMS code GPD (combi) to 3060
Friday Ticket: SMS code GPA (Friday) to 3060
Saturday Ticket: SMS code GPB (Saturday)to 3060
Sunday Ticket: SMS code GPC (Sunday) to 3060

The Netherlands:
Ticket Service: 0900 300 1250 (€0,45/min), the 151 larger post offices, the 100 major Free Record Shops, the 33 GWK-Travelex offices, the 10 large VVV office,
http://www.ticketservice.nl/
and the usual outlets. Visit
www.graspop.be
to locate the nearest outlet.
France:
As of 19 February, tickets are also available in the FNAC-stores.
The nearest train station is Mol, at some 8km of the festival site. There are no night trains! You can always check the exact timetable at
www.b-rail.be/nat/E/
With your festival ticket, Fnac ticket, Ticket Service ticket, Eventim ticket or guest ticket, you can travel free of charge by train in Belgium. Click
here
for more information about this service.
Source: Newsletter