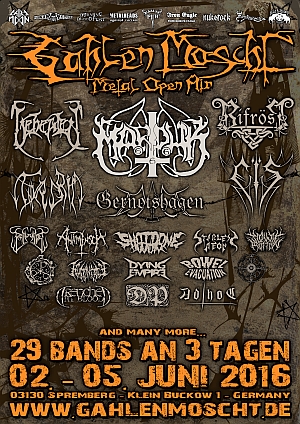 Again a year has passed and a lot has changed. We buckled down to present you an awesome Metal Open Air again this year. A great line-up of 29 bands will turn the ground under your feet into a hot purgatory. Your euphoria will not come to a standstill when Marduk, Gernotshagen, Eis, Bifröst, Tyrgrim, Beheaded and many more will give their best to make this festival unforgettable. That´s not all, as we have more good news for you. A new festival ground in Klein Buckow near Spremberg (Germany) will offer a short distance from the camping ground to the infield, as they are now located next to each other. Basically you won´t miss a thing. A cozy "metal village" with catering, cocktail and merch booths invite everybody to hang out together at the fire place.
In case this gets too hot for you, simply jump into the pool, we will set up. If the pool gets to small, no problem, the Spremberg dam is only a few minutes walk away, offering a beach to cool off. And still that´s not all: a body painting booth will bring color to your skin, so you can scare the hell out of your opponents with dark make up during some flunky ball matches. Anybody into becoming a big star themselves will get their chance in the evening hours at the after show party with karaoke and canned heavy music. What are you waiting for ? Get all necessary information at
www.gahlenmoscht.de
Come out to one of the best metal parties of the year, we are looking forward to partying with you guys.
Line-up
Marduk - Black Metal
Dordeduh - Folk Black Metal
Gernotshagen - Black Pagan
Eis - Black Metal
Bifröst - Pagan Metal
Thyrgrim - Black Metal
Beheaded - Death Metal
Panychida - Pagan Black Metal
Human Prey - Death Metal
Antimensch - Black Metal
Dying Empire - Thrash Death
Ad Hoc - Black Metal
Drenched in Blood - DeathThrash
Düsterpiano - Düsterpiano
Starless Aeon - Death 'N' Thrash
Shot Done Won - HC Death
Slowly Rotten - Death Grind
Transceatla - Doom Prog Metal
God Hate Code - Brutal Death
UGF - HC Slugde Metal
Source: Press Release