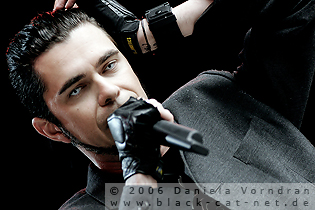 Terra Gotha XIV will take place at Saturday 21 April 2007 at venue De Piek in Vlissingen with electro band XP8 from Italy and gothrockers Pro-Jekt from England.
Terra Gotha XIV headliners are Italy's finest electro band XP8. The roman XP8 is a trilogy. Marco Visconti, Paul Toohill and Marko Resurreccion. All three play their part in the music making process. Paul writes, and sings the words. Over the years XP8's sound has developed, mutated, and perspired. The sounds have hardened, the energy increased. XP8 aim for the dance floor and they aim for you. Unfortunately Marco won't be able to party with us at Terra Gotha as he will be touring as keyboard player for VNV Nation. But a replacement has been found in our good friend Jos from dutch harsh-electro band Grendel. Official website:
http://www.xp8.org/
or
http://www.myspace.com/xp8
UK industrialrockers Pro-Jekt will be support act at Terra Gotha XIV. The band is founded in 2001 and developed and perfected their style over the years. The musical should surely be appealing to fans of Gothminister/Rammstein/Ministry. Although the band already toured the U.K. several times. And also toured in Europe, this Pro-Jekt concert will be their debut gig on dutch soil. Official website:
http://www.pro-jekt.org/
or
http://www.myspace.com/projektband
Tickets cost just 11 euro / with CJP 10 euro. Tickets will go on sale at Thursday 15 March. You can buy tickets at De Bard cd store in Vlissingen or De Spin in Middelburg. You can get a special discount at de Bar-O-Nes gothic clothing shop in Vlissingen when you show them your Terra Gotha XIV ticket (70% discount on clothing, 50% discount on accessories). You can also order tickets by mail, simply send an e-mail to
This email address is being protected from spambots. You need JavaScript enabled to view it.
. Fill in your name and the nr. of people you want tickets for. In a couple of days you will then receive a confirmation e-mail, print this and take the print with you to De Piek on the day itself. The print will be your ticket.
Doors open: 19.30
De Piek
Hellebardierstraat 13
Vlissingen
0118 - 416791