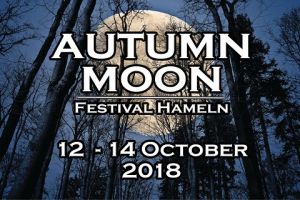 The unique AUTUMN MOON FESTIVAL in Hameln enters the fourth round and starts with a brilliant Early Bird pre-sale. The particularly cheap early bird tickets are almost sold out. The festival takes place from 12th to 13th October 2018 and features more than 30 bands, three venues, shows, art, workshops, readings and the Mystic Halloween Market, which even takes place one day longer.
In addition to the picturesque surrounding of the Hamelin Weser promenade, the varied locations, the short distances, the family atmosphere and the mystical, imaginative decoration of the site, the organizers score with an exciting line-up mix and long playing times for each band. Hardly a gig under 60 minutes! They give each band the chance to present themselves appropriately and to build the right mood. For stage hopping friends, truffle seekers and fans just the thing!
So far, the line-up is electro-heavy but there is still a fat package with guitar Goth rock, pagan and folk bands to come. There are still some cracker to be expected. So far, following bands are confirmed (alphabetic order):
APOCALYPSE ORCHESTRA, COVENANT, DIARY OF DREAMS, DIE KAMMER, DOOL, EISFABRIK, FUNKER VOGT, GRAUSAME TÖCHTER, MAERZFELD, MILA MAR, PARADE GROUND, PRAGER HANDGRIFF, REAPER, SCHATTENMANN, SCHEUBER, SITD, TERROLOKAUST, THE ARCH, THE BREATH OF LIFE, THE GODFATHERS, THE LAST DAYS OF JESUS, THE OTHER, THE RED PAINTINGS, TYSKE LUDDER, ZOON POLITICON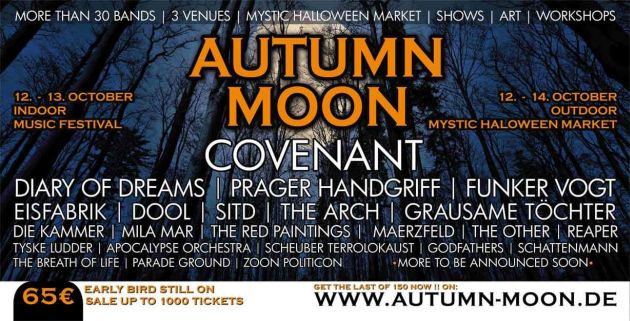 Tickets can be bought via
http://bit.ly/2zg9AaZ
. EARLY BIRD festival tickets (Friday + Saturday) cost 65 euros plus mailing. There are only 80 Early Bird Tickets available. The normal ticket price is 75 euros plus mailing.
The locations for the 2018 edition will be the Rattenfänger-Halle, the Sumpfblume and the ship stage. Another bigger location is in preparation. The Papa Hemingway will be the place for the "Battle of upcoming" and "Underdog Bands". More details will follow.
Source: Press Release