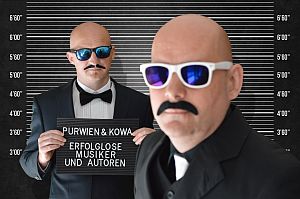 PURWIEN & KOWA will send you into the summers with three EPs. And because the summer will be too rainy or too hot, so that you sweat the mesh shirt and dripping your ice cream onto your shoes, Christian Purwien & Thomas Kowa have recorded the appropriate EP for each state of mind.
'Drei 80s' is for melancholy retro evenings at home alone with the C64 and the posters of Samantha Fox (which of course you never hung because of the embarrassment factor, but always stowed away in the drawer). Playing suggestions are 'A fake' that sounds like Italo-Disco is again the hottest shit, the Falco homage 'pur(wien)' and 'Für etwas mehr' reminiscent of SECOND DECAY classics like 'anders sein'.
'Drei Disco' is for the evenings, where you want to let it all out on the dance floor… where the dance floor should already know how to spell "synth pop". Recommended is the parallel world club hit 'Observer', the DAF inspired 'Es ist wie es ist' and 'Sleepless in Vegas', recorded after a very, very long night in Las Vegas.
'Drei Vegas' is full of songs being as big as we like to be. But not are. (Christian is 1.69m, Tomas 1.69 ½) Or in other words, simply good entertainment for people without blinders or taste in music. Christian Purwien comments: "We are aware that the 80s minimalists will roll their eyes when listening to the 'Drei Vegas' EP. So we decided to release the songs in three EPs, strictly separated by field of use."
How the three 'Drei' EPs came about and why they were just recorded in Las Vegas, you can read parallel in the novel 'Vegas! Vidi! Non Vici!'. By the way, the reader will be rewarded with a link for one of the three EPs. Great right?
Source: Press Release