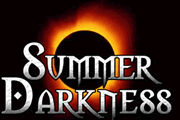 - 5 YEAR ANNIVERSARY EDITION FEATURING BIG HEADLINERS -

FRONT 242 - AND ONE - COVENANT - MY DYING BRIDE - EPICA - CLIENT - MODCOM - THE CRÜXSHADOWS - ASSEMBLAGE 23 - IN STRICT CONFIDENCE - ZOMBIE GIRL - ROTERSAND - HEIMATAERDE - KRYPTERIA - ORDO ROSARIUS EQUILIBRIO - CHAMBER - ROME - THE FROZEN AUTUMN - FRANK THE BAPTIST - IMPLANT - GENEVIEVE PASQUIER - JAEGERBLUT - XMH - STEINKIND - ANGELSPIT - SUICIDAL ROMANCE - DISKONNEKTED - DOPE STARS INC. - GOTHIKA - [X]-RX - [ALT-F4] - OUTERSPACE OVERDOSE - PERFERATOR23
+ more acts and side-events to be confirmed
Following four smashing years of Summer Darkness including 2006's show by the legendary Bauhaus, the revelation Welle:Erdball and a euphoric Tivoli crowd during VNV Nation's victorious gig, 2007 marks the festival's fifth birthday. A special occasion with a special programme, with more superb underground top acts than ever before. And a lot of smashing headliners too!
Summer Darkness 2007 proudly presents EBM-grandmasters Front242, electropop topsmashhits And One and Covenant and metalseanstions My Dying Bride and The Netherlands' very own Epica. Crossoveract Client will bridge the gap between pop mainstream and underground electro, Modcom merges analogue sounds with dance floor mania and The Crüxshadows are back due to popular demand following their devastating show two years ago.
Can one mix EBM and folk? Well, we think one can and newcomer Heimataerde will prove us right. Jaegerblut offers an experimental take on Bavarian folklore, Ordo Rosarius Equilibrio is a lot more sensual and Rome takes the ritual and martial route. Chamber will open the festival at the traditional acoustic free opening concert at the medieval Dom Church.
Furthermore Summer Darkness 2007 presents darkwave (The Frozen Autumn), batcave deathrock (Frank the Baptist) and distorted industrialelectro (Angelspit) which makes for a varied and very internationally oriented programme featuring acts from Japan to Australia, Sweden tot Canada and the USA to Estonia. As usual the festival also plays host to a special NL-stage showcasing new and upcoming Dutch underground talent such as Outerspace Overdose, [Alt-F4] and PerferatoR23.
Across the medieval city centre of Utrecht, Summer Darkness will take place in the venues EKKO, Tivoli, Tivoli de Helling, ACU and the Dom Church. This unique city heart, vibrant, beautiful; and historic features some very special wharf cellars, canals, churches, squares and museums. That's why Summer Darkness will feature several special events apart from the musical programme. This years there will be city walks, guided museum tours, an open air gothic markt at the Dom Church Square, boat transport along the canals between our venues and lots more so stay tuned for further updates on our special events because Summer Darkness is not only a stage on a field with a camp site and not only a musical festival; it's an all-encompassing lifestyle event of music and the city of Utrecht in one.
SUMMER DARKNESS: 9-10-11-12 August 2007

Utrecht – The Netherlands
Tivoli, Tivoli de Helling, EKKO, ACU, Domkerk
4-day ticket: (9-10-11-12 August including Front242): € 82.50
3-day ticket: (10-11-12 August): € 67.50
Thursday Ticket (Front 242) : € 25.00
For the latest news, updates and full band and programme information check:
http://www.summerdarkness.nl/
and
http://www.myspace.com/summerdarkness
.
Source: Newsletter