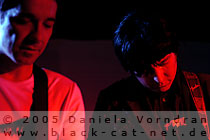 Last year the Jubilee Ball, this year the special GHOST show. Pink Turns Blue do like the unusual.

After one of last year's highlights at the Wave-Gotik-Treffen, the Jubilee Ball, Pink Turns Blue have thought something up again on the occasion of their new album GHOST. A two and a half hour show away from the turbulence of the ususal festival appearances, consisting of visuals, sound, light and shrill characters.

For the first time, Pink Turns Blue present themselves as a group of artists from a variety of disciplines.


The mise en scène of the stage show, developed by the fashion-art artist Brigid Anderson (
http://www.violettasworld.com/
) melt with fragments of images, videos and sounds of the painter, musician and mediaartist m.giltjes/bobok (
http://www.bobok.com/
), spoken lyrics of the (horror) author Louis Pavlou, costumes, a band and last not least the live music of Pink Turns Blue to a overall concept.
Music wise the first part of the show will consist of the première of the new album GHOST and the second part will be a greatest hits performance with songs obviously including Michelle, Walking On Both Sides, Your Master Is Calling, True Love, Now's The Time and many more.
The ones that lived to see the Jubilee Ball or at least heard about it will know how much effort the group puts into it to stage an event.
Attention: This show will not be recorded or repeated. Therefore make very sure to be part of it.
Source: Newsletter
http://www.pinkturnsblue.com/