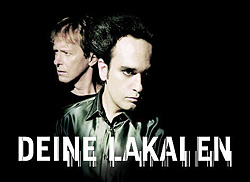 Unfortunately, we have to announce that the following concert of DEINE LAKAIEN and Neue Philharmonie Frankfurt must be canceled due to production and logistical problems:
10.08.2007 - Hanau, Amphitheater Schloss Philippsruhe
This concert will be rescheduled for September. All tickets remain valid for the new date.
Updated Deine Lakaien & Neue Philharmonie Frankfurt concert dates:
12.08.2007 - Hildesheim M'era Luna Festival (as Co-Headliner)
26.09.2007 - Hanau Amphitheater Schloss Philippsruhe
27.09.2007 - Dresden Kulturpalast
28.09.2007 - Hamburg Laiszhalle - Musikhalle
29.09.2007 - Bamberg Jako Arena
Deine Lakaien apologizes for any inconvenience this may cause.
Source: Newsletter