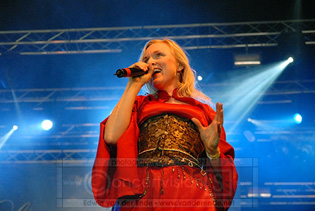 LEAVES' EYES are gearing up for their next Northamerican tour. Liv:
"After a busy spring and summer, touring Europe with Kamelot, playing festival shows, working on our DVD Production, moreover on our next album a.s.o., we are now getting ready for our 3rd North-American tour. We will leave Germany on Friday, heading for Springfield at our first show. It will be fantastic! Jaxx in Springfield is already sold out. Our live show will consist of both well-known tracks as well as material we have never presented live to an audience before. After the tour we will continue the recordings of our next full-length album." Liv has been working on its concept, which is as good as settled: "I got a brilliant idea a while ago and decided to find out more about it. We've opened up for new influences, however staying true and close to our roots."


Sold out USA show
The first US show in Springfield of the LEAVES' EYES Northamerican tour together with KAMELOT is sold out. Fans who want to get tickets for the other concerts should hurry up. Ask the local promoters or the ticket presalers!
Upcoming dates
w/KAMELOT

17.08.2007 USA - West Springfield, VA / Jaxx (SOLD OUT)
18.08.2007 USA - Poughkeepsie, NY / The Chance Theatre
19.08.2007 USA - New York, NY / B.B. Kings Blues Club
20.08.2007 USA - Hartford, CT / Webster Theatre*
21.08.2007 USA - Bedford, NH / Mark's Place*
22.08.2007 CAN - Montreal, QU / Medley
23.08.2007 CAN - Quebec City, QC / Imperial
24.08.2007 CAN - Toronto, ON / The Opera House
25.08.2007 USA - Cleveland, OH / Peabody's
26.08.2007 USA - Detroit, MI / I-Rock*
27.08.2007 USA - Mokena, IL / The Pearl Room
28.08.2007 USA - St.Paul, MN / Station 4
29.08.2007 USA - Cedar Falls, IA / Reverb*
30.08.2007 USA - Denver, CO / Bluebird Theatre
01.09.2007 USA - Santa Ana, CA / Galaxy Theatre
02.09.2007 USA - Los Angeles, CA / Key Club
04.09.2007 USA - Tempe, AZ / The Clubhouse
05.09.2007 USA - Albuquerque, NM / Launch Pad
06.09.2007 USA - Austin, TX / Emo's*
07.09.2007 USA - San Antonio, TX / White Rabbit
08.09.2007 USA - Ft. Worth, TX / Ridglea Theatre
09.09.2007 USA - Houston, TX / The Meridian
20.10.2007 B - Wieze / Oktoberhallen METAL FEMALE VOICES-Festival (DVD-show)
w/BLIND GUARDIAN
10.11.2007 D - Krefeld / KönigPALAST
w/KING DIAMOND, KREATOR & CELLADOR

22.03.2008 USA - Ft. Lauderdale, FL / Culture Room
23.03.2008 USA - Lake Buena Vista, FL / House of Blues
25.03.2008 USA - North Myrtle Beach, SC / House of Blues
26.03.2008 USA - Atlanta, GA / The Masquerade
28.03.2008 USA - Charlotte, NC / Tremont Music Hall
29.03.2008 USA - West Springfield, VA / Jaxx
30.03.2008 USA - Philadelphia, PA / The Trocadero
01.04.2008 USA - New York City, NY / B.B.King Blues Club
02.04.2008 USA - New York City, NY / B.B.King Blues Club
04.04.2008 USA - Poughkeepsie, NY / The Chance Theater
05.04.2008 USA - Worcester, MA / The Palladium
06.04.2008 CAN - Montreal, QU / Medley
07.04.2008 CAN - Quebec City, QC / Imperial
09.04.2008 CAN - Toronto, ON / The Opera House
10.04.2008 USA - Cleveland, OH / Peabody's
11.04.2008 USA - Detroit, MI / Harpo's
12.04.2008 USA - Mokena, IL / The Pearl Room
13.04.2008 USA - Sauget, IL / Pop's
15.04.2008 USA - St.Paul, MN / Station 4
16.04.2008 CAN - Winnipeg, MB / Garrick Centre
18.04.2008 CAN - Edmonton, AL / Starlite Room

19.04.2008 CAN - Calgary, AL / McEwan Hall Ballroom

21.04.2008 CAN - Vancouver, AL / Croation Cultural Centre

22.04.2008 USA - Seattle, WA / El Corazon


23.04.2008 USA - Portland, OR / Roseland Theater



25.04.2008 USA - San Francisco, CA / Filmore


26.04.2008 USA - West Hollywood, CA / House of Blues




27.04.2008 USA - Anaheim, CA / House of Blues



28.04.2008 USA - Las Vegas, NV / House of Blues


30.04.2008 USA - San Diego, CA / House of Blues




01.05.2008 USA - Tempe, AZ / Marquee Theatre



02.05.2008 USA - Tucson, AZ / Rlalto Theatre

03.05.2008

USA - Albuquerque, NM / Sunshine Theater

04.05.2008

USA - Denver, CO / Ogden Theater

06.05.2008

USA - Tulsa, OK / Cain's Ballroom

07.05.2008

USA - Dallas, TX / House of Blues

08.05.2008

USA - Houston, TX / Meridian

09.05.2008

USA - New Orleans, LA / House of Blues

10.05.2008
USA - San Antonio, TX / White Rabbit
* Leaves' Eyes & support
Source: Newsletter