On Saturday 21st May 2005, Lacrimas Profundere are presenting their new Album "Ave End" live at the Cotton Club, Kammgarn Kaiserslautern/Germany.

The Goth Rock-radio-stations in the United States love to play them. Lacrimas Profundere call their music Rock 'n' Sad, Darkest Doom, Great Metal. They remind you a bit of HIM. The music magazines compare them with "Katatonia", "Anathema" or "My Dying Bride". Bittersweet chants from the master of the silent, melancholic tones, heavy riffs, black keyboard accords and soulful lyrics - that's how you could describe Lacrimas Profundere.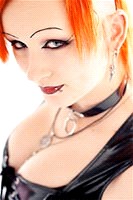 Another highlight of this evening will be a gothic slide show. One of our crew members, Thomas Adorff, will present some of his gothic portraits before the Lacrimas Profundere show.
Start with the slideshow about 19:30
Concert at: 20.30
Tickets are available for 7€ presale and at the doors for 9€.