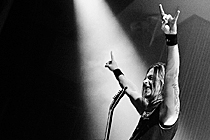 This year's stage appearances of BULLET FOR MY VALENTINE were very rare, due to the works on their new album and the complications during the tonsil surgery of front man Matt Tuck, they're coming back on tour in February 2008. On last weeks Saturday, the band played their exclusive headliner gig at the "T-Mobile Extreme Playgrounds" at the Velodrom in Berlin and gave the fans a little foretaste of what to expect.
The band, which is rewarded with gold in Germany and many other European countries not only swept the board with hits like "Tears don't fall", "Hand of Blood" or "All these things I hate" and a hot pyro show. They also gave a little foretaste on their long awaited second album and one can already look forward to that.
The DVD "Live at Brixton Academy" is the perfect item to bridge the time until the tour begins and to raise the anticipation even more. The DVD contains one of the sweat-inducing live shows that has been captured so authentically, that one gets the feeling to stand in the first row.
Tourdates

10th Feb. 2008 Cologne, E-Werk
11th Feb. 2008 Munich, Tonhalle
15th Feb. 2008 Wiesbaden, Schlachthof
16th Feb. 2008 Hamburg, Große Freiheit 36
Tickets: +49(0)1805-570 000 or
http://www.eventim.de/