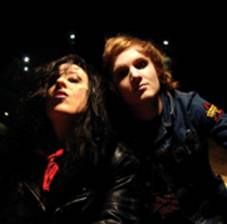 Fueled on a daily diet of Blue Kangaroo carcass, Australian Rock n' Roll Warriors BugGiRL deliver a brand of rock that cracks through the burnt earth of their barren homeland. Following the dusty footsteps of their Rockin' Ancestors AC/DC, Rose Tattoo and The Divinyls, BugGiRL are a band of attitude, guts and glory.
Rock n Roll Hell, their May 2007 release, is a supercharged force of Guitar, Drums and Vocals blazing down the Highway to Hell. With a definite AC/DC influence, BugGiRLs sound also fires off comparisons to Motorhead, Iron Maiden, Thin Lizzy and Motley Crue . Pretty solid acclaim most 4-piece bands would be proud of...

The 2007 Road Of Rock n' Roll Hell has been a ride fast and wild, free and easy. Through over 50 European shows since May 2007, BugGiRL have made thousands of new fans, including Texas Terri Bomb!, who immediately added BugGiRLs drummer Mallets Of Mayhem to their lineup. Shows & festivals followed with The Damned, Ignite, The Bones, Demented-Are-Go & more, through Germany, Spain, Switzerland, France & Scandinavia.
This most powerful of duos were recently featured alongside Wolfmother on 2006s Kooky 10 Compilation, and have been requested for and played shows with Doom Foxx, Zombie Ghost Train, Tourettes, Die! Die! Die!, The Follow, Van She, and Faker.
BugGiRLs 2004 debut Looming Shadows (BigWig Records) featured single Suck It recorded by Richie Lewis from Tumbleweed.
An EP was recorded in 2005 by Al Wright, responsible for INXS (Listen Like Thieves) and RATT (Reach For The Sky) among many others.
BugGiRL finished 2005 touring EU, UK & USA, with a highlight show at New Yorks legendary CBGB.
BugGiRL (Amber & Clinno) are a sister/brother psychic rock connection. Fronted by BugGiRL on blazing guitar & flaming vocals, and Mallets Of Mayhem unleashing the fury on his fiery drum kit of death, they continue to fight for the glory of rock ....an indestructible force known as BugGiRL.
Tourdates
Wed 14th November - El Inca. Bordeaux, FRA.
Fri 16th November - La TAF. Montpellier, FRA.(w/ The Tommys and Mystery Machine)
Sat 17th November - Le Local. Marseille, FRA.(w/ Aeropigs)
Wed 21st November - Rock Palace. Madrid, ESP.
Fri 23rd November - Durango Club. Vallencia, ESP.
Sat 24th November - El Moli. La Roca del Vallés (Catalonia), ESP. (w/ Algo Toxico)
28th November - 08th December: Texas Terri Bomb 2007 European Tour (with BugGiRLs Mallets Of Mayhem on drums)
Tues 11th December - Wild At Heart. Berlin, GER.
Wed 12th December - Subway To Peter. Chemnitz, GER.
Thu 13th December - Beat Club. Hamburg, GER.
Mon 17th December - Café Pot Au Lait. Liege, BE.
Wed 19th December - Ziggys Bar. Kortrijk, BE.
Fri 21st December - Zoo Bar. Nancy, FRA. (w/ Fenrir and Melusine)
Mon 24th December - Nauwe Zak. Gent, BE.
Fri 28th December - EURO Farewell Party. De Ruine. Lembeke, BE. (w/ Bad Preachers and The Hellies)