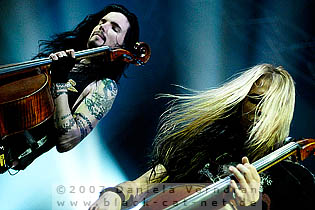 On 27th and 28th June the biggest festival of East Wurttemberg "Rock am Härtzfeldsee" already takes place for the 12th time. After the sold out show in the past years with Alice Cooper, Motörhead, In Extremo, Saxon etc the 12th issue promises to be a diverse selection of top quality acts, musical delicacies and ambitious newcomers.
The Youth Dischingen e.V could allure no one less than APOCALYPTICA for the headlining position on Saturday. There are only a few rock bands on this planet that don't want to be considered as unique. APOCALYPTICA from Finland deserve that more than the most of them. Very original and innovative in every sense as these classical trained musicians sound like nothing and no one on the history of music.
Founded in the early 90s APOCALYPTICA decided to go a whole unique way from the very first day on. With their highly successful debut album "Plays Metallica by Four Cellos" of which over a million copies were sold they became heroes over night.
Their new album "Worlds Collide" was released in September 2007 and cracked the Top 10 of the German Album Charts. After an acclaimed and very successful tour throughout Europe and several sold out shows APOCALYPTICA who are preceded by the reputation of a groundbreaking Live Act will be guests at the Härtzfeldsee. Open your Eyes, Mouth and Ears.

The programme is enhanced by the medieval rockers and minstrels of SALTATIO MORTIS, the Hungarians EKTOMORF, the representatives of the German hardness EISBRECHER, one of the shooting stars of the last year DEADLOCK and as Late Night Special MAMBO KURT - King of the Home Organ.

Source: Newsletter