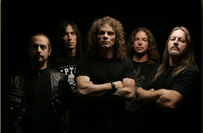 In March the New York Trasher will go on a long Headliner Tour under the banners of the W:O:A Roadshow. They will be accompanied by the Australians MORTAL SIN and the German newcomers DRONE. The new OVERKILL album 'Immortalis' is in stores since 5th October 2007 and is available in 3 different editions: As regular Jewel case CD, as Digipak with a Bonus Live-DVD from their last year's Wacken performance and as limited and hand numbered Picture-Vinyl LP.
Tour Dates - OVERKILL - Support: Mortal Sin & Drone

29th Feb.2008 UA – Kiev - CCA NAU
1st March 2008 RUS – Moscow - Tochka Club
3rd March 2008 EE – Tallinn - Rock Cafe
4th March 2008 LV – Riga - Club Melna Piektdiena
5th March 2008 BY – Minsk - tba.
7th March 2008 CZ – Uherske Hradiste - Metalmania Festival
8th March 2008 PL – Katovice - Metalmania Festival
9th March 2008 D – Munich - Backstage
10th March 2008 I – Milano - Alcatraz
11th March 2008 CH – Zürich - Rohstofflager
12th March 2008 D – Frankfurt - Batschkapp
13th March 2008 D – Saarbrücken - Roxy
14th March 2008 D – Andernach - Live Club
15th March 2008 NL – Helmond - Plato
16th March 2008 D – Essen - Zeche Carl
18th March 2008 D – Hannover - Musikzentrum
19th March 2008 D – Hamburg - Markthalle
20th March 2008 DK – Kolding - Godset
21st March 2008 S – Gothenburg - Sticky Fingers
22nd March 2008 N – Oslo - Inferno Festival +
15th Aug.2008 FIN - Oulo - Jalometalli Festival +
16th Aug.2008 GER - Emlichheim - Cat Rock Festival +
17th aug.2008 UK - Derby - Bloodstock Open Air +
18th Aug.2008 UK - London - Carling Islington Academy +
+ only Overkill