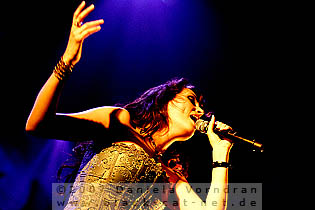 Already early this year the Jugend Dischingen e.V. released the first band package and at the beginning of March, the program for the 12th Rock am Härtzfeldsee festival from 27th to 28th June is almost complete. After the cello virtuosi APOCALYPTICA are confirmed as the headliners for Saturday, the Dutch chart breakers WITHIN TEMPTATION have confirmed their appearance for Friday. The band fronted by Sharon den Adel is a constant in the European Rock Scene for many years now.
Who doesn't know the hit singles 'Ice Queen', 'Mother Earth' or 'Stand my Ground' out of the albums 'Mother Earth' and 'The Silent Force'. In March 2007 WITHIN TEMPTATION released their fourth album 'The Heart of Everything' which could catch up to its predecessors easily and entered the German Album Charts at the Top 5. More Top 10 and top 20 positions all over Europe followed. After a sold out tour in last year's autumn, the likeable Dutchmen will bless us with an energetic and bombastic show at the lake.
It's about time: BRAINSTORM invites you to the home game. After two and a half years of waiting, BRAINSTORM finally released their new album on 25th January 2008 that cracked straight into Rank 53 of the German Album Charts. BRAINSTORM are stronger than ever and delivers a true masterpiece with 'Downburst' also critically acclaimed by the press.
Pagan/Folk Metal finds new followers year after year. With the Swiss band ELUVEITIE we present you the shooting stars 2008 of this genre. Their current album 'Slania' was recently released via Nuclear Blast and directly cracked the charts. The two opening acts will join the Gothic Rockers LACRIMAS PROFUNDERE
So the 12th issue of the festival will also provide a balanced and diverse program which includes newcomers, insider tips as well as high quality top acts. Here is an overview of the confirmed billing.
APOCALYPTICA - BRAINSTORM - DEADLOCK - EKTOMORF - ELUVEITIE -
LACRIMAS PROFUNDERE - MAMBO KURT - MEGAHERZ - SALTATIO MORTIS -
WITHIN TEMPTATION