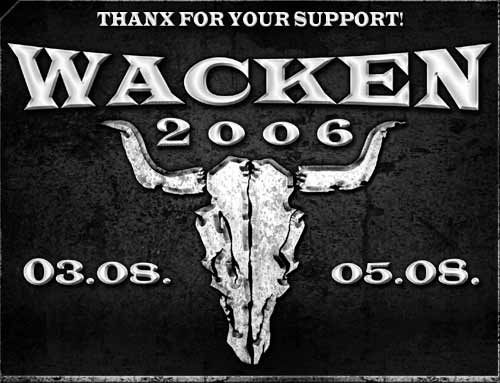 Dear Metalheadz!
Here yon'll find the latest Newsletter from W:O:A with all the infos
about the W:O:A!
X-Mas package WOA-2006


The legendary limited X-Mas package for the W:O:A 2006 is now available incl. special t-shirt, special promo-DVD, limited W:O:A keyholder, free entrance to the Wacken swimming pool in the ticket just for 65,-€ further 5,-€ pre sale fee and postage.
http://www.metaltix.com/item_list.php?item_cat=2013
Following bands are already confirmed:
* CHILDREN OF BODOM * IN EXTREMO * * SOILWORK * SUBWAY TO SALLY * DIE APOKALYPTISCHEN REITER * and many more...



Metal Battle 2006 - apply now!

The winners 2005, GORILLA MONSOON, are happy about a record contract at Armageddon Music and work hard on their new album. Further they have the possibility to tour copious and present themselves live to a huge audience. It was worth the effort and proves that the platform METAL BATTLE is suitable to make the step to the professional league. The unreckonedly high level from all of the bands participating made it clear that this potential has to be further enhanced.

That´s why the ICS - W:O:A Team and METAL HAMMER decided to start the new round as early as possible. Herewith we appeal to apply for the METAL BATTLE 2006. Here are the info details:
- you don´t have a label deal and you are also not going to sign one within a short time
- you are able to play a gig for 30 minutes with your own songs
- You are not one of the bands who won one of the shows from Metal Battle 2005 Bands who participated 2005 but didn´t win can apply once again.

The conditions seem to fit for your band? Then please send your application (demo CD with 3 or 4 tracks, photo, bandinfo and a contact adress) to the following adress:
ICS GmbH
Metal Battle 2006
Hauptstr. 47
24869 Dörpstedt

Deadline is the 15th of November, 2005. The choice which bands can take part at the pre elimination shows is made by ICS_W:O:A and the Metal Hammer. These are the dates for the pre elimination shows:
06.01. Kiel Tucholsky (SH)
07.01. Gütersloh Die Weberei (NRW)
13.01. Hamburg Marxx (HH)
19.01. Halle Turm (ST)
20.01. Bischofswerda East Club (SN)
27.01. Osnabrück Lagerhalle (NI/Br)
28.01. Rathenow Musikbrauerei (BB)
03.02. Jena F-Haus (TH)
04.02. Landshut Schoch Kaserne (BY)
05.02. Ludwigsburg Rockfabrik (BW)
10.02. Rostock Mau Club (MV)
11.02. Berlin Kato (B)
17.02. Hanau Halle 2 (HE)-- Terminänderung!! (vorher Live Arena)
18.02. Andernach JuZ Live Club (RP)
25.02. Tholey Hard Rock John (SL)

6 bands in each county will be chosen to "battle" live against each other. At those shows a jury from the music business will decide which band will make it to the semi-final. In work: Metal Battle Belgium, Luxemburg, Switzerland, Austria, France, Estonia, Norway, Finland, Italy, Croatia, Serbia-Montenegro, Macedonia and
Australia. More information at
http://www.wacken.com/
in cooperation with the John Lennon Talent Award / Itzehoer Versicherungen
http://www.john-lennon-talent-award.de/

EMPEROR is back!!! Wacken 06


Finally we made it to bring EMPEROR back on stage - only in Wacken and we are
looking foward to.....
"The one and only open air show 2006!"
Here´s the statement from the band:
"Emperor's return!
Greetings, metalheads of the world! We are proud to announce that Emperor will headline Wacken open-air 2006. Join us, as we re-enter the nightside to chant anthems of equilibrium, fire and demise!
Emperial regards,
Ihsahn, Samoth and Trym"

MONSTERS OF ROCK on tour!!!



Metal dream Girls - The winners + photos


The W:O:A and Jan oidium announce the winners of this years Metal Dream Girls photo shooting. Under this link:
http://www.oidium-comics.de/MDG_check/Doku/doku.html
we made a small photo documentation for you. The current calendar can be ordered at
http://www.metaltix.com/
and in every bookstore with the number ISBN 3-9809697-9-8. The speciality is, that this calendar shows the year of the metalhead, which starts and ends with the W:O:A in august since 16 years. In difference to normal calendars there´s an extra months added. Here are the winners, who succesfully participated at the photo shooting:
Angel Ogasta (Israel)
Asa Nygren (Schweden)
Susanne Ulrich (Deutschland)
Birgit Schweighofer (Österreich)
Kristina Doos (Deutschland)
Cia Brändefors (Niederlanden)
Caroline Carlov Jörgensen (Dänemark)
Ida Kasa (Dänemark)
Sophie Carleen (Neiderlanden)
Eva Meister (Deutschland)
Alexandra Dietrich (Deutschland)

The production itself was succesful with some improvements according to last years shooting. Photografer Volker Timm had the needed silence in an extra designed container for our needs. Altogether there had been 800 applicants for
http://www.metaldreamgirls.com/
. About 400.000 visitors per month voted the candidates to the top. We keep you informed about the production and we are trying to make you happy with some more pictures in the future.
Source: Newsletter
To get the latest News about the W:O:A just go to
http://www.wacken.com/