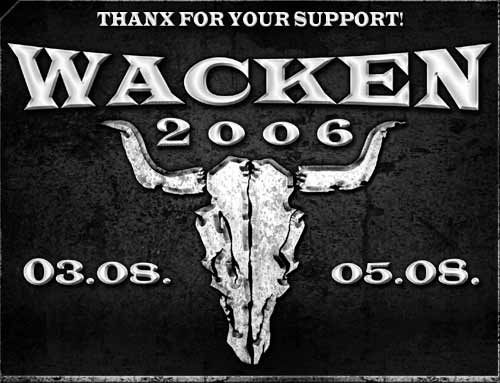 Dear Metalheadz!

Here yon'll find the latest Newsletter from W:O:A with all the infos about the W:O:A! From now on Matthias alias "Evil Igel" from [
www.igelmetal.de
] will do as the favour to write some words for us!
Please have fun and till next time!
Yours Wacken Team



X-Mas-Tickets sold out & Hot News!!

Dear Metalheads!

The legendary X-Mas-Package is again SOLD OUT. 10.000 x thanx to all true W:O:A Fans!! New confirmed Bands are NEVERMORE und FINNTROLL (min. 60 min on the Black Stage), there will follow great announcements of Bands until X-Mas ( you are not safe for surprises! )! From now on you can order the original 3-days Hard-Ticket at the known advanced-sale agencys, CTS and Ticket-Online. Who want to get their tickets as a X-Mas gift, please order before the 20.12., so that you can be sure that the ticket will be delivered in time!

Price stable like 2005:
3-days ticket 03.08. – 05.08.06 just EUR 72,- [ plus 7,- EUR advanced sales fee (no 10%) plus p&p ] TIPP: pre-payment is the best and cheapest type of order!

The 3-days ticket includes:
> free entrance for the Wacken Swimming Pool starting from 31.07.06
> camp directly at your car
> no limitations of drinks and food on the campingground
> reservations of campingground for groups with more than 50 peopple
> only grass surfaces, short ways to the festivalground and village
> mind. 60 Bands on 4 Open Air Stages and a Tentstage (Headbangersballroom)
> Videoscreen, LED-Info-Systems
> beer-garden and much more...

2-days tickets and tickets for the "NIGHT TO REMEMBER" will follow. You can order the tickets
directly
at [
http://www.metaltix.com/
] More infos about the first FULL METAL BAG ( with Campingticket, Parkticket, Garbagecampaign, Specialcampaign, Goodies etc) at the W:O:A will follow in the next 14 days!
CELTIC FROST Live in Wacken!

The rumors were there - and now the live comeback is finally perfect: we're happy to present you this band in wacken, where the whole metal scene was waiting for years: Celtic Frost are back and live on stage - at the 17th W:O:A! "AUGUST 4 - BLACKSTAGE - 90 Minutes of Morbid Music in a special WORSHIP AT WACKEN - CELTIC FROST - MONOTHEIST TOUR!"

CELTIC FROST - MONOTHEIST TOUR 2006
Celtic Frost are proud to announce their appearance at selected festivals throughout Europe. Following the release of their highly anticipated new "Monotheist" Album, scheduled for early 2006, the band is ready bring to you a most morbid collection of old and new Celtic Frost songs. Join Celtic Frost at one of those special services of worship and be part of the reappearance of one of the world's darkest and most special bands. They will be honoured to welcome you. More infos about the confirmed artists at the end of this newsletter!
This year again, you have the chance to win big prices in our X-Mas Calendar draw! Everyday opens a new door with a question and daily prices! At the end, on the 24th of december you have the chance to win cool prices again, if you can find the final solution which is assembled from the letters of the daily answers. 24th letters waiting to be sorted by you! Have fun and good luck, your W:O:A and Metaltix Team

METAL BATTLE goes into the next round!

It's time again: The most successful heavy metal talent-award will go through the republik a third time! The first participants of the qualifying round are confirmed. Especially we are glad to have the winner of the Metal Battle 2005 Gorilla Monsoon as a Special Guest. The band will present their first studio album.

And here the dates:
Fre. 06.01. - Kiel - Tucholsky (SH)
Sam. 07.01. - Gütersloh - Die Weberei (NRW)
Fre. 13.01. - Hamburg - Marxx (HH)
Don. 19.01. - Halle - Turm (ST)
Fre. 20.01. - Bischofswerda - East Club (SN)
Fre. 27.01. - Osnabrück - Lagerhalle (NI/Br)
Fre. 03.02. - Jena - F-Haus (TH)
Sam. 04.02. - Landshut - Schoch Kaserne (BY)
Son. 05.02. - Ludwigsburg - Rockfabrik (BW)
Fre. 10.02. - Rostock - Mau Club (MV)
Sam. 11.02. - Berlin - Kato (B)
Fre. 17.02. - Hanau - Halle 2 (HE)
Sam. 18.02. - Andernach - JuZ Live Club (RP)
Sam. 25.02. - Tholey - Hard Rock John (SL)

The W:O:A Roadshow will be back on the road next year! The following bands are alreday confirmed, more to come: ENSIFERUM & ORPHANED LAND
In the time from the 20th April - 10th May 2006 we will rock the country again! Precise tour dates follow shortly.


Advance booking "W:O:A 2006"

17 years Wacken Open Air 03.-05.08.2006 and the party goes on.....
Till present the following bands are confirmed:
CELTIC FROST * CHILDREN OF BODOM * DIE APOKALYPTISCHEN REITER * EMPEROR * FINNTROLL * IN EXTREMO * NEVERMORE * SOILWORK * SUBWAY TO SALLY * Further bands will follow!
To get the latest News about the W:O:A just go to [
http://www.wacken.com/
]

See you in wacken - rain or snow!
Your W:O:A - Team
Metal & W:O:A rulez
ICS GmbH
W:O:A Headquarter
Hauptstrasse 47
24869 Dörpstedt
phone: +49 - ( 0 ) 4627 - 18 38 38
fax: +49 -( 0 ) 4627 - 18 38 80
This email address is being protected from spambots. You need JavaScript enabled to view it.
Source: Newsletter